12 Things You Have to Eat and Drink to Be a True Dallasite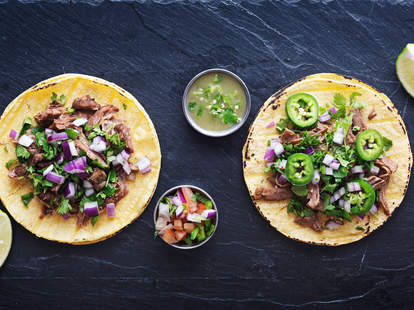 Joshua Resnick/Shutterstock
From the summers that test everyone's resilience, tolerance of sweatiness, and choice of deodorant, to the godforsaken traffic, being a proud native of Dallas isn't always easy. But there are also much less hazardous rites of passage that all locals must complete in order to be eligible for their Real Dallasite card (not to be confused with The Real Housewives of Dallas), and many of those rites of passage are simply delicious.
Barbacoa and lengua tacos
We're not talking about the chopped-up beef barbecue type of tacos here. To truly be a Dallasite, you must embrace the head meat. Once you have, you know that it's really the tastiest of the taco options. Barbacoa (cheek meat) and lengua (tongue meat) have a moistness, flavor, and texture all their own, and once you discover a love for these non-traditional meats, you will never go back.
Mexicola made with Mexican Coca-Cola
First off, any self-respecting Dallasite knows that the best Coke is the kind from Mexico. Made with cane sugar instead of high fructose corn syrup, and sold in tall, old-school glass bottles, Mexican Coke served ice cold is always your best soda option. If you enjoy your soda a bit more on the adult fun side, try adding your favorite tequila to that Mexican Coke and squeeze a bit of lime in there for a Mexicola. True Dallasite status: achieved.
Brisket
You probably have your favorite place in Dallas that you swear makes the best brisket in the country. And you're probably not wrong. When choosing the best brisket options in town, Dallasites are spoiled. Whether it's Pecan Lodge, Lockhart, or a hole in the wall on the outskirts of town that only goes by the initials of the pitmaster, there is one sure sign that you're a Dallasite. If you love brisket so much that you have some killer brisket-for-breakfast recipes, you're a true Dallasite.
Frozen margarita
Sure, there are people all across this great land of ours who enjoy a nice frozen margarita on a hot summer day. But the frozen margarita was invented in Dallas, and because of that, we drink them year-round, and in massive quantities. If you've ever found yourself bundling up in jackets and layers to sit under heaters on the porch of Gloria's just to enjoy a frozen margarita, you have truly earned your Dallasite wings.
Esquites
... or more simply known as "elotes in a cup." It's not until you leave Dallas and crave this buttery, spicy goodness that you realize this is truly just a Dallas thing. It's sad to think that there are millions of people in this country that don't know the joy of seeing the iconic elotes carts in front of the grocery store, gas station, or taco stand... and even sadder to think that they will never understand the joy of eating a cup of creamy, chili powder-laden corn on a hot summer day.
Lakewood's The Temptress
Every city has its own craft brew scene, and every city swears that its local IPAs, stouts, and porters are world-class. But Lakewood Brewing Co.'s Temptress actually has the distinction of winning numerous national awards. This 9% Imperial Milk Stout is that beer that you crave before your plane touches down on the runway at DFW or Love Field.
Fletcher's Corny Dog
There really isn't a more iconic Dallasite food than a real-deal Fletcher's corn dog, deep-fried and served to the huddled masses at the State Fair of Texas each year. Much like the frozen margarita, Dallas (and more specifically, Fletcher's) can claim to have given the world the gift that is the corn dog. If we could put it on the city flag, don't think we wouldn't.
Michelada with extra chili powder, salt, and lime
The Mexican take on a Bloody Mary, micheladas are such a Dallas staple that at many bars, you must specify to your server at brunch which one you would prefer. Served with beer in place of vodka, the michelada's fizzy bubbles and kick of chili powder pair perfectly with, say, an omelet made with a little leftover brisket.
Frito pies made in the bag
The Frito pie is such a staple of cookouts, kid's birthday parties, and field trips that, if you grew up in Dallas, you likely assumed that they were as ubiquitous nationwide as the hot dog. That's why the sight of a small bag of Fritos, slit open across the top of the bag and loaded with piping hot chili (no beans), diced onions, shredded cheddar cheese, and sour cream, then stirred together with abandon, will always bring a tear to your eye, and a pleasant rumble in your tummy.
Posole
Some will claim that menudo is the ultimate hangover cure. While we would never try to argue with someone with such fervent feelings about a soup made with cow stomach, it's posole that's the ultimate cure for what ails you. In Dallas, knowing someone whose grandma, mother, or aunt can make homemade posole is like knowing someone with box seats at AT&T Stadium. The bright red, spicy pork stew, with red globules of spicy hot pork fat floating on top, will get that hangover sweating out of your pores in no time.
Deep-fried beer
Once a year, national news outlets breathlessly cover all the different types of ridiculous deep-fried offerings that the State Fair of Texas will make available this year. They can range from deep-fried butter to deep-fried entire meals (Thanksgiving dinner, for instance). But if there is one offering that is truly Dallas through and through, it's deep-fried beer. Introduced half a decade ago, the deep-fried pockets of Guinness stout are a bucket-list must.
Homemade tamales
More than any other Dallas-centric food, homemade tamales are the first thought in the mind of a hungry, homesick Dallas native. They can be sold from anywhere; out of ice chests, in office break rooms, through word of mouth, or chain emails. It simply isn't Christmas morning in a Dallas household without a dozen or two fresh, homemade pork or chicken tamales ready to eat before the presents are opened.
Sign up here for our daily Dallas email and be the first to get all the food/drink/fun DFW has to offer.
Amanda Cobra has eaten and drank her way through the Dallas classics, and has the stretchy jeans and loose tops to prove it. Follow her dietary missteps on Twitter @amandacobra.