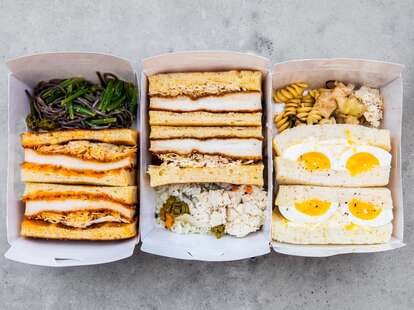 From the rise of food trucks over a decade ago to the more recent pandemic-necessitated ingenuity, chefs and home cooks have shown that great food doesn't always need to be served in a standalone restaurant. These days you're likely to find great burgers, tacos, sandwiches, and other fan-favorites popping up at markets, festivals, and breweries for a fleeting few hours before disappearing into the night or decamping for another location.
These are seven of the best pop-ups in Dallas, covering a range of cuisines, from regional American and Mexican to Japanese and Filipino. Follow them on social media to see where they'll pop up next, then be ready to strike lest you miss out on some of the most exciting food in town.
Molino Olōyō turns heirloom corn into perfect tortillas and tamales, highlighting corn varieties that are indigenous to Mexico. Chef Olivia Lopez and her partner Jonathan Percival bring their concept to venues across DFW, sometimes popping up to sling breakfast tacos at coffee shops. Other times, they may take over restaurants to host multicourse tasting dinners. They also sell items like tortillas, tamales, and salsas for pickup. You'll see why their efforts led to a 2023 James Beard nomination for Best Chef: Texas.
After attending culinary school in Los Angeles and working the line in several top kitchens, Desmon Coleman returned to Texas to strike out on his own. Once he saved up enough money for a pizza oven, he launched his Hustle Town pop-up, serving pizzas made with a sourdough starter, Italian 00 flour, and San Marzano tomatoes. The menu has since expanded to include smashburgers and chopped cheese sandwiches, with a rotating focus at each pop-up. Hustle Town has become a regular at DFW breweries, including Celestial Beer Works in Dallas and Division Brewing in Arlington, so it's easy to find Coleman doing what he does best—serving comfort food to crowds.
When Michael Tavarez moved from New York to Dallas in 2016, he noticed a lack of Dominican food options. So, he set out to change that. Though he's not a trained chef, he channeled his background eating Dominican street foods and learned how to make many of his mother's recipes, eventually launching Picadera to share his food with the public. Recent pop-ups brought Picadera to Pegasus City Brewery, Strangeways, and Trinity Cider, where Tavarez served Dominican-style chicken wings, burgers, tostones rellenos, yuca fries, and chopped cheese sandwiches. And he recently introduced a DominiSmash Burger, with two patties, grilled onions, avocado, sweet plantains, and a secret sauce.
More than just a memorable name, Burger Schmurger has become one of the most coveted burger purveyors in town. It's also one of the easiest to find, slinging food at Craft & Growler six nights per week, so you can spend more time eating and less time checking locations online. Run by Dave Culwell, the concept morphed from a pandemic experiment to his full-time job, and the menu consists of smashburgers like the eponymous Schmurger (two patties, American cheese, grilled onions, pickles, and special sauce) and the Maverick, with two patties, cheese, and smoked pork belly jam.
Perfect Japanese sandwiches. That's what you're dealing with here. We're talking about crispy Chicken Katsu, A5 Wagyu, Egg Salad with soft boiled eggs and Kewpie mayo, and a variety of sweet sandwiches, like Strawberries and Cream, all served on fluffy milk bread. Sandoitchi's popularity has taken it all over Texas and even to other states, which means it's not always the easiest operation to track down.
Nathan Bounphisai turned pandemic-induced boredom into a business idea and began selling onigiri and Japanese sandos. Recent pop-ups have brought the concept to Bishop Arts and ShareTea in Frisco, where Bounphisai makes onigiri—a classic Japanese snack that pairs white rice with nori—with fillings like salmon, musubi, and pork belly and kimchi. The sandos typically lean sweet and creamy, with options like black sesame, yuzu, or matcha cream hugging sliced strawberries.
Cessy Mendoza has worked as a pastry chef at some of Dallas's best restaurants, including Georgie and Nobu. She's also behind the Sorbetera popup, which is named for the female ice cream street vendors of the Philippines. Mendoza makes a variety of rotating gelato flavors, including ube, mango, avocado with condensed milk, saba banana with jackfruit, and taho—silken tofu with brown sugar syrup.
Kevin Gray is a freelance writer and editor covering food, drinks, and travel. He's written for publications including the Dallas Morning News, Eater, Forbes, InsideHook and Travel + Leisure, and if he's slow replying to your email it's probably because he's off exploring a new country. Follow him on social media @kevinrgray.