The 8 best fried chicken spots in Dallas
With fried chicken places blowing up in Dallas faster than your waist size if you've been enjoying them already (or not, it's just as easy to fatten up on BBQ), we've done the dirty work of plucking out the best birds in the city so you can make the most of your deliciously unhealthy fried chicken forays. Here are the eight best spots to get your fix:
Jason Moore
Celebration Restaurant
North Dallas
Just like going to Momma's house -- but not Big Momma's House, fans of Martin Lawrence in drag -- Celebration brings it with locally sourced vegetables and sides, but the succulent fowl is unquestionably the star of the show. Do yourself a favor and order about a gallon of their jalapeño gravy for dipping. An exciting but cautionary note: much like Momma's house, they happily provide seconds.
Oddfellows
Oak Cliff
Oddfellows could find its way onto a number of best-of-Dallas lists (mac 'n cheese, coffee, cocktails... ), but you must try the chicken, which is impossibly crispy on the outside and piping hot and flavorful on the inside, and equally at home being paired with waffles or a side of that mac 'n cheese.
Stampede 66
Uptown
The latest and greatest from Stephan Pyles, Stampede 66 churns out glistening honey glazed pieces of poultry glory, perfectly accompanied with house made pickles, a melt-in-your-mouth biscuit, and mashed potato tots (they're as good as they sound). The name's apt as you currently have to wait weeks for a reservation, so get yourself in line.
Chicken Scratch
Bishop Arts District
The thick-battered chicken is good enough to stand on its own, but for a mere $2 you can get a side of fried chicken gravy, which, trust us, is money well spent. Finish your meal off with a house-made fresh fruit popsicle and catch some live tunes coming from the stage made of recycled wooden palettes.
Max's Wine Dive
West Village
At Max's they have a saying, "Fried chicken and champagne? Why the hell not?" Because you can't think of any good reason "why not", better just go eat some chicken. Pro-tip: request the honey chipotle dipping sauce to add a sweet and spicy element to the textbook Southern fried chicken.
Sissy's Southern Kitchen
Knox-Henderson
They do just about everything well here, but fried chicken is something they do well that you can ALSO order in an enormous bucket, and the bottle of house hot sauce that comes with it will only make you cry tears of joy. Unless you're like, super spice-sensitive or something.
Jason Moore
Rudy's Chicken
Oak Cliff
This no-frills chicken shack doesn't need any of said frills, because the fried chicken is the reason you're here. Pro tip: ask for extra seasoning and some secret sauce and you'll be even happier.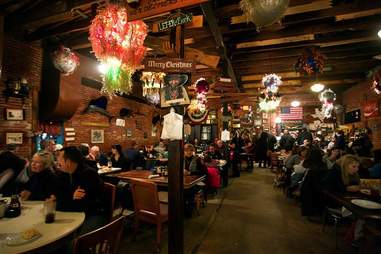 Babe's Chicken Dinner House
Frisco
A Dallas staple, Babe's has been doing it right for the last two decades, nailing its menu of approximately five dishes (depending on which location you hit). You can get fried chicken, chicken fried steak, fried chicken tenders, fried catfish, or smoked chicken if you're not eating fried things for some insane reason like your personal well being.

Addendum: Jack's Southern Comfort Food
Lower Greenville
So, you can't go running right over to Jack's, as they are currently closed, they merited an honorable mention as they WILL BE re-opening, hopefully, in January of 2014. When they do, you will want to be there for impeccable fried bird and all-around Southern exquisiteness.