Where to Eat Fried Chicken in Dallas
The 12 best diners, drive-thrus, and delivery options.
Few comfort-food favorites have the versatility—and crowd-pleasability—of good old-fashioned fried chicken. On-the-bone. Off-the-bone. Strips. Tenders. Fingers. Nuggets. Southern-style. Korean-style. Spicy. Nashville Hot. Thermonuclear Meltdown. A similar argument can be made for how it's served. On a plate. In a bucket. On a biscuit. Between two buns. Atop a waffle. With a side of gravy. In your hands. If you're a carnivore and you're not hungry yet, we probably can't help you solve that problem. But we can help you navigate the drive-thrus, diners, and door-to-door delivery of pure poultry paradise with this mixed 12-piece bucket list of the best fried chicken in Dallas-Fort Worth.
Deep Ellum
Fried chicken is the specialty at this rustic Mexican-inspired southern joint and the owners invite you to get naked if you wish. Naked chicken, that is. In addition to their signature battered fried chicken, you can get deep-fried batterless bird in both their Naked Chicken and Sexy Chicken, which spices things up with some hot chili oil. Sides include habanero bacon mac, Mexican corn, poblano mashed potatoes, and green beans for a teensy bit of health to ever-so-slightly offset your indulgence.
How to book: Stop by for first come, first served seating or call 469-914-6776 for takeout and curbside pickup.
Plano, Far North Dallas, Southlake
Since 2016, Whistle Britches has expanded to three locations that serve up crunchy, juicy fried chicken. Get an excellent sampling with the Sir Mix A Lot, which includes one piece of white meat, one piece of dark, and one wing (fried to order), with a biscuit and potato salad or coleslaw. Or take your chicken south of the border with the Tacos Por Favor platter, three crispy chicken tacos topped with avocado crema, pickled cabbage, jalapeño slaw, salsa roja, and cotija cheese—perfectly paired with a Muchacho Marg if you're so inclined.
How to book: Reserve a table with Resy for Dallas and Plano, or via OpenTable for Southlake. Online orders for pick up from all locations can be placed through the website.
Legacy West; Farmers Branch
Fans of TV's Top Chef cooking competition love, love, love the amazingly sweet and talented chef Tiffany Derry, but if you really want to fall neck over wings for the wonderful woman, you've got to try her duck-fat fried chicken. If you're feeling casual, grab a few pieces at her Legacy Hall food stall, Roots Chicken Shak. But for a rewarding celebration of southern staples, visit her at Roots Southern Table, an accolade-laden full-service restaurant in Farmers Branch. Because the only thing better than fried chicken is fried chicken after a hefty bowl of gumbo.
How to book: Stop by for counter service at Roots Chicken Shak; or book a table at Roots Southern Table on Tabit.
Downtown Dallas
Ready for fried chicken three ways? That's what you'll find at Birdie, one of the newest food stations at The Exchange Hall in the AT&T Discovery District downtown. Chef Josh Harmon takes his love of deep-south cooking and infuses it with a little Asian flair in the Korean and Japanese variations of his traditional southern-fried chicken. Definitely don't skip the steam buns because the pillowy softness of the Asian buns perfectly balance the texture of the crispy chicken and sauces inside.
How to book: Stop by for counter service.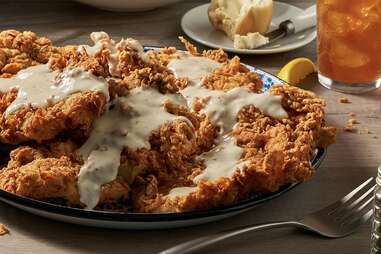 Multiple locations
This Dallas-based regional chain has more than a dozen locations in North Texas alone, so you're likely no more than 15 or 20 minutes from the nearest location ready to fill your stomach with fried chicken. Wrap your fingers around hand-breaded tenders, which can be coated in one of six sauces (including a spicy Tajín). Or grab a knife and fork and dig into their beloved chicken fried chicken (also hand-breaded just before being fried), which comes topped with scratch-made cream or jalapeño gravy and two sides from a mind-boggling list of 18.
How to book: Stop by your favorite location for first come, first served seating or order pickup, curbside, or delivery on the website.
Downtown Dallas
The historic Adolphus Hotel has been pampering guests in its luxury spaces since 1912, yet with the recent re-opening of the Rodeo Bar, the fancy-schmancy place proves it can be as laid back as it is laced up. Though much of the watering hole's praise is heaped upon its heaping burgers, but the Fried Chicken Sando should not be underestimated thanks to a perfectly simple-yet-coveted combo of crispy chicken, pickled slaw, and chipotle aioli.
How to book: Stop by for first come, first served seating.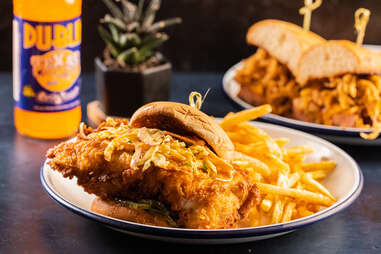 Downtown Dallas
We like big buns and we cannot lie. But we like it when the fried chicken on said bun is even bigger. And that's exactly what you'll find on the plate when the Chicken Fried Chicken Sandwich hits your table. The bread is dwarfed by the chicken (served slathered in buffalo sauce or plain), before being topped with crunchy slaw, hot sauce mayo, and plenty of pickles. Pair it with a Tejas Chico (Tito's Handmade Vodka, Best Maid pickle juice, citrus, and Topo Chico) for a little refreshing pucker-me-up.
How to book: Reserve a table with Resy or call 214-838-1422.
North Dallas
Ohhhhhh, Canada! This Canuck-themed diner dishes out a variety of poutine dishes as one would hope, but they'd be kicked out of Dallas if they hadn't mastered the art of fried chicken, too. All the options here are boneless, whether you're seeking tenders or chicken fried chicken, but if you're in the mood for all-day breakfast, the chicken and waffles can't be beat. One features fried chicken and bacon, the other fried chicken and smoked country sausage, all piled high (really high) atop a stack of Belgian waffles and served with whipped cream, syrup, fresh berries, and a side of Canadian cream puffs.
How to book: Join the waitlist on Yelp, stop by for first come, first served seating, or order online.
Frisco; Snider Plaza
If you're feeling like breaking into the Hokey Pokey during dinner, head to one of the multiple North Texas locations of Babe's Chicken Dinner House. But for a quick fix—no dancing necessary—there's nothing better than Bubba's. Both places serve chicken from recipes created by Paul (Bubba) and Mary Beth (Babe) Vinyard. Go for classic, on-the-bone platters (one, two, or three pieces) with rolls and cornbread or go boneless with either the fried tenders or fried chicken livers—all served with sides from a list of mainstays and rotating veggies, including okra & tomatoes, black-eyed peas, and squash casserole.
How to book: Stop by either Bubba's location for counter or drive-thru service.
Uptown
Celebrity chef Dean Fearing's namesake fine-dining restaurant focuses on impressive culinary creations at lunch and dinner, ranging from buffalo tenderloin to seared sea scallops with morel mushrooms and pickled fiddlehead ferns, but during Sunday Brunch guests are treated to one of his beloved family recipes. Granny Fearing's "Paper Bag Shook" Fried Chicken starts in a brown bag with seasoned flour before being pan-fried on an iron skillet rather than dunked in a deep fryer. Perfectly seasoned and lightly crisp, it's incredibly juicy and served with green beans, whipped potatoes, and tomato gravy.
How to book: Make reservations through OpenTable or by calling 214-922-4848.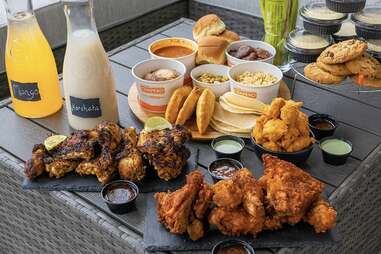 Multiple locations
North Texas-based chain Pollo Campero makes the cut because it does fast-food fried chicken better than so many of the other big brands. The menu focuses on family recipes passed down for generations, including their zesty, hand-breaded fried chicken. Get their on-the-bone options with a side of beans, rice, and tortillas. Or try their boneless varieties chopped up in salads or bowls, as dippable nuggets, or on a brioche bun with sweet pickles for a tasty sandwich.
How to book: Stop by for counter or drive-thru service.
Steven Lindsey is an enthusiastic eater who's never turned down a craft cocktail, glass of wine, or cold beer. He thinks dogs are the greatest creation ever and anxiously awaits his Covid hair growing long enough to finally donate to a children's charity. But when it comes to travel, he prefers people leave their kids at home and that's why he founded Travel Like An Adult.