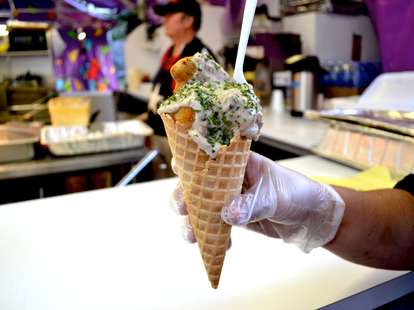 What's worth eating (or drinking!) is worth eating fried. Why? Because life is too short to worry about clogged arteries (which will ensure that life remains... well... short). With that in mind, we went on a little tasting journey through the temple of fried goodness that is the Texas State Fair. Here's what we discovered, other than indigestion:
Texas Fried Chicken in a Waffle
Stiffler Brothers
Chicken and waffles make for fine hangover food, but it takes SO much work to lift a fork and knife after a long night. Enter Texas Fried Chicken in a Waffle. All you have to do is hold your arm to your mouth and eat. Fried chicken is layered in a waffle cone and smothered in sausage gravy with a sweet surprise at the bottom of the cone. Don't get sick riding the Ferris wheel.
Fried Lemonade
Stiffler Brothers
They said lemonade could never be fried -- which is a weird thing to say. Well, they were WRONG! Kind of. Take a lemonade-based cream sauce, place in a cup, add a fried lemon cake on top, insert spoon, and devour. If you can't please your significant other by winning an enormous stuffed animal, this is probably your next best option.
Fried Peaches & Cream
The Dock, Fernie's Funnel Cakes
No, this is not the title to a remix of a certain '90s R&B song, but it IS a sexy fried desert. Sexy because that's what happens when you take peach slices and sprinkle them with brown sugar, dip them in coconut, cinnamon, nutmeg tempura & batter, and then coat with graham cracker & panko breadcrumbs, followed by a slow deep-fry. When they get so hot that they can't take it any more, they're gently drizzled with raspberry sauce and given sides of vanilla butter-cream and topped with whipped cream. Wait, this sort of DOES sound like lyrics to a '90s R&B song.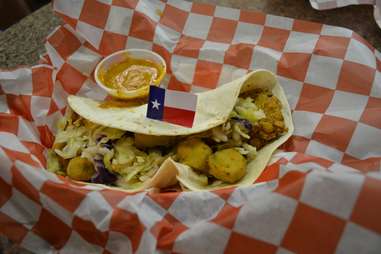 Twisted Texas Taco
The Dock, Fernie's Funnel Cakes
Remember that time you came home from college to visit and hungrily ate everything in your parents' fridge all at once? Us too. That describes the Twisted Texas Taco, except it's an improvement over whatever horrific creation you produced. The taco is stuffed full with hickory-smoked brisket that's coated in chili cheese Fritos and then chicken fried, layered with Mexican cheese, green Verde sauce, coleslaw, Poblano corn, and fried okra. If that isn't enough, it's served with a side of blended creamy country gravy and spicy chili. Pro tip: have plenty of napkins handy, your mother won't be able to clean up after you this time around.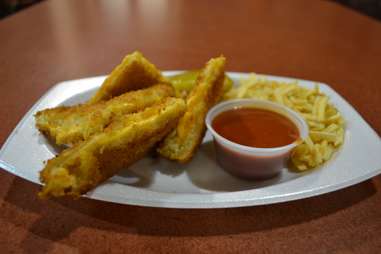 Fried Grilled Cheese
The Dock, Fernie's Funnel Cakes
Meat-on-a-stick is so 2013. How about fried grilled cheese? It's a new take on a simple classic, and it's amazing. Plus, it's served with a warm side of tomato soup and shoestring fries. It's like pre-school lunch all over again. Your inner-child will thank you, especially if your inner-child is chubby.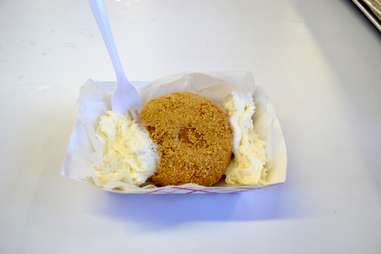 Fried Taste of Autumn Pumpkin Pie
Stiffler Brothers
Have you ever thought about what autumn would taste like if you ate it? Neither have we, but this is it and it tastes amazing. Inside is pumpkin, cream cheese & pumpkin seasoning, sandwiched between two ginger spice cookies, dipped in funnel cake, batter rolled in a confection of ground cookies, powder sugar & pumpkin seasoning, then served with fresh whipped cream.
Fried Meatloaf
Crazy Otto's Fair and Festival Foods
This is better than ma's meatloaf, because these meatloaf tenders are deep fried and served with cream gravy and spicy ketchup glaze. It tastes as good as it sounds. Don't mention anything to ma.
Fernie's Original Funnel Cake
The Dock, Fernie's Funnel Cakes
The only thing resembling a funnel will be your mouth when eating copious amounts of this addictive fried cake. Yes, it's not exactly a new innovation, but classics are classics for a reason. Ever since the early '80s, when Fernie Erpillo and family introduced this State Fair staple, thousands of people flock yearly to get their fix. You can easily pick them out by their recognizable and unsightly powdered sugar ring around their mouths.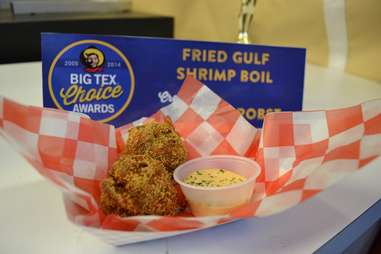 Fried Gulf Shrimp Boil
Crazy Otto's Fair and Festival Foods
One bite of this bad boy and you'll understand why it is this years 2014 Big Tex Choice Awards "Best Taste" winner. There are two shrimp balls stuffed with gulf shrimp, diced potato, kernel corn, onion, lemon, secret seasonings, and one jumbo shrimp, all deep fried to a golden brown, and served with a tangy rémoulade sauce on the side. Who said Fair food wasn't fancy?
Sign up here for our daily Dallas email and be the first to get all the food/drink/fun DFW has to offer.