Dallas is knee-deep in a restaurant boom, and it's hard not to raise a glass to all the cool new spots opening up each month to lots of fanfare. At the same time, it's all too easy to forget a subculture of outstanding hidden gems: the types of restaurants that have been serving awesome food for years without the benefit of buzz, while the spots that garnered opening-day publicity have moved past that early fanfare. Most times, they're also literally hidden -- tucked way back in an unassuming strip mall, or barely visible from the street -- and yet, manage to still gain traction as local standouts thanks to great atmosphere and food.
North Dallas
Despite Nazca's location -- tucked into a shopping strip off Walnut Hill -- fans have flocked to this sunlit, modern spot for impeccable South American fare since its opening in late 2012. The fish tacos served in butter lettuce leaves and zesty roast chicken are perennial favorites, and the restaurant was serving up fresh-squeezed juice blends before that trend took off. A hidden gem at this hidden gem is the brunchy Perico Wrap, with eggs, meats, veggies, and fried yuca.
South Dallas
That this fried chicken joint is located in a mini-mart should speak volumes about its hidden-gem cred. Often credited with making the best fried bird in Dallas, Big Daddy's is also beloved for its fried chicken salad, a bed of lettuce, tomatoes, and pickles topped with meat that's chopped up while you wait. This is one salad that's not meant for your diet. Regulars also dig the no-frills pork chop basket and fried fish, and know to expect a wait around lunch time.
Lake Highlands
It's easy to get drawn into the pan-Asian wonderland that is Bistro B, which anchors this North Dallas shopping plaza. But overlooking the tiny storefront that is La' Me would be a travesty, if you're all up into Vietnamese food. This family-owned bakery/restaurant dishes up a fine bowl of pho, but also incredible bún chả giò, and some of the finest crusty-meaty banh mi in all of Dallas. Expect zero frills and mind-blowing flavors.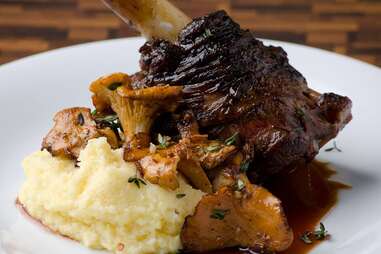 Deep Ellum
Consider Local the fanciest hole in the fanciest wall. Amid all the new eateries cropping up seemingly every week right up the street, Local retains its rep as a sleek farm-to-fork powerhouse. Step through the doors of this restored hotel and you're immersed in a dimly lit and sexy dining destination that features modern American eats with European touches. Think handmade ravioli, ahi tartare, and stout-braised short rib. Then think about relaxing with some wine and investing an evening here.
Lake Highlands
Walking into this unassuming spot, you'll be confronted with a tempting array of Japanese dining tools and utensils. Don't give in to anything, though, unless you've laid eyes on the menu. Kazy's is actually a huge supplier of sushi-grade seafood to some of the best Japanese eateries in the state, but it also houses a counter for sitting in and ordering sashimi, nigiri, sushi, and dumplings for a steal. It may not be the best of the best that's served in-house, but you'll still feel like you're paying wholesale when you get your bill.
Lake Highlands
This iconic drive-through revels in its cash-only, no-seating status, and while there's usually a wait for Big Mama's goods, the restaurant's namesake is worth it. Note that there's no actual chicken & waffles basket or platter -- you have to order your mess of wings or box of mixed chicken pieces and get the Belgian waffle as a side. Skip all the others, don't forget the butter and syrup, and dive into this Southern classic every chance you get.
Preston Hollow
It's not just that nearly every popular Tex-Mex dish you can think of is served here, it's that this clubby hideaway a few doors down from a Tom Thumb makes them so damn well. From guac that's prepared tableside, to the signature Fajita-changa, to the excellent brisket tacos, there's not one course that doesn't have two or three top-notch standouts. Plus, the full bar serves margs and mojitos ready for pairing. Pro tip/hangover hint: breakfast tacos are served here all day.
Richardson
Pho-natics rave about the traditional Vietnamese soup at this casual eatery, particularly when it's loaded with every beefy option: marbled tendon, toothsome brisket, silken filet, and hearty meatball. Pho Truong also has a seafood pho with shellfish and fish balls. A nice touch is that you can order soups in different sizes. In addition to soup, don't miss the outstanding noodle and rice bowls with grilled meats, or the refreshing tapioca-decked smoothies.
West Dallas
The bright, happy exterior of this Tijuana-flavored eatery looks like your taste buds will feel once you bite into the impressive seafood tacos here. The Mexican classic gets chef-crafty touches and all manner of seaside fillings, including smoked salmon, shrimp, grilled octopus, and fried fish. A chicharron-crusted fillet tucked into a tortilla and stacked with avocado mousse and crema is a Tuesday-only special worth making a weekly thing.
Sign up here for our daily Dallas email and be the first to get all the food/drink/fun DFW has to offer.