Devouring a giant scoop of ice cream on a hot Texas day is like doing a cannonball into a pool—but for your insides. Few things are as immediately refreshing and smile-inducing as sugar mixed with cream (or coconut milk and other non-dairy options catering the growing plant-based crowd) and topped with just about any kind of candy or sweet sauces you can imagine. Whether you're looking for nostalgic nibbles or new-and-noteworthy licks, we've got the scoop right here. (Hey, just because Father's Day's over doesn't mean dad jokes cease to exist.)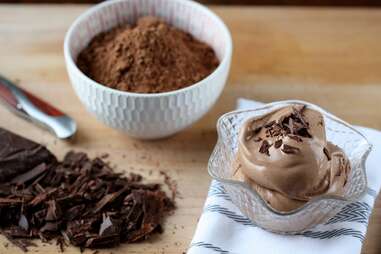 Lowest Greenville & North Dallas
Trained by gelato masters in Italy, Carlo "Botolo" Gattini's masterful touch brings deeply rooted traditions to every small batch of decadent bliss. Each ingredient must be perfect to make it into one of his creations, whether that means procuring items from local Texas farms or flying something in from across the world. You won't find any artificial colors, flavors, or preservatives here (which is why his pistachio isn't neon green, for instance). Top choices include berries and lavender, mascarpone and figs, and white coffee (now that's some wizardry). Consider taking home a cake, as they're among the most gorgeous anywhere in the world.
How to book: Stop by for first come, first served seating and specially packaged take-out.
Fort Worth & Bishop Arts District
The hardest decision you'll have to make once inside MELT is whether to indulge in an Always Flavor or a Sometimes Flavor. (Our recommendation? Never let a "sometime" pass you by, especially if it's of the pineapple upside-down cake, peanut butter explosion, or coconut sorbet variety). They build sundaes with three scoops, so come hungry, or mark your calendar for Taco Tuesday (also known as Two-Napkin Tuesday) when any two flavors arrive sandwiched in a crispy cone shell and finished with salted caramel and chocolate sauces.
How to book: Stop by for first come, first served seating, order take-out and delivery online, or get nationwide shipping via Goldbelly.
Richardson
Make sure you've got your camera ready, because you'll definitely want to snap a photo of your colorful Sweet Daze masterpiece before it melts. Soft serve comes in inventive options such as black velvet and cinnamon toast crunch that's somehow green, while scoops can be procured in flavors like Fruity Pebbles and cookie butter. Bring your ID if you want a boozy dip like birthday cake martini or mango margarita, and consider pairing your icy treats with designer donuts, daily cake slices, cereal pops, and dessert bars.
How to book: Stop by for first come, first served seating.
Carrollton
Everything, and we do mean everything, is made from scratch in chef Meriel Young's pastry kitchen and as you've probably guessed by the name, they're all deviously decadent. Standard flavors include salted chocolate, cafe Cubano, Vietnamese cinnamon, and ube (Japanese purple yam), as well as specials such as Lakewood Temptress Imperial Stout ice cream, plopped into a fresh waffle bowl and smothered in salty bacon and bourbon caramel sauce. Create your own devilish concoction by pairing ice cream flavors with toppings ranging from "boujee" chocolate chip and old-timey molasses cookies to roasted sweet potato pie and hummingbird cake.
How to book: Stop by for first come, first served seating, order take-out online, or get delivery via DoorDash.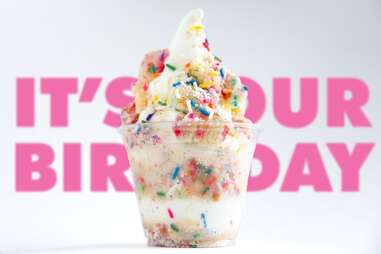 Frisco & Fort Worth
It's all about soft serve at this Austin-born ice cream shop. 32 unique toppings and sauces (most of which are homemade) let customers showcase their culinary creativity with multi-layered sundae stackers spanning options that include brown butter Ritz cracker crumbs and peanut butter blondie bar chunks. Clever names abound for predetermined creations, too. (Reese's Witha-Spoon, anyone?) Chocolate and vanilla ice cream are always available, but a weekly special allows the makers to go crazy with combos like Fruity Pebbles, roasted banana, and Dr Pepper.
How to book: Stop by for first come, first served seating.
Richardson
We imagine it's tough to work around ice cream day in and day out without always looking for the positive, and you'll find plenty of silver linings in the freezer case here. Order from the walk-up window or head inside to try one of their all-time favorite handcrafted flavors (banana pudding, coffee toffee, Beltline Berry, vegan chocolate Oreo) by the scoop, pint, ice cream sandwich, or a party-size ice cream cake.
How to book: Stop by for first come, first served seating and counter service.
University Park
They may not make their own ice cream here, but Texas favorite Bluebell somehow tastes better when sandwiched between two freshly baked cookies (coconut chocolate chip, maple pecan, and fudge nut brownie top the lineup). You can also choose from more than a dozen toppings, including Fruit Loops, Oreos, and butter brickle, to be rolled in or sandwiched between two completely different cookies, or, better yet, stuffed into an ice cream taco for a little sweeter-than-usual Tex-Mex fun.
How to book: Stop by for first come, first served seating, order take-out online, or get delivery via Uber Eats, DoorDash, Postmates, and GrubHub.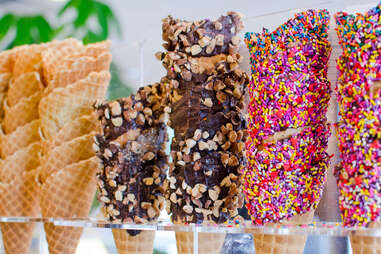 Plano
Even if you've never been to his Plano storefront, chances are you've had Henry's Homemade Ice Cream before—that's because this go-to brand can be found topping the dessert menus of numerous local restaurants. It's definitely worth a trip to the actual shop, however, where the scoops are massive and the flavors range from plain ol' vanilla to mind-blowing mixes like Hog Wild (cinnamon ice cream loaded with caramel and, wait for it, bacon). By the cone, cup, sundae, or shake, Henry's ice cream is bound to leave a smile—and possibly some stray rainbow sprinkles—all over your face.
How to book: Stop by for first come, first served seating.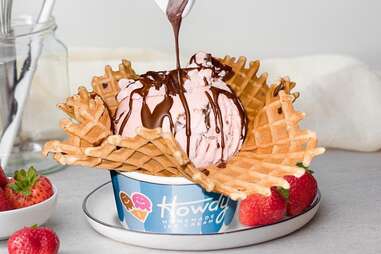 University Park & North Dallas
Before we even get into the frosty goods, let's tip our paper soda-jerk hats to this feel-good ice cream joint because they provide employment to people with special needs. With about three dozen (and counting) flavors in their frozen arsenal, Howdy Homemade can scratch your ice cream itch with out-of-this-world options such as Dr Pepper chocolate chip, cold brew, cinnamon roll, avocado, Hot Tamales, and Chocolate As All Get Out. And if you have a special occasion coming up, a custom cake with endless flavor combos is the way to go.
How to book: Stop by for first come, first served seating.
Lowest Greenville
Their milk-and-cream buns bring all the boys to the yard. And the girls. Everyone, really. A donut-like bun stuffed full of ice cream is their signature offering, available in glazed or plain. Order yours as-is or mix things up by adding toppings like cookies, cereal, and nuts. The simple menu also offers ice cream by the scoop in a cup or waffle cone, with or without toppings—but, who are we kidding, you're here for the buns.
How to book: Stop by for counter service.
University Park
This elegant shop across from SMU does two things really well (spoiler alert: they're both in the shop's name). Ice cream comes in vintage flavors like chocolate, vanilla, and mint chip alongside more inventive additions like honey rose, coffee toffee, and vegan/dairy-free prickly pear. Pair a scoop with a latte, traditional macchiato, or French press and get a double buzz from sugar and caffeine—not a bad way to jumpstart the day.
How to book: Stop by for first come, first served seating.