Dallas, you're a fickle dining town. There, we said it. Restaurants come and they go, but even despite short attention spans, diners here have shown loyalty and devotion to a handful of stalwart destinations. These special spots -- some old, some relatively new -- have helped to elevate expectations, shape our collective palate, and bring Dallas closer to world-class dining city territory. Be sure to try these most important, most influential restaurants in town.
Recommended Video
This Restaurant Gives Brunch a Punjabi Twist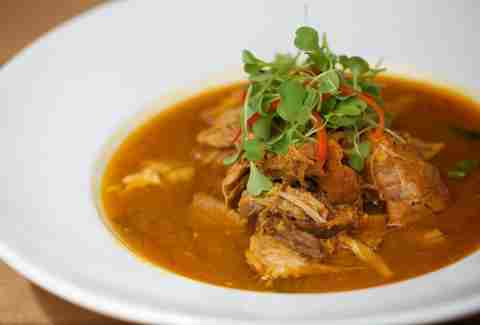 Oak Cliff
Thanks to classics like the supremely popular mole, seemingly no celebrity can pass through town without a meal at this Oak Cliff spot specializing in Veracruzan favorites. Mesa also has the distinction of being one of few true, purely Mexican restaurants to win and sustain the adoration of even the staunchest Tex-Mex lover.
Deep Ellum (& other locations)
Before Cane Rosso, Dallas mostly enjoyed pizza from chains or the scads of mom-and-pops that claim to serve "NY-style" pies. But this local powerhouse with numerous branches raised the collective pizza bar by bringing char-edged, thin-crusted, Italy-certified Neapolitan pizza to town, and we ate it up to the point that it's practically Neapolitan or nothin' up in here.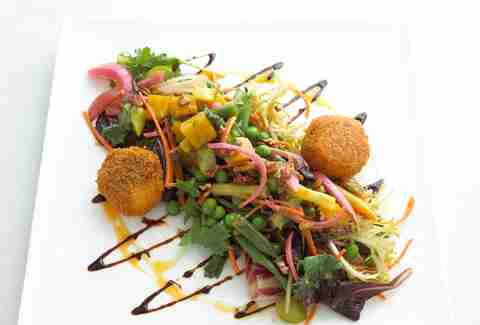 Uptown
Star chef Dean Fearing ushered in big, bold cowboy and Southwestern cuisine with an approachably haute sensibility when his showplace opened at the Ritz-Carlton. Now it's a Western-chic-themed chapel for those who can't get enough of plates like apricot barbecue-glazed salmon and Chef Dean's famous tortilla soup.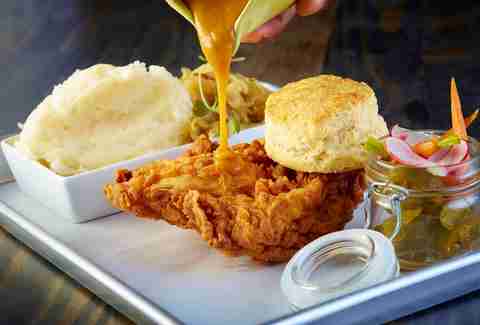 Downtown
With this new American bistro, local chefs and co-founders Chad Houser and Janice Provost showed that the Dallas restaurant scene's heart is as big as its appetite. The nonprofit eatery takes in incarcerated youths and teaches them to shine at all levels of service in-house, from kitchen to front-of-house, giving at-risk kids a chance to build a brighter future. So dine out and chip in.
Oak Cliff
Even though it'd been a thing in NYC and LA for awhile, the farm-to-table trend was firmly ushered into Dallas when hip, low-lit Bolsa came to town. Many years in -- meaning more than five years, a local milestone -- and you can still find a wait for the thoughtfully sourced meats and produce, expertly made desserts and fine craft cocktails here. We also have Bolsa to thank for introducing us to badass bartenders Eddie "Lucky" Campbell and Kyle Hilla and chefs extraordinaire Graham Dodds and Andrew Bell.
Uptown
Stephan Pyles' edible ode to Texas cookery is a culinary treat that excites both locals and visitors alike. Between the taco menu, honey-drizzled fried chicken and a chili pie with house-made corn chips, the menu is practically a love letter to the state's tastiest plates. From flavored chicharrones appetizers to creamy desserts in a jar, it's a letter we love keeping in our back pocket.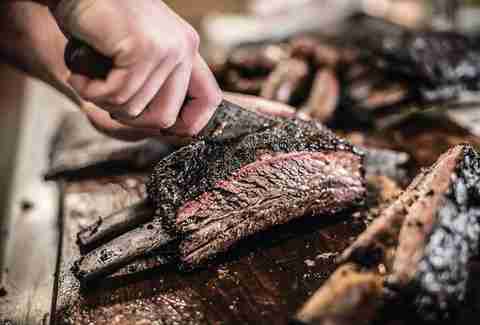 Deep Ellum
Argue away as to which BBQ joint's smoked meats are better, but since its early days operating out of a booth at the Farmers Market, Pecan Lodge has had brisket and rib lovers lining up around the building. Now in its own building in the sizzling Deep Ellum neighborhood, there's room to stretch out -- all the better to loosen one's belt after pounds of beef ribs, mac & cheese, and pulled pork-loaded baked potatoes.
Lower Greenville
This bistro was so Lower Greenville before Lower Greenville became Lower Greenville. And owners Brian and Courtney Luscher have made sure it's stood the test of time by keeping super-talented chefs de cuisine on hand to keep the European-inspired eats interesting and current and maintaining longtime classics like the addictive mushroom soup. A spot-on happy hour and one of the city's best burgers don't hurt business, either.
Oak Cliff
Spending years atop the list of Dallas' toughest tables has shined quite the spotlight on chef-owner David Uygur's tiny Italian gem. From pastas to cured meats, everything is as handmade as can be, with a rotating menu that spotlights numerous specialties. To be enjoyed, of course, if you can snag a table: reservations open on the first of the month and tend to be gone by... a few hours later on the first of the month. The bar seating is always open on a first-come-first-served basis.
Uptown
In addition to impeccable, industry-leading restaurant service, this Uptown icon is almost as well known for turning out upper tier chefs as it is for the fine-dining menu. Kent Rathbun, Dean Fearing, and John Tesar all sharpened their knives here, helping build the cache of this elegant purveyor of tasting menus, steaks, and seafood, and fine wine. It's still THE best special-occasion spot in town.
West Dallas and Plano
This brainchild of Chef Tim Byres gave barbecue a modern, chef-y flair, dazzling local diners enough to demand a second location up north. Sure the pulled whole hog and coffee-cured brisket are phenomenal here, but the Southern-influenced brunch also had a big hand in shooting Smoke into the stratosphere, thanks to plates like smoked brisket cornbread hash and blueberry and ricotta pancakes.
Downtown
Sure, this is just one culinary cog in master chef Wolfgang Puck's global restaurant machine, but it also inhabits one of our skyline's most iconic architectural landmarks, so it's also a place of great interest and curiosity to visitors and locals alike. Thankfully, the pan-Asian menu also slays, from Peking duck to all manner of sushi rolls to Eastern-influenced cocktails. Pop in at sunset to take advantage not only of the cityscapes at sunset but some fantastic food and drink specials at the bar.
Deep Ellum
No list of Dallas essential dining destinations is complete without a good, solid Tex-Mex entry, and this colorful, cozy corner of Deep Ellum fits the bill and then some. The enchiladas are amazing, the queso's on point, and the margaritas make every hour happy hour. It can get a little bustling at lunchtime, but that, too, is part of the charm.
Sign up here for our daily Dallas email and be the first to get all the food/drink/fun DFW has to offer.