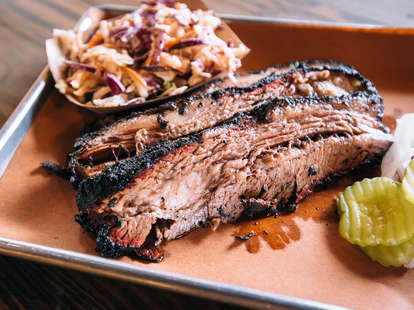 One of the hardest questions you'll ever have to face in our known universe is this: "What do you want to eat?" In Dallas, it's like solving a puzzle left on a chalkboard for a Matt Damon character. The districts and neighborhoods in the Dallas area are as broad as Big Tex's shoulders. There are both singular dishes that shine in some neighborhoods, and rows of potently good restaurants in others. So, how do you navigate this vast, meat-speckled Dallas landscape? Where do you even begin? Let's rank them, based on our current eating scene.
10. Lakewood
Don't be lulled by the gentle strolling and the quiet library; Lakewood has some fresh, scintillating dishes that will blow your socks clean off your feet. Aside from jazz and martinis at the Balcony Club, which hugs Lakewood's historic theater, and the classic dim-bar feel of the Cock and Bull (get a beer and a Reuben, for crying out loud), there's healthy wraps that don't suck at Unleavened. Or, screw healthy!, get the smoked cheeseburger at Lakewood Smokehouse. Mot Hai Ba pho or bun bo hue soup will turn your brain into a thunderstorm of good. Venturing out to the lake, try a BLT at Goodfriend Package, then pick up the best damn clam chowder, or fish & chips, in Dallas at 20 Feet Seafood Joint.
9. University Park
This isn't your average low-bar college food. Snider Plaza has some gems that stand out like a bald eagle: Kuby's deeply-authentic German food and market has a plate-spanning crispy schnitzel, and plump and juicy sausages. A fried chicken sandwich at East Hampton Sandwich Company is crunchy and juicy at the same time, and while you're in the area, get a bacon, egg, and American cheese biscuit at Bubba's. Do not leave the area without a burger -- or a Reuben -- from Knife. It's one of the best in Texas.
8. Downtown & Uptown
This neighborhood lives and breathes with restaurants and bars. There's tapas and tequila at Dos Jefes. There's eye-opening Thai at Crushcraft, which is open until hangover-cure hours. Urban Taco and Common Table have patios that will soothe your soul. How could you avoid Shake Shack, the first Dallas location, which has a burger topped with Pecan Lodge sausage? Wine and appetizers at Baboush will not let you down. Heading into Downtown, there's upscale, creative Texas comfort foods at Stampede 66, and CBD Provisions' pig face tacos. Those will change your life. Guaran-damn-tee it.
7. Design District
You'll never reach full happiness as a Dallas eater until you've been to Slow Bone. The sides, the fried chicken, or the brisket are all you need. Of course, there's Oak, powered by chef John Tesar, and iced coffee that will caffeinate you until you can see radio waves at Ascension. Burgers at Rodeo Goat are complex and delicious, and one of Dallas' most thoughtful beer menus is at Meddlesome Moth. Stop in for a cold beer and a rabbit pot pie.
6. Oak Lawn
Oak Lawn is full of hidden gems. Aside from a dozen taquerias along Maple Ave, where you can get a beer and a lengua taco in fast fashion, the flat-top, seared-crust burgers at Maple and Motor are what you need after a long day. Get tater tots fried in magic oil. Chef Julian Barsotti's Italian at Sprezza, and the wildly underrated Carbone's, are some of the best Italian in North Texas. Street's Fine Chicken is another newly buzzing joint if you're in need of some chicken-fried steak. Stop in for a cocktail and a killer jukebox at the Windmill Lounge or The Grapevine Bar.
5. Knox-Henderson-Fitzhugh
Knox-Henderson is a loaded baked potato of great restaurants and bars. Everything's decadent and layered. The Old Monk is a staple, with great imported beer and fish & chips. Sissy's has upscale but simple fried chicken and deviled eggs. Video and bar games meet cocktails at Barcadia. You could go straight for the mac & cheese at Victor Tangos, or the foie gras-topped burger at The Porch. There's also Gemma, which is crafting some of the best desserts in the land. Over on Fitzhugh, lime-showered fish tacos and screamingly fresh pastor tacos at El Come Taco are what you want. And grab a pizza to go from ZaLat.
4. Trinity Groves
Good news, friend! This little district is walkable-ish, and dazzling with new restaurants and bars. Find a spot to stow your car, and head into Off-Site Kitchen for a house-ground cheeseburger and crispy French fries. Duck-fat fried rice at Chino Chinatown is cracklin' good comfort food. Casa Rubia is stellar. Whatever you do, don't leave the area without ice cream or bonbons from Kate Weiser. Just nearby, Chicken Scratch has fried chicken sandwiches drizzled with honey.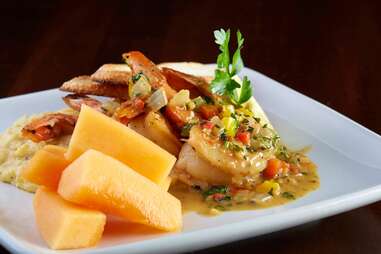 3. Greenville
You can't deny the power of Greenville. From Lovers to Ross, it's an artery pulsing with vibrant drinks and eats. There's newbies like Knuckle Sandwich and Clark Food & Wine Company, where you can get craft sandwiches and smoked shrimp dip (respectively). There are long-standing icons like St. Martin's Wine Bistro and The Grape, which will be your new favorite date spot. Remedy has a bologna sandwich that saves lives -- right across the street from a damn treehouse bar at the Truck Yard. At The Blind Butcher, they're putting bone marrow in chocolate cake. There's music, cocktails, bikes -- and some of the best damn popsicles this side of the Mason-Dixon.
2. Bishop Arts
So you're in Oak Cliff's Bishop Arts. You've made a fantastic decision. Where do you start? There's something for every craving: Veracruz Cafe is sizzling with queso fundido; Boulevardier has beer and oysters and a cheeseburger that causes visions; C. Señor has sandwiches that double as tacos (get the Cuban); Lockhart Smokehouse has sausage that melts in your mouth. Shoulder clod is also a popular order. What about Lucia, which serves actually mind-blowing pasta dishes? Or shrimp & grits at Hattie's? Or skip the savory and go for a salty-sweet chocolate pie slice at Emporium. Also, how can you not enjoy a district with its own cidery? Try a little of everything, or just get a Sundae Sack at Eno's. The food excitement is practically pressed into the concrete.
1. Deep Ellum
Deep Ellum is alive and breathing electric air into the city. Its Dallas' most exciting place to eat right now. Pull up a chair at On the Lamb, where fettucine is tossed with lamb neck and pepper. Grab a bright margherita pizza, straight from an 800-degree oven, at Cane Rosso's flagship location. You might just be able to catch the aroma of smoke from Pecan Lodge, too. A house red ale at Braindead is pretty much the best with chips and queso. On Main St, you must stop for dumplings or beef noodle soup at Monkey King Noodle Company. It's street food at its finest. Or do a Chicago dog at Luscher's! Or Stonedeck's pizza buffet! It's all there; it's Dallas' most kinetic restaurant district.
Sign up here for our daily Dallas email and be the first to get all the food/drink/fun DFW has to offer.
Nick Rallo is a writer in Dallas, and he's considering starting a business where you can chicken-fry anything. Follow him @nickrallo.