The Best New Brunches in Dallas
With the start of patio season, embrace that urge to rush forth and attack weekend brunches as though favorable weather patterns will never properly align again. We're jazzed that notable Dallas restaurants have graced us with hot new weekend breakfast services to which we have no choice but to raise a mimosa. Here are 10 great spots perfect for breaking your fast and/or recovering from your hangover.
 
Lower Greenville
The weekend breakfast menu here is just as you'd expect from the Southern farm-to-fork spot: thoughtful, out-of-the-ordinary entrees that zig where most brunches zag. We're talking lamb sausage, beef bacon, and duck egg shakshouka; plus, a paleo granola, salads, and avocado toast for lighter eaters. The blueberry-topped ricotta pancakes over a schmear of lemon curd will fuel brunch dreams for days to come.
Courtesy of Matchbox American Kitchen + Spirit
Preston Hollow
Speaking of day-after recovery, matchbox seems more than willing to lend you a hand all weekend -- there's a dish called the Walk of Shame Burrito, after all, which tastes like a reward for last night's dubious choices. In the meantime, the Bloody Mary Burger combines two brunch favorites, and pastries like the cast-iron cinnamon rolls can sate any morning sweet tooth.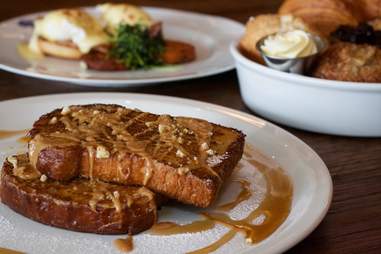 Courtesy of Nicole Chavez
Park Cities
The brunch dishes at this Wes Anderson-inspired eatery sound as proper as... well, a dish served to a character in his movies. Broiled oranges & berries; ham & egg salad sourdough toasts; and French Toast Royale sound right at home in a scene with Bill Murray. Salads and sandwiches round out the offerings.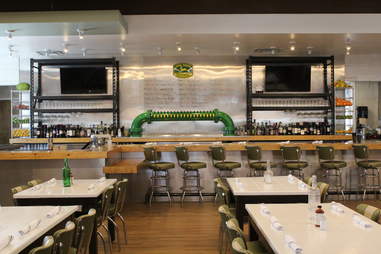 Courtesy of Mudhen
Downtown
This new restaurant's super-health-conscious bent doesn't let up at weekend brunch. In fact, dishes like collard spring rolls, green eggs and ham Benedict, whole wheat pancakes, and "Groatmeal" are right in line with the fresh, local, and sustainable menu Mudhen loves to serve. The garden goodness even extends to drinks, with made-to-order juices and smoothies on offer.
Courtesy of Cultivate PR
Uptown
As with the dinner menu, Sunday brunch here features fun food with serious culinary chops and a touch of Asian flair behind it. Miso-caramel pull-apart buns may start a straight-up fork fight; you also won't want to share the katsudon topped with egg, or the pimento cheese-drenched breakfast bun. Maybe start with any of the phenomenal brunch cocktails to smooth the decision-making process.
Far North Dallas
Fans of this San Diego import cheered its recent opening, and it's no wonder: the portions are gigantic, and brunch plates are no exception. Most cherished of all dishes is the sage-fried chicken stack that comes atop a stack of waffles; there are also scrambles, hashes, and Benedicts aplenty. But one does not simply attack this alone, so bring a foodie friend. And note that breakfast is served daily at the Hash House.
Deep Ellum
Regional influences dominate this Sunday-only menu that borrows popular dishes (fried hot catfish, roasted onion dip, Appalachian fried chicken) from the evening meal. Brunch signatures include the heirloom grain waffles dotted with almonds & cherries, eggs Benedict on cheddar-chive biscuits, and a veggie strata. You'll never go wrong with cocktails here, at any hour.
Downtown
All weekend, you can find a funky mix of Downtown dwellers and Joule Hotel guests savoring the Italian-influenced brunch cuisine in this modern space with the sleek patio. You'd be crazy not to try the breakfast pizza, crafted on the crisp, light dough that makes dinner pizzas soar, but don't overlook the saucy baked eggs or the torta rustica.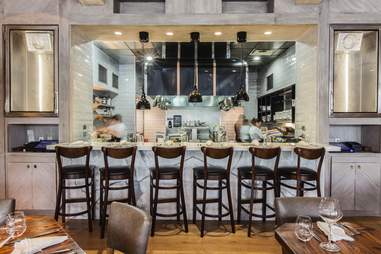 Courtesy of Bread & Butter PR
Oak Lawn
Sundays get lively here, as this popular French-Mex fusion spot whips up breakfast in the same bicoastal vein. Think classic croque madames crowned with an egg, pozole with a hint of spice, and a wildly tasty chilaquiles with duck confit, and you've got a sense of what's up for grabs here. Just hope you can grab a seat.
Courtesy of Kevin Marple
Plano
The Sunday brunch menu at this Plano restaurant is short, but loaded with rich, swoon-worthy Southern favorites like fried catfish with cheese grits; chicken & waffles; shrimp & grits; and classic egg dishes. Don't let all that decadence deter you from starting with the house-made biscuits -- you can work it off later, in your post-brunch nap dreams.
Sign up here for our daily Dallas email and be the first to get all the food/drink/fun DFW has to offer.
Farah Fleurima is a Dallas-based freelance food writer whose preferred Champagne-delivery vehicle at brunch is the Bellini. Judge her other beverage choices at her blog, The Dallas Diva, and follow her at Twitter at @TheDallasDiva.