Summer in Dallas is officially rolling. With Spring in the rear-view mirror (metaphorically... you should NOT be reading this while you're driving), it's time to check in on the tastiest restaurants that have recently opened in Dallas, so you can better plan your Summer face-stuffing schedule.
Recommended Video
Proof That Iceland's Ring Road Is the World's Most Beautiful Road Trip
Stock & Barrel (address and info)
Bishop Arts
Any place that dedicates an entire section of the menu to fries has our attention, especially when that section includes entries like crushed Yukons with Parmesan and smoked paprika mayo or blue cheese potato chips with house-smoked bacon and scallions. But there's plenty more here worthy of attention, with the sleek decor providing the backdrop for you to get down on the likes of brisket burgers, Wagyu meatloaf with melted onion hash, and braised pork cheeks with cheese grits. Add in a Mezcal Mule or a Green Tea Julep and settle in for the evening.
San Salvaje (address and info)
Downtown
Stephen Pyles knows just a FEW things about making good food, see (Stephan Pyles, Stampede 66). His latest spot, San Salvaje, is an upscale Latin-inspired restaurant with a Texas vibe turning out bites like fried squid tacos with preserved lemon and crab arepas with South Texas grapefruit. For larger plates, or platos grandes for you bilingual folk, there's carne asada with grilled queso blanco and lobster coconut caldo with ginger and lemongrass. Given the pedigree, you're best move is to eat everything.
Knife (address and info)
Lower Greenville
Chef John Tesar's latest cutlery-named opening is changing up the Dallas protein game, offering some less-heralded cuts of meats including: chuck flap, pork jowl, pig head, beef tongue, Sriracha pork belly, and it's crown jewel – a 240-day dry-aged ribeye, which will run you $80/inch (you read that right). However, the menu overall is fairly affordable, given the quality, so you can feel free to explore the foie gras sliders and house-made pastas like oxtail ravioli with aged balsamic.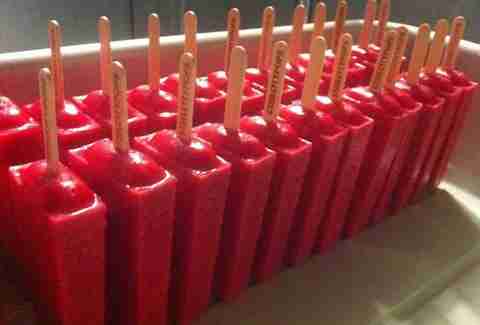 Steel City Pops (address and info)
Lower Greenville
Remember those packages of, like, 1,000 popsicles your mom would buy you when you were a kid? The orange were, you know, orange flavor and the blue was... weird and gross. These are nothing like those. Steel City Pops uses organic ingredients (sourced locally as much as they can) to bring you flavors like blueberry basil, pineapple avocado, and cherry sour cream. This place just might save your nostalgia-seeking life this Summer.
Method: Caffeination & Fare (address and info)
East Dallas
It's not the swiftest place, but making your caffeinated beverage look so good takes time, and the taste is equally worth the wait. Get yourself a cortado, but go in armed with the knowledge that it could become habit forming. As their name suggests, they're going beyond the beans with sustenance ranging from parfaits to breakfast tacos. Bonus note:
they use an espresso machine from a company called Slayer, it's the only one in Dallas, and it cost about as much as your car ($18,000).
Bowen House (address and info)
Uptown
Is Bowen House is an incredible cocktail bar that also serves amazing food, or an incredible restaurant that also serves amazing cocktails? Tough call, but either way you'll be pleased. Taking a page from the playbook of Smyth, Bowen House offers no cocktail menu -- you simply tell them what kind of drinks you generally enjoy and their chemists (posing as bartenders) will take care of the rest. And if the drink they make you is not your thing, no problem, they will make a new one on their dime. As for the food, there's not a huge menu, but what they do have they do well: bruschetta with fried Brie, brisket sliders, and wild boar meatloaf.
Vagabond (address and info)
Lower Greenville
Despite the name, we truly hope Vagabond is here to stay and doesn't wander down train tracks looking for a different home. Why? Well, there're the seriously legit burgers that're customizable with everything from bacon to chimichurri. There're the duck fries you'll be having alongside said burgers. There're 30-plus craft beers along with some serious cocktails. There's bocce ball on their patio. There's no reason you shouldn't be spending plenty of time here.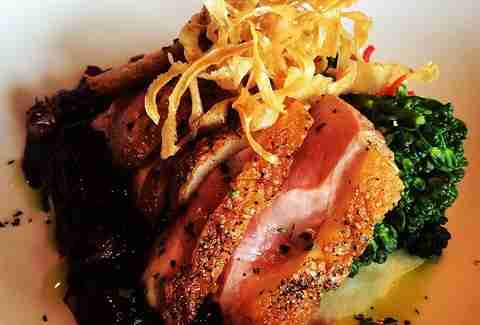 Bite City Grill (address and info)
Arlington Heights
A nod to our neighbors out West in Fort Worth, Bite City Grill is living up to its name. But what to bite first? The seared duck with parsnip cauliflower puree? Their Big Bite Burger with truffle fries? The braised short ribs with soft polenta and balsamic soy glaze? EVERYTHING?! They're also bringing a zodiac-inspired cocktail menu to the table, making it possible to merge the what's-your-sign/can-I-buy-you-a-drink pickup moves into a single maneuver. Also: salted caramel ice cream.
Palapas Seafood Bar (address and info)
Lower Greenville
With a South-of-the-border take on seafood, you'll get a good feeling about this place as soon as they set down your gratis chips with a garlicky salsa that packs just the right amount of heat. From there, you'll be hard pressed to find better ceviche in Dallas, and you'd be well advised order the Pescado Zarandeado, a whole grilled fresh red snapper marinated and cooked in their house sauce. But if you don't go that route, odds are you'll still be quite pleased with your selection.
EZ Dude BBQ (address and info)
Deep Ellum
So, you're out drinking and enjoying yourself when suddenly -- it's 2am. Time to start packing it up, but, what's that? You're hungry. You start running through the options... greasy burger? Late-night tacos? No, those just won't do. Have no fear friend -- EZ Dude BBQ is now open in Deep Ellum. That's right, you can now chow down on brisket, spare ribs, their Black Label Baby Backs, or a smoked hot dog or hamburger in the wee hours. You can also pair all of the carne with jalapeño baked beans, roasted rosemary potatoes, or baked cheesy potatoes.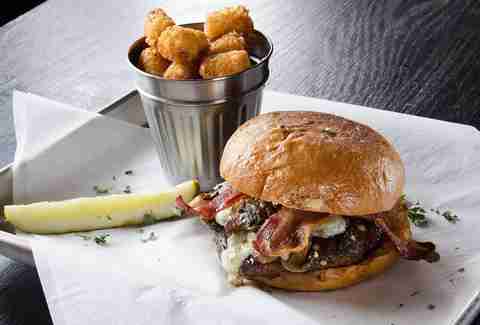 Henderson Tap House (address and info)
Uptown
This sports bar is putting your run-of-the-mill bar food to shame with the likes of fresh baked pretzels with beer cheddar fondue and horseradish mustard, prime rib and potato nachos, and lobster and artichoke dip. Follow that up with some serious burgers -- try the spice-packed Firebreather -- because with 50-plus beers on hand, odds are you'll find something you like to cool things off. But you wanted a cocktail, you say? Try the Spicy Paloma – Pepe Zevada Z tequila, fresh lime juice, jalapeño, and grapefruit juice.
This list -- and all the rest -- look even sexier in our iPhone app. Get it now!