A crazy number of new restaurants opened this year in Dallas. There's a restaurant turning on its open sign as you're reading this. There goes another one! Because you may not have the time/money/digestive capacity to eat at ALL of them, here is some help in the form of the 11 best restaurants that opened in Dallas this year:
Recommended Video
Here's Our Travel Guide to This Nation of Over 7,000 Islands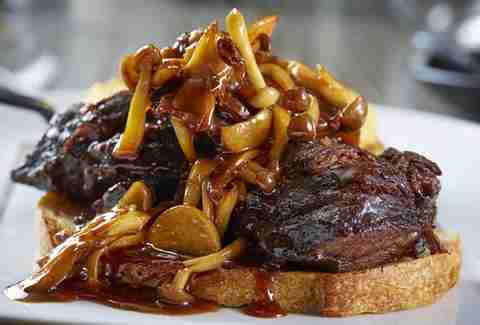 Lower Greenville
Whether or not you're a John Tesar fan, you have to respect the magic he makes in the kitchen, as evidenced by the quality coming out of his palace-of-protein, Knife. There was rightfully much commotion over the 240-day aged ribeye and its $80/in price tag, but there's amazingness up and down this menu. from the five-way bacon tasting to the oxtail ravioli with aged balsamic, to the sides of avocado fries & creamed spinach with roasted shallots... for those who feel better sneaking in some vegetable matter. Whether you're enjoying a slab of prime beef from 44 Farms in Cameron or a few bacon jam sloppy joes, your first thought after "mmmmm" is likely to be "when can I go back?".
Uptown
Bowen House, while it does mix some of the best cocktails in the city, isn't to be written off as a run-of the-mill bar. From pillowy soft pretzels and satisfying portabello frites, to duck wings and bacon-wrapped shrimp & grits, the food is every bit as impressive as the drinks operation, which eschews menus in favor of having the bar staff customize your boozy experience to suit your taste.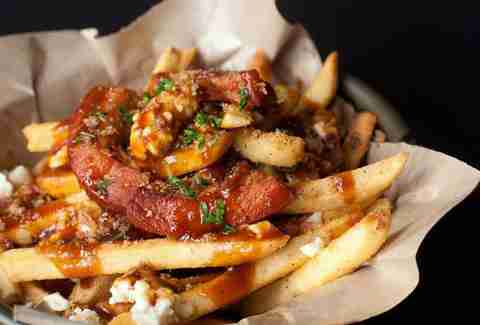 Lower Greenville
Fifty percent smokehouse, fifty percent bar, one hundred percent amazing; it's no surprise Blind Butcher is steadily packed with hungry carnivores. The focal point of the menu is their hand-cranked sausages that they're constantly rotating (in more ways than one!). And for an extra buck they will throw it in a bun! Of course, there's also that duck fat poutine layered with cheese curds, gravy, and other indulgences (pork belly!). Pro tip: If you go off the menu, there's even a dessert poutine of churro fries topped with brown butter caramel sauce and bacon-infused marshmallows. So yeah, they have some good ideas here.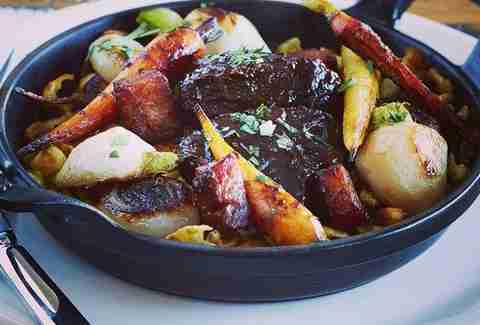 Lower Greenville
From the food quality to the service to... well, basically everything, the one word that best sums up the experience of dining at Gemma is "perfection". Whether you're going light (like a kampachi crudo bathed in yuzu with finger lime, sea beans, and kiwi berry) or reaching for richer flavor like braised veal cheeks with bacon, roasted cipollini, and black pepper spaetzle, everything will be thoughtful, well-balanced, and most importantly, delicious. Even the cocktails are on point -- like a Chartreuse-kissed fennel rickey. They'll treat you like royalty here, so if you haven't had the experience yet, make it happen.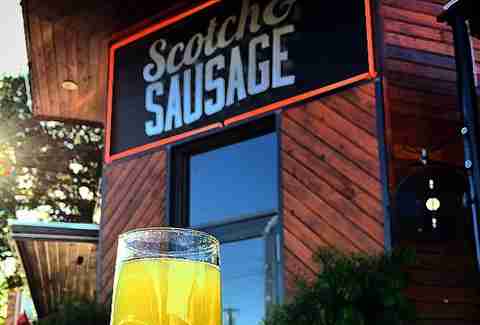 Oak Lawn
One of the best vegan places to open in Dallas since... haha, fooled you! Okay, probably not, and thankfully Scotch & Sausage's name isn't some kind of clever misdirection. The lineup of house-made encased meats is both robust and affordable (and in all seriousness this time, they do have some solid choices for any vega- types you're bringing along). The German Biergarten atmosphere is decidedly vibrant, and the whiskey, as you might imagine, is beyond plentiful. Basically, you have everything you need.
Uptown
Barter's made a serious splash in Uptown with a lineup of semi-upscale twists on familiar flavors. Think appetizers like buffalo style quail eggs and short rib spring rolls. Entrees are hearty and comforting, like a roasted half-chicken with carrots & pan jus, and a sweet tea-smoked double bone-in pork chop with goat yogurt grits & fermented chili oil. Their cocktail game is also strong -- if you're the trusting type, go bartender's-choice and let them whip something up to suit your tastes.
Bishop Arts District
How does one stand out in one of the most vibrant food neighborhoods in all of Dallas? Here are some suggestions: Wagyu meatloaf with smoked bacon and melted onion hash, or goat cheese dumplings with hen of the woods 'shrooms and braised greens that'll make you ignore anything happening around you. Hip and upscale, yet rustic and unpretentious, the atmosphere's as balanced as the menu, which you'll likely want to explore in full over multiple trips -- otherwise, the decision between toffee croissant bread pudding and warm chocolate s'mores cake for dessert might cripple you.
One Arts Plaza
Another spot trading equally strongly on culinary and cocktail cred, Proof & Pantry has an interestingly constructed menu, with a "Bulk" section composed of items designed for a few hungry people (like ribeye with confit potatoes, long beans, and heirloom carrots). You might also reach for smaller bites by "Land" (bone marrow topped with onion marshmallow, tomato jam, and hazelnut gremolata has a devoted following), or "Sea" (binchotan spot prawns with freshwater eel). "Soil" is veg-focused (though baked burrata with candied tomatoes is plenty indulgent), and "Sweets & Cheeses" brings it home with pavlova with dark chocolate & passion fruit gel. Leave no section unexplored.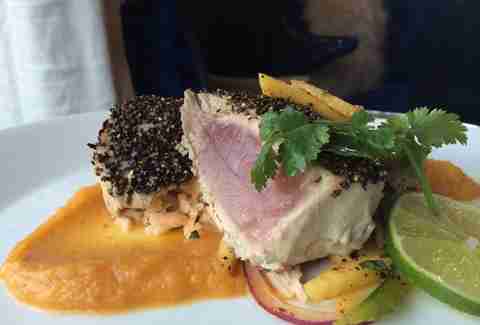 Oak Cliff
Having settled in seamlessly to Oak Cliff this fall, VH has sated the masses with hearty plates like red wine pot roast with cheddar grits and bacon-wrapped pork tenderloin with sweet potato puree, green chile succotash, and a maple sherry reduction. The atmosphere is warm and welcoming, but the food is executed with impressive precision. It makes for a fine date spot, provided the two of you aren't in a food coma by the time you're digging into your chocolate chip pretzel cookies with vanilla bean ice cream.
Uptown
Fresh, inexpensive, and unspeakably delicious, Crushcraft's tight menu takes well-known Thai style dishes and does them exceptionally well. None of the eight entrees top $10 (well, unless you add a fried egg, so... some of them will probably top $10, but still). Also, you'd be remiss to leave without some of the incredibly fresh, spicy, and vibrant papaya salad or the satisfying (even for carnivorous types) tofu fries.
East Dallas
Sometimes you want a fancy joint that feels like a big event, and sometimes you want to be able to walk in with a five spot and come out satisfied. Come Taco is there for you in these moments. The question isn't "will you get al pastor tacos", the question is how many will you devour, doused in their house-made salsas. Maybe you'll mix it up with a chorizo taco or a torta pambazo? No matter what you decide, you're likely landing on a cost-to-deliciousness ratio that's just about unbeatable in Dallas.
Sign up here for our daily Dallas email and be the first to get all the food/drink/fun DFW has to offer.