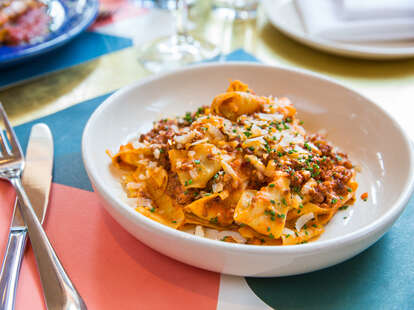 There's something going on in Dallas. There's a movement shifting around -- a de-chefied slide back to restaurants that focus solely on monument-big flavors. In Deep Ellum, American cheese is king and sweetbreads are made to look like chicken nuggets. In the Cedars, crackling-bread banh mi will introduce you to the flavors of Vietnam while Shiner Bock trucks roar by, all for less than 10 bucks, under the hot Texas sun. Many -- arguably too many -- restaurants have come and gone this year, but there's a revolution of good, honest, simple and heartfelt food here. These are Dallas' shockingly good new restaurants.
Deep Ellum
A comforting home for artisan cocktails and some of the best bar food in town
Early in 2017, a new bar from Nick Backlund nestled its way into the corner of Elm and Malcolm X. It has a fresh, hydroponic herb garden hanging in good light behind the counter. It deploys artisan cocktail tricks -- including Old Fashioneds that are served in a glass flask, made-in-advance, and kept hidden in the refrigerator. The upshot: there's not a lick of pretension to their stunningly simple and just plain-damn delicious bar food. The chicken sandwich is a Rembrandt, made with chicken breast brined with lemon and spices for a day before a buttermilk bath and a dunk into seasoned flour. Lightning hot oil fries it crisp, and then it's topped with pickled Fresno peppers. Their burger, six bucks at happy hour, is a comforting, new American cheese icon. The bacon is shatteringly crisp. This is a true American bar, and it walks the line of comfort and elevation.
Deep Ellum
A transformative taqueria that finally found a home here in Dallas
Revolver opened its doors in 2017's Deep Ellum after a long stint in Fort Worth, and it's changed the landscape of tacos for good. There's nothing on its menu that won't change you, and everything tastes autumnal, heating your core like a hearth. It begins with the smell of garlic tumbling into a hot pan when you walk in and continues through the pickled onions and lime-showered pastor that top your tacos and make you shut off everything around you. Don't worry about talking about how good Revolver's tacos are for a while. Just sit and process the flavors. The pulpo taco, made with octopus as tender as you've ever had it (this is so far from the tire-chew of most sad octopus rings) is electric, zapped by ocean and a lime-green salsa. This is all you need.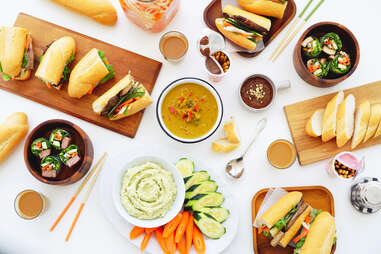 The Cedars
Every insane sandwich you can get here is a steal
One of the hardest-working joints in the city right now is this sandwich spot from owner and chef Reyna Duong. Right around lunch, you may catch the smoky aroma of charring pork piping from the window. Duong's team makes everything -- except the bread, sourced from a bakery in nearby Garland -- in-house and until the ingredients are gone. The pork sausage banh mi is art in sandwich form. That Spam-thick patty of house sausage, garlicky and fresh as a Texas breeze, will cost you no more than 10 bucks, and you'll be on your way to golden slumbers. It started as a pop-up generating great word-of-mouth from Duong's cooking (she was born in a fishing village in Vietnam), and now it's one of the best damn places to grab a sandwich in a city with too few good ones.
Oak Lawn
A rare steakhouse you feel great about shelling out for
You deserve a comforting-to-the-bone, steak meal after a year like this. You deserve tater tots topped with mountainous pulls of crab, martinis as cold as icebergs, and, of course, oysters. Town Hearth, chef Nick Badovinus' gem of a steakhouse, is where you want to be when the apocalypse presents itself. Park us in front of tots du jour, the north-of-$20 tater tots dish with crab and bearnaise sauce. Saddle us up to an aged steak, with plenty of Gibsons. Cocktail onions count as vegetables, right? This is one of Dallas' most expensive restaurants for a reason: You'll want to empty your checking account for a night out here.
Design District
A surprisingly terrific, cheap Italian restaurant in Dallas
Finding great Italian, the kind that'll knock the Joe Pesci right out of you, is no easy task in Dallas. Good dishes are scattered to the wind -- a pizza here, a cold cut sub there -- and all-around great spots are rare. Sassetta, one 2017's entries to the Design District, is one of them. The food is light and lemony. White sauce clam pizza tastes like clean New York winter air. Charred octopus is cut through with salsa verde. Sassetta's a surprising, delicious new edition to our design district. The best part: the most expensive menu item is the $16 lasagna al forno.
University Park
A fun Japanese joint great for late-night bao and sake juice boxes
You may not know it yet, but you need Sumo Shack, one of SMU Boulevard's newest establishments. This Japanese joint adorns its walls with huge illustrations and keeps its menu -- packed with ramen and hot dogs -- super affordable. There's a fried-chicken bao, a steamed bun filled with delicious things, that gets served to you with a hit with American cheese sauce. There's a cheeseburger bao, probably the only one this side of the Mason-Dixon, that's made with -- wait for it -- homemade Baco's. All of this comes from the mind of chef Dien Nguyen, who clearly knows the balance between comfort and innovation and incorporates both into every dish on his menu. From the ramen to the beef hot dog topped with strips of seaweed, his food is electric and damn fun. There's sake juice boxes, and it's open so late that you'll be eating bao straight into tomorrow.
Deep Ellum
Ever-changing Southern food made with fresh ingredients and international flavors
You wouldn't think it at first glance, but this humble spot, right across the street from one of Deep Ellum's best bar corners, right now, is probably making its own fish sauce. Actually, chef Joshua Harmon is making his own everything at Junction Craft, where American cheese, butter, and white wine are labored over, the vegetables come straight from Harmon's garden, and his mom bakes daily helpings of pie. The seasonally changing dishes range from sweetbreads that are transformed into "chicken nuggets" to parsnips and blood sausage plated as vividly as a Technicolor movie. Chef Harmon and restaurateur Casie Caldwell took what Kitchen LTO was in early 2017, and transformed it into one of Dallas best, most mutable fine dining restaurants.
Oak Cliff
A taco stand built on bold flavors and delicious blue-corn tortillas
Everything needed for the hierarchy of human happiness can be found at one of Oak Cliff's and best taquerias. Its fish taco -- flat-grilled and seasoned with dry peppers -- sparks and bursts like fireworks on your palate. Owner and executive chef Fino Rodriguez uses the powers of pastor on his chicken, marinating it with achiote and herbs like orange leaves, thyme, and laurel, and creating powerful and bright food in process. Do not -- we repeat -- do not forget the Taco Olmeca, which is a giant quesadilla filled with your choice of meat, grilled green and red peppers, and cheese. Taquero opened in April 2017, and its blue-corn tortillas deserve an award unto themselves.
Deep Ellum
Finally, a permanent hub for the food truck burgers you can't stop inhaling
Life should begin and end with tater tots, among waterfalls of ranch and chives. Easy Slider knows the happiness of simple things and simple foods. Inside, halved Topo Chico bottles are filled with succulents, and a neon sign blazes with the succinct, capitalized slogan "EAT SLIDERS." The company's brick-and-mortar spot in Deep Ellum is as simple and to the point as a great Western flick. It's a remarkable evolution from their food truck with the same name and it's an evolution that few get to make. The stars of the party are the cheeseburgers. Each is delicious from top-to-bottom -- especially the Roadside, made with fried onions, barbecue sauce, bacon, and Cheddar. Still, there's something about those loaded tater tots that touch the sky.
Carrollton
Perfectly balanced, authentic Thai food in the city
If there are 200 Thai restaurants in the metroplex, each one does pad Thai in its own way. The most Americanized versions skimp on the tamarind sauce, and spike up the sweetness until it taste nearly like honey-roasted Planters peanuts are in there. The best versions are scarlet with tamarind, and better employ the classic Thai balance of sour, spicy, and hints of sweet flavors. Carrollton's new Thai spot has one of the best in the city. Its food is Bangkok direct to Dallas. The tum thai, an electrically spicy papaya salad, tastes atypical of anything Dallas. The noodles and curry are rich and bold and spicy in levels (listed as 1-5). It took less than five months of being open, but Too Thai's mastered its flavors.
Sign up here for our daily Dallas email and be the first to get all the food/drink/fun DFW has to offer.
Nick is a writer in Dallas. His series on burgers and diners that don't suck appears on the
Dallas Observer
weekly, and he wishes there was an advent calendar for sandwiches. Follow him @nickrallo.