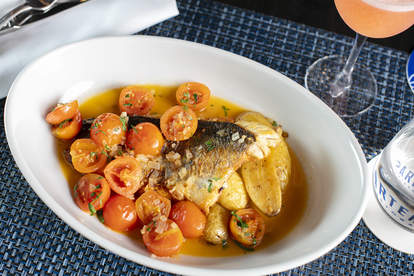 DFW's Best Restaurant Openings of 2019
Dallas has been bursting at the seams with fantastic restaurants for a while now, from no-frills mom-and-pops to extravagant options from internationally renowned chefs -- and it looks like the secret's finally been let out, with national publications finally starting to take notice of our culinary bounty. Sure, you'll still find a steakhouse on nearly every corner with BBQ and burger joints sandwiched in between, but this meaty mecca has also blossomed as a plant-based paradise for vegans, too. Indeed, 2019 has seen the bar raised across the board, with beloved chefs embarking on new culinary adventures just in time to say goodbye to old favorites that took one final bow. Here are 10 restaurants that promised greatness and rose to the occasion brilliantly.
Highland Park
Modern neighborhood bistro serving elevated American fare
Situated in a strip center formerly known for actual strippers, Beverley's singlehandedly elevated the curb appeal the moment it debuted. The previously windowless space is now bathed in natural light, matched perfectly by the vivid tones of the dining room's booths and banquettes. On the menu, old-school Jewish deli staples including matzo ball soup and latkes (upgraded here with Hackleback caviar) feel entirely modern while providing nostalgic comfort, and the raw bar offers classics ranging from oysters on the half shell to spicy ceviche tostadas, as well as a Tabasco-enhanced New Orleans-style beef tartare. Main courses also showcase crowd-pleasers aplenty: towering double cheeseburgers, roasted half chickens, and classic steak frites, each of which can be paired perfectly with a glass or bottle from a well-curated wine list.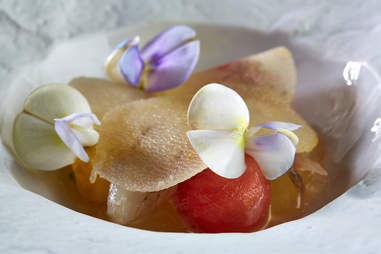 Kevin Marple
Dallas Arts District
Chef's tasting room with a flair for the dramatic
Never one to rest on his Southwestern laurels, chef Stephan Pyles debuted a tiny restaurant-within-a-restaurant so filled with intrigue, humor, and ovation-worthy spectacle, it could easily sell out the larger venues of the Dallas Arts District surrounding it. The place seats 16 at a time, but the intimacy of the experience is only half the fun: Diners will embark on a gastronomic journey through 12 courses, set to a soundtrack compiled by Pyles himself. There's an element of surprise every time the kitchen doors slide open, revealing anything from an interactive cooking-over-fire experience at one moment to billowing vapors of dry ice the next. With an ever-changing menu and optional boozy pairings, each visit promises something dramatically different -- emphasis on the drama.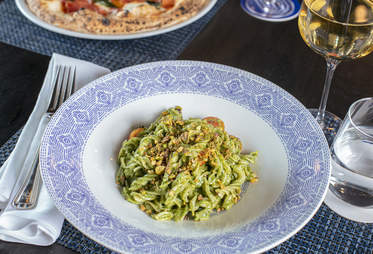 Emily Loving
Downtown Dallas
Thin-crust pizza and southern Italian fare from a Naples-born chef
Even if you don't know Dino Santonicola by name, chances are you've tasted his handiwork at local Neapolitan pizza phenomenon
Cane Rosso
. Santonicola has taken his skills to a new, colorfully tiled pizza oven inside the rustic-chic downtown cafe he runs with his wife, Megan. A $9-or-less happy hour menu lures the after-work (or instead-of-work) crowd with cocktails, shareables, and meal-size options. For true happiness, though, order the Montanara pizza from the regular menu -- not only for the unique fried-before-it's-baked crust, but to brag to your friends that you've eaten a gold medal winner from the Pizza Olympics. You'll also find fresh and imported pastas here, as well as a wine list dripping with Italian vintages, and you can even take classes on the art of pizza and pasta if you want to do it like Dino in your own home. Start figuring out where to place the brick oven now.
Oak Lawn
Matt McCallister's ode to comfort food with an upscale spin
A year after shuttering the high-concept (and admittedly ego-driven)
FT33
, talented chef Matt McCallister's returned to the scene with a focus on flavors over flash. That's not to say Homewood's lacking in razzle-dazzle, though; even mundane-anywhere-else things like dinner rolls come adorned with parmesan mornay and chicken drippings, kicking off a meal that's an undeniable feast for the senses. Save room for dessert, too, because wildly inventive pastry chef Maggie Huff, Girl Wonder to McCallister's Batman, has returned for a whole new ride. We dare you to devour her smoked almond caramel bar and not weep a little.
White Unicorn Agency
University Park
Posh indoor/outdoor dining experience focused on elegant Italian fare
People have lamented Dallas' lack of good Italian food for ages, but that complaint holds less and less water these days. Case in point, il Bracco: a cozy, unassuming restaurant at The Plaza at Preston Center, boasting a wrap-around front patio perfect for sipping their signature cocktail, The Bracco (a frozen Italian greyhound of sorts). The sophisticated menu offers a fresh take on classic dishes from the northern Italian-skewing kitchen where everything is scratch-made. Can't-miss picks include limited-availability fried baby artichokes, massive beef-lamb-and-pork meatballs, a spicy gemelli with creamy vodka sauce, and to-die-for Mediterranean sea bass topped with a refreshing mint gremolata. Even non-vegetarians will flock to the hearty, thick-cut eggplant parmesan, while the chicken sandwich war could (and should) end with il Bracco's two-handed sun-dried tomato, fennel, and provolone creation.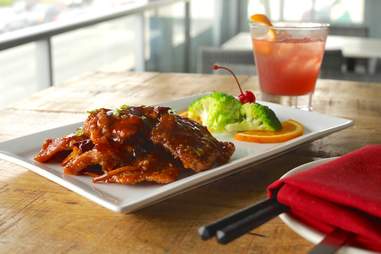 Courtesy of Jia Modern Chinese & Asian Lounge
University Park
Perfect representations of classic Chinese dishes in swanky 2-story space
This two-story restaurant from namesake chef Jia Huang showcases her passion for high-quality Chinese food, which traces back to her childhood when she and her sisters helped their father cook in the family's small restaurant and work their small farm in China. Rather than a never-ending cavalcade of dishes, the focused menu highlights only a handful of expertly prepared dishes in the usual chicken, beef/pork, seafood, and vegetarian categories; fans of American-style Chinese food will find all the usual suspects, from Happy Family to Kung Pao chicken, albeit made with more finesse and much higher quality ingredients. Oh, and a $5 daily happy hour in the bar and lounge is most fortunate, indeed.
UptownVibrant Tex-Mex spot serving iconic favorites with sophisticated twists
The moment you walk into this corner restaurant across from Klyde Warren Park, you'll feel chef Miriam Jimenez's presence. That's mostly due to the massive, black-and-white photo of her that spans the entire length of the bar, but it's in every bite of food that you'll truly appreciate her gift for taking Tex-Mex to new heights of flavor and originality. Even the Dr. Seuss-worthy green queso tastes familiar yet exotic, surpassing all those Velveeta-centric varieties elsewhere in town. Other highlights, such as the tostones de pollo (chipotle chicken-filled plantain cups) and the refreshing avocado-spiked ceviche of tiger shrimp and octopus, are as Instagrammable as they are delicious. If you're a taco lover and lack decision-making skills, fear not: You can order a quartet of tacos highlighting four top-notch proteins, from beans to brisket. The mole, however, simply can't be beat -- or skipped -- whether you prefer your sauce over chicken enchiladas or atop sublimely roasted chicken.
Preston Hollow
Chic neighborhood cafe with a United Nations-worthy collection of dishes
After an extended stint getting back to his roots in Israel, chef Avner Samuel has returned to the Dallas dining scene with Nosh Bistro: a reimagined riff on Nosh, his most recent culinary venture. The menu skews Mediterranean at first blush, what with falafel and midnight black hummus appearing alongside a dozen different meze, and a whole fish bedazzled with olives, tomatoes, and herbs. Look closer, however, and you'll discover international flair from Mexico (his beloved tortilla soup) and Japan (Ahi tuna tartare with lump crab and yuzu-ponzu sauce), as well as France, Italy, Spain, and pretty much every Rosetta Stone-required country. You'll see plenty of people power-lunching during daylight hours, closing deals over a hearty Wagyu burger or cutting into a crispy chicken schnitzel, while brunch differentiates itself from Dallas' ubiquitous bottomless (bottom-of-the-barrel) mimosa affairs with a three-course, prix-fixe extravaganza that includes a glass of Veuve Clicquot.
Emily Loving
Bishop Arts District
Scratch-made Japanese fare from a former pop-up dinner host
What's the one thing most Japanese restaurants are missing? Soft-serve ice cream, of course: damn good, Mexican vanilla soft serve dipped in chocolate (or not) and served on a cone. Let's not get ahead of ourselves, though; the true intent of chef Justin Holt is for you to leisurely graze on picks from his ever-evolving menu, including 12+ grilled-in-front-of-you yakitori options, pickled veggie bites, and hearty bowls of house-made ramen. The drinks menu include Japanese twists on classic cocktails, like the Old Dragon (an Old Fashioned made with kokuto and Sichuan pepper), as well as fruity Japanese ramune sodas for a non-alcoholic complement to your meal. Of course, no one would judge you for dropping by for the ice cream alone. That's totally a valid option.
Courtesy of TacoLingo
Uptown
Casual 2-story Tex-Mex with welcome ghosts of Tin Star past
Long before Dallas was oversaturated with gourmet, creatively crafted tacos, there was Tin Star: a 1990s-era pioneer of putting cool stuff inside tortillas. After selling the brand and watching it flounder, the original owners have purchased it back, along with the recipes that originally turned the local spot into a mega-popular chain. That means the beloved cheeseburger taco's back (including a fried-egg brunch version) along with many greatest hits in the making, including Tex-Mex mainstays of the nacho, quesadilla, and enchilada variety.
Situated in the multi-use Victory Park/Harwood District-adjacent destination, The Union, TacoLingo features a large patio sharing a lush courtyard lawn with other restaurants, as well as an even more enormous two-story interior with room for a crowd. And speaking of satisfying the masses, pitchers of margaritas can be procured for a steal along with other cheap-and-boozy drinks during weekday happy hours and daily late-night specials. Any money you save on drinks should be funneled directly into more cheeseburger tacos.
Sign up here for our daily Dallas email and be the first to get all the food/drink/fun DFW has to offer.
Steven Lindsey is a Thrillist contributor.