The saucy, cheesy pizza represents one of the best-executed parts of Italian dining in Dallas. Since Cane Rosso planted its flag in the pizza landscape (with pies that measure up to the Associazione Verace Pizza Napoletana), a wave of new pizza providers has arisen, offering iterations from Chicago deep-dish and thick, pillow-crusted pies to the crisp-yet-tender pizzas fired up in under three minutes. Here are 11 pizzerias worth swooning over with your favorite red wine or brew.
Downtown
From morning to night, this quirky Main Street spot can ably attend to your pizza needs. The brunch pie -- eggs, cheese and sausage crowning a hearty, bubble-edged crust -- will wake you up better than any alarm, and classics like the margherita, four-mushroom pizza, and a must-have pie with guanciale, potatoes, and taleggio are craveable enough to be included on morning and dinner menus.
West Dallas
Every pizza place claims its product as "authentic Italian," but how many of them have an actual, authentic Sicilian at the helm? That's the edge that this Sylvan Thirty grocery/restaurant boasts, in chef-owner Daniele Puleo. He keeps the toppings simple, and they're added to the thin, tender handcrafted crust just before a five-minute spin in a brick oven... which is also Italian. Now all you need is a bottle of wine from the Puleo's curated selection (or even one from his own label), and it's buon appetito.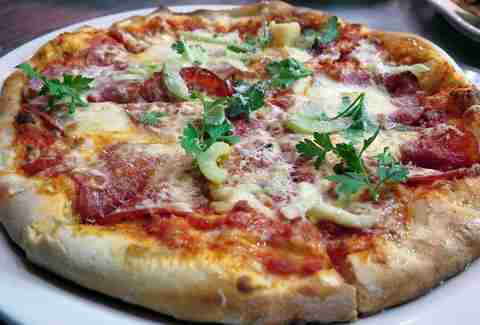 Park Cities
Don't let the whimsical interior or modern American cuisine highlights distract you from the pizza category on the menu. You can make your own, pick a classic like meatballs & ricotta on the kitchen's crisp, hand-tossed dough, or try something different, like the pepperoni, garlic, and celery pizza. The latter, like the kitsch-filled restaurant's interior design inspiration – director Wes Anderson (think bright colors and symmetry, as if there's some Tenenbaums' portraits missing) – is unusual in a wondrous way.
Dallas (& other locations)
Among the speed-pizza chains to land in Dallas over the last few years, this Kansas City import is our favorite, and it's not just because of the minimal oven time. In addition to pies served on puffy-crusted dough with an ideal crunchy-to-chewy ratio, SPIN! has wine, salads, chef-crafted starters like lemon ricotta dip and Calabrian shrimp formaggi, and calzones on offer, as well as that most magnificent of post-pizza palate cleansers: gelato.
Bachman Lake (& Arlington)
This Chicago icon has done so nice, they've done it twice. After proving a hit in Arlington with its signature deep-dish pizzas, Gino's East opened a Dallas location to provide more sauce-crowned, super-cheesy pies to the masses. Though it's not quite up to par with the Windy City original, Gino's has most pizza fanatics agreeing they're happy to have a slice of Chicago around the corner.
East Dallas (& other locations)
Two types of pizza are showcased at every branch of this family-owned favorite: Neapolitan like you know and love, and the restaurant's signature Roman-style pies: uber-thin-crust pizzas that Olivella's claims to be one of the few spots in the country to make. That alone is totally worth a visit, and the legendary white truffle and black truffle pies sure sweeten the deal. But which crust rules? Gather some friends, order a few of both and hash it out over some vino..
Deep Ellum (& other locations)
No best pizza list would be complete without owner Jay Jerrier's well-loved eatery that took Dallas' Neapolitan pizza game to the next level. How next-level? The cuisine here is led by an Italy-certified Master Pizzaiolo who uses only San Marzano tomatoes, dough made with imported flour and house-pulled mozzarella. Pies like the Cacio e Pepe and the soppressata marmalade-lined Palinka then get a turn in the scorching wood-fire oven (note the slight char on the tender crust) before being delivered to your face.
Preston Hollow
Thank your San Antonio stars that our southerly neighbor sent us this Neapolitan craft pizza concept that also showcases a ton of terrific charcuterie. Now we get to enjoy burrata, antipasti, and salumi alongside a slew of thin-crust pies like the spicy Puttanesca and swine-centric Pork Love featuring fresh and locally sourced components. Toast our collective good fortune with Dough's carefully selected wine list.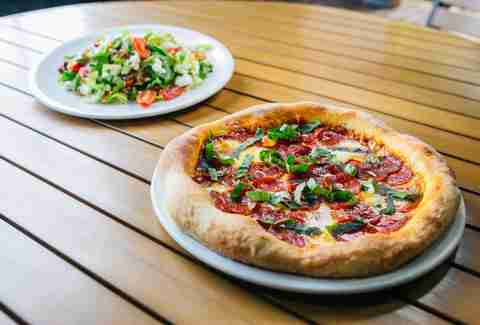 East Dallas (& other locations)
Fireside Pies is like the favorite sweater of craft pizza joints: you may venture out with other sweaters, but you always return to your comfy option for a reason. It's just so damn good and reliable. You've tried almost every pie on the menu, from the Premium Meats to the PETA Pie and everything in between, and they'll always keep you coming back for more.
Lakewood
Hear us out on this selection: the East Dallas sibling to Frisco barbecue hub 3 Stacks Smoke & Tap House whips up some irresistible pies, especially if you go with the brisket-topped Smokehouse. And -- bonus! -- pizzas are half off during happy hour, which frees up some dineros for you to dive into the craft beer list in this laid-back joint with an urban-country feel.
Plano (& Southlake)
Texas meets Italy at this full-service pizza restaurant in the northern 'burbs, thanks to plates like the TX Lasagna, featuring beef braised in local Lakewood Temptress beer, and the All-American, a meaty pie starring local bacon and Italian sausage from beloved Dallas chef Brian C. Luscher. The pizza crusts are thin, the meatballs are saucy, and the music is live on select nights.
Preston Hollow
Beneath this eatery's gastro-tavern sheen of unique salads, sandwiches, and shareables, there's a terrific slate of pizzas. Classics like the matchbox meat and chicken pesto should tantalize traditionalists, though everyone should venture into artisanal pizza territory with the prosciutto & Turkish fig pie, or the white pizza with whipped roasted garlic cream sauce.
Sign up here for our daily Houston email and be the first to get all the food/drink/fun in town.
Farah Fleurima is a Dallas-based freelance food writer who is equally worth swooning over with your favorite red wine. Consider varietal options while perusing her blog, The Dallas Diva, and follow her on Twitter at @TheDallasDiva.