The 11 Best New Restaurants in Dallas Right Now
From top-notch tacos to duck fat-fried chicken from a Top Chef alum.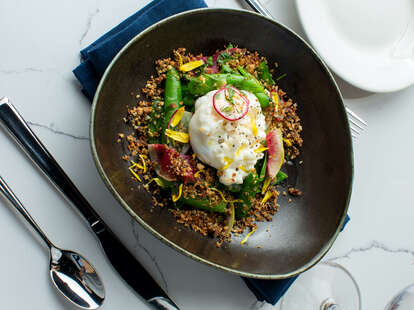 The dining scene in Dallas-Fort Worth continues to evolve and rebound, even as things shift from "getting back to normal" to potentially regressing as the Delta variant continues to wreak havoc. It's still a tough time for most restaurants and bars after a tumultuous 2020, and perhaps even more uncertain for those new to the scene.
Fortunately, there's great news, too: The restaurants that have debuted in the past six months or so have such exciting things to offer that there's an added incentive to get out and eat local. Among the highlights, discover the joy of watching the Greatest Noodle Showman in action as he takes hand-pulled noodle-making to new heights (literally and figuratively) near Preston Hollow. Celebrate the glorious marriage of legendary Texas BBQ with Southeast Asian ingredients and preparations at an Austin import in Old East Dallas. And catch up with a Top Chef favorite as she expands her Southern food legacy into the northern 'burbs.
In addition to the spots you already know and love, here are 11 flashy new upstarts to incorporate into your dining, delivery, and take-out repertoire.
The gist: The newest restaurant on the list debuted on August 5 in the Hamilton Building across from the Pittman Hotel. The concept features a globally inspired menu in a chic space dominated by dark woods and dramatic lighting, plus a fully enclosable patio.
The food: For folks who can't decide what type of cuisine they're craving, Harper's offers a parade of international favorites courtesy of executive chef Jacob Williamson, who helmed the kitchen at Five-Sixty by Wolfgang Puck before it closed during the pandemic. The menu continues to evolve, but standouts include Bombay chicken tikka, Korean style beef rib, and Burmese tea leaf salad, plus whole lobster Benedict and Japanese pancakes when they launch brunch in the coming weeks.
The cost: Starters $13 - $26, entrées $24 - $195, cocktails $15 - $19, wine by the glass $12 - $35.
How to book: Reserve via SevenRooms.
The gist: The moment you walk into this new spot at The Hill, you know you're in for a good time. A large mural of rock stars past and present (with a soundtrack to match) provides a vibrant backdrop for family-style spreads of top-notch American-style Chinese food.
The food: You'll find all the usual suspects on the menu here (kung pao chicken, beef and broccoli), but focus on the noodle dishes and dumplings, which come from chef Charlie Zhang, formerly of Royal China. If you're lucky, you'll catch him in the kitchen tossing the dough into the air in an effort to create the hand-pulled wonders.
The cost: Starters $4 - $10, entrées $14 - $20, veggie dishes $10 - $12, cocktails $13 - $15, beer, sake, and wine by the glass $7 - $25
How to book: Stop by for first come, first served seating, order take-out online, or get delivery via Uber Eats, DoorDash, Grubhub, and Favor.
The gist: What was once a parking lot is now the spacious, mural-filled ArtPark, adding even more al fresco dining space to Trinity Groves. With 30 outdoor TVs, it's a really popular place for sports-watching.
The food: The beer garden offers a laid-back setting for enjoying creative bar food, from Spaghetti-O fritters to burgers, sandwiches, and Hoffman Hots hot dogs (a throwback to one of Trinity Groves' very first restaurants).
The cost: Starters $5 - $7, entrées and sandwiches $6 - $14, cocktails $6 - $12, beer by the bucket or pitcher $25 - $27.
How to book: Stop by for first come, first served seating.
The gist: Chef Jesus Carmona has rebranded his beloved Tacos Mariachi in the same space, now with a lotería theme and an updated assortment of thoughtful tacos alongside familiar touches that won't disappoint longtime fans.
The food: The menu features tacos in three categories: traditional (i.e. carne asada), gourmet (i.e. smoked salmon), and funky (i.e. grilled marinated octopus), as well as a burger topped with shrimp, a veggie bowl, and daily specials including birria tacos on Thursdays.
The cost: Menu items $4 - $8.
How to book: Stop by for first come, first served seating.
The gist: Top Chef alum Tiffany Derry expands on her smash hit quick-serve Roots Chicken Shak with a finer full-service concept at Mustang Station in Farmers Branch. The location's a bit of a trek for her Dallas devotees, but well worth the extra effort.
The food: Duck fat-fried chicken became one of Derry's signature dishes back when she opened the gone-but-not-forgotten Private Social in Uptown, and it's been a mega-hit ever since. Served family-style, it's an absolute must, along with farm-fresh sides like Hoppin' John, succotash, and creamed corn.
The cost: Starters $8 - $12, entrées $32 - $56.
How to book: Reserve via Tabit.
The gist: James Beard Foundation Award-winning chefs Aaron Franklin (Franklin Barbecue) and Tyson Cole (Uchi) joined forces in 2018, merging their respective masteries of Texas BBQ and Southeast Asian cuisine for a combination that works on every level.
The food: All the greatest hits can be found—brisket, smoked turkey, ribs—but everything on the menu benefits from an infusion of Asian flavors and flair, with addition slike coconut rice, curries, or splashes of tangy yuzu completely reinventing proteins and veggies. Pro tip: If you go on Mondays at 4 pm, you'll be there for the one magic hour when you can try everything on the menu (not to mention enjoy happy hour pricing), including daily specials and limited-time offerings like baby back ribs, beef brisket, crispy smoked chicken sandwiches, and Loro cheeseburgers.
The cost: Starters and sides $5 - $11, meats $13 - $19, sandwiches $11 - $14, cocktails $8.50, beer and wine by the glass $4 - $10.
How to book: Stop by for first come, first served seating.
The gist: The kitchen's run by a former chef at The Ritz-Carlton Dallas, Juan Pablo Silva, and he's harnessed both his Peruvian heritage and penchant for global cuisine to this modern brasserie inside the new Marriott Dallas Uptown. The bright, airy space and wrap-around patio draw a crowd of locals, not just hotel guests. It's also home to one of just three Tanqueray Gin Shakers in the United States (the other two are in Vegas) for a one-of-a-kind cocktail mixology experience that has to be seen—not to mention heard—to be believed.
The food: Fresh oysters, top cuts of steak, a trio of mussels dishes, and chef Silva's signature Peruvian rotisserie chicken highlight a menu of crowd-pleasers with international influences.
The cost: Starters $4 - $15, mussels and fries $22, entrées $18 - $38, wines by the glass $10 - $20,
How to book: Reserve via OpenTable.
The gist: Few places in the city capture the essence of Texas cooking better than the second location of Haywire, a spacious ranch-style retreat in the heart of Uptown stacked with a comfortable, casual atmosphere for enjoying beautifully crafted fare. The patio's especially great, with its retractable roof and alluring Shasta trailer that's been converted into an intimate private dining space for first come, first serve diners.
The food: The menu features a bucket list of iconic Texas dishes, including queso blanco, fried green tomatoes, chicken fried steak, BBQ ribs, smoked fried chicken, and expertly prepared farm-raised Texas beef steaks (try the garlic-stuffed filet or splurge on a Wagyu tomahawk). The same attention to quality and detail can be found in every dish, regardless of price, making it easy to pop in for a simple meal or ball out with a serious spread.
The cost: Starters $8 - $23, steaks $29 - $100, Texas plates $15 - $40, cocktails $12 - $22, beer and wine by the glass $7 - $65.
How to book: Reserve via OpenTable.
The gist: Billed as a "refined Tex-Mex restaurant," Joe Leo lives up to its reputation in a gorgeous space on Fitzhugh with both front and back patios and a spacious bar where you can wait for your table while sipping on a strong margarita. Better yet, a post-10 pm Late Night Taco Time offers guests their famed Golden Tacos for only $2.99.
The food: In addition to the monstrous, cheese-loaded Golden Tacos, this joint's also known for a variety of first-class fajitas and combination platters spanning enchiladas and tacos in various configurations. A top-rate double cheeseburger seals the deal.
The cost: Starters $9 - $17, entrées $14 - $20, cocktails $10 - $26, beers $7.
How to book: Stop by for first come, first served seating, order take-out online, or get delivery via DoorDash.
The gist: A massive, 26,700-square-foot food hall houses 16 concepts throughout two levels overlooking the AT&T Discovery District (where you can walk around with your cocktails now!). The space may look fancy, but the experience is intended to be entirely casual and full of fun.
The food: Some of the city's most beloved restaurants (Monkey King Noodle Co., Val's Cheesecakes, The Dock, La Duni, Revolver Taco) join exclusive options like Ounce, Ichi Ni San, and Hard Shake.
The cost: Menu prices vary depending on vendor.
How to book: Stop by for first come, first served seating on the lower level or reserve second floor seating via Resy.
The gist: A resort-style poolside setting levels up with a menu of smartly constructed snack bar-inspired dishes delivered directly to your patio table, cabana, or lounge chair, depending on how quickly you want to get back in the water.
The food: Blackened redfish tacos, hearty salads, a 44 Farms burger, and a crispy chicken sandwich lead the simple yet thoughtful lineup, complemented by six signature spritz cocktails ranging from a standard Aperol-spiked version to a vanilla coffee option made with spiced rum.
The cost: Starters $9 - $21, sandwiches $9 - $16, salads $11 - $23, cocktails $12 - $16, beer $6 - $7, wines by the glass $10 - $15.
How to book: Call 972-556-0800 for reservation information.