Let's shake the stigma that dining alone means you're a loser stood up for a date, spying on someone at the same restaurant, or just a general sociopath. Instead, own it! Enjoying a meal alone that isn't a frozen dinner can be a beautiful and empowering thing. Just think, less small talk AND you don't have to share the garlic knots. Not to mention, you won't have a huge party of eight holding you back from securing a table at the newest restaurant in town. So, check out one of these spots for solo dining in Dallas and proudly proclaim "table for one, please."
Recommended Video
This Restaurant Reinvented the McGriddle
Bishop Arts District
It's no secret that snagging a reservation at Lucia might be harder than convincing the family it's totally your choice you're single. One way to get in is to grab a seat at the bar/display kitchen. With only four seats available, you've got a good shot if you're riding solo. Pop in closer to opening or closing times, and you'll realize the only dinner partner you ever need in life again is a foie gras stuffed prune and/or Chef Uygur's homemade pasta.
Oak Cliff
The thing about eating alone in a restaurant is, well, you're alone… with your thoughts and everything. What do you do to occupy yourself? Stop typing gibberish into the notes section of your phone (what, who does that?), put down the devices, and pick up a book at The Wild Detectives. The unique bookstore-bar hybrid in Oak Cliff is the ideal, relaxed setting to enjoy a new book and explore WD's diverse menu of locally sourced drinks and small plates. While you're there, join in on The Bookmark Game. You can fill out a bookmark with book recommendations and your contact info, and each person who buys a book receives one of these special placeholders with a stranger's suggestions. We're suckers for a little serendipity.
State Thomas
Parliament is consistently one of the best spots for craft cocktails. The space is small and intimate, making it the perfect place to sit at the bar and watch the bartenders go to town on creating each drink. The attention-to-detail on each cocktail is stunning. Grab a bite to eat (which they'll bring you from a neighboring restaurant), and take notes on how to make cocktails like Parliament's at home.
Harwood District
They say traveling alone is one of the best things you can do for yourself, and if that's not an option, head to Mercat Bistro for a slice of Paris right in the Harwood District. The chic bistro makes you feel like you're tucked away on a Parisian cobblestoned street, and the food is right on-par. You're not going to want to share the fresh tagliatelle, which is flamed tableside, with anyone (served on Mondays only!).
Lower Greenville
Graham Dodd's new Southern digs on Greenville calls for a visit, even if you're riding solo for the night. Pull up to the bar and set the tone with The Bartender's Choice, a self-explanatory cocktail made with seasonal ingredients. From there, the sociable staff is more than willing to provide guidance on the menu, and while any suggestion is sure to please, we insist you try the Purple Potato Tostones. You'll want to be selfish with this dish.
Addison
Ida Claire is definitely "South of Ordinary" and invites you to go on a solo culinary adventure. Although the restaurant is filled with spacious high-tops and roomy booths ideal for family Sunday supper, the eclectic space also lends a welcoming seat for one at the bar. You won't be twiddling your thumbs with boredom in this lively atmosphere. Pro of not having a dinner date? No one will be there to judge you when you order the Vice Cake topped with candied bacon.
Design District
Everyone knows a quintessential coffee shop is the perfect place to dine alone, but Ascension steps it up and serves way more than scones. When's the last time you went to a coffee shop and ordered lamb meatballs? Or shrimp mozambique and a glass of cava? Game changer right here. Plug in your headphones or jam to the occasional live performance, and tune out the rest of the world.
Uptown
Literally the best excuse to leave yo' man at home and have a date night with yourself is Ladies' Night at Nickel + Rye. The entire menu is half-off on Tuesday nights for ladies... including bottles of wine, and we dare you not to order the brussels sprouts more than once. If you're not carrying your #womancard, or can't make it on Tuesday nights, Nickel + Rye is still a great spot to have dinner on your own, and the patio is one of the best on McKinney Ave.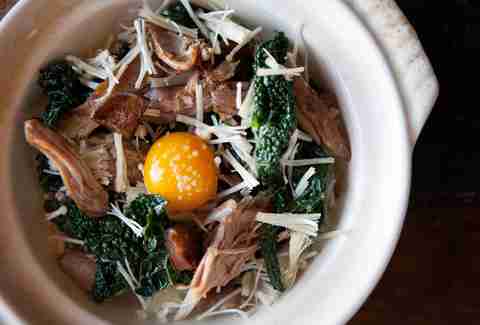 Uptown
Since this Austin hot spot opened a Dallas outpost in 2015, Uchi has remained one of the most in-demand restaurants in town. The chic space (designed more like Uchiko in Austin) has a sushi bar and a seat with your name on it. Considering the dishes are smaller, you don't have to worry about sharing with anyone (or paying a hefty price) and can enjoy all the ngiri your heart desires, while watching it skillfully prepared before your eyes.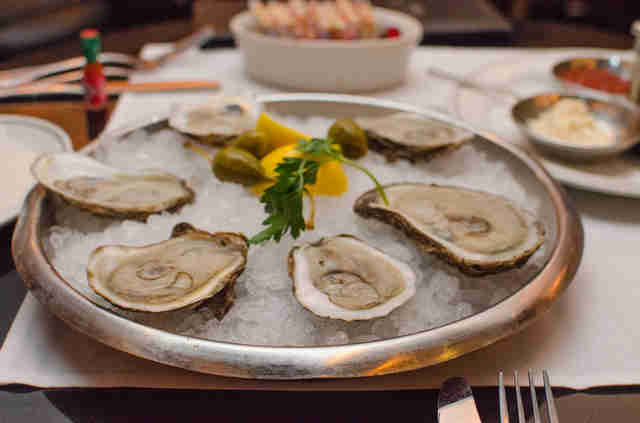 Uptown
We're big believers in the whole "treat yo'self" thing, and while it may seem intimidating/awkward to ask for a table for one at one of the best steakhouses in town, we've got you covered. The bar and lounge area at the recently renovated Truluck's in Uptown is the perfect place to grab dinner and dirty martinis for one while listening to live music. Go during happy hour (4:30pm-6:30pm, Mon-Fri) for major discounts on drinks and appetizers.
Sign up here for our daily Dallas email and be the first to get all the food/drink/fun DFW has to offer.