It's Sunday (or possibly Saturday), and you may be having a rough morning that requires some eggs Benedict washed down by lashings of mimosas. Sure, you could hit your regular breakfast haunts, but who doesn't love the prospect of a stack of pancakes with a view from the glorious perch of a rooftop? These rooftop brunch options will give you plenty of choices of places to nurse your hunger whilst staring down at the unenlightened masses.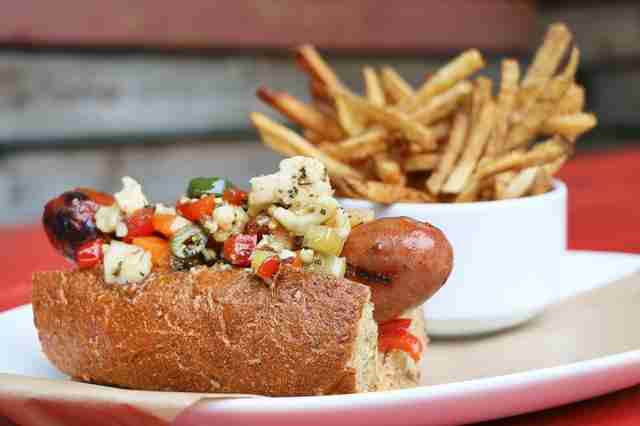 Lowest Greenville
The King (or YAS QUEEN) of Lower Greenville's rooftop patio scene, HG Sply Co. brings their paleo-inspired American meals and craft-cocktails theme over to their brunch menu. One glance at the healthy but delicious brunch choices available at HG Supply Company and suddenly it makes sense why everyone there looks like those people on Instagram with 300k followers. Where else in Dallas are you going to get a stunning rooftop view of the Downtown skyline while enjoying a brunch of zucchini pasta, quinoa sausage meatballs, and a green tea gimlet?
Uptown
In the "see and be seen" neighborhood that is Uptown, it only makes sense that the ultimate Uptown brunch power move is to up your game by taking it to the roof shared by Bread Winners and The Quarter Bar. And you won't be short on options either. With a brunch menu that is a very-tight three pages long, you will have everything from sweet treats like French toast to savory hangover cures like migas to choose from. Don't sleep on those frozen Bellinis and boozy blackberry lemonades either though.
Greenville Ave
If sports, a great view, and beignets are more your speed, Dodie's Reef on Greenville Ave offers all up in abundance. This Cajun mainstay located in the epicenter of Greenville Ave's beating heart of bars and restaurants offers a Louisiana twist on everything from eggs Benedict, bread pudding, and French toast. It's also not too hard to enjoy the loft view with a few $2 mimosas or sangrias, $4 screwdrivers or Bloody Marys, or $5 Fireball shots. But be warned, if it's a weekend in the fall, LSU and Saints football will be king.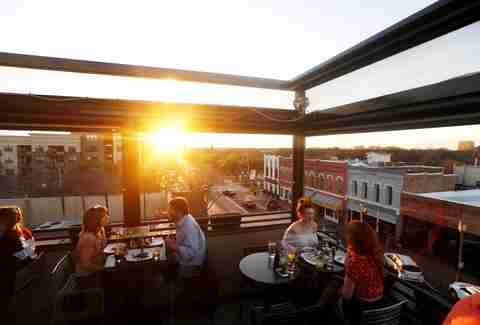 Downtown Plano
Bringing a bit of hip urban flair to Plano, Urban Crust's rooftop provides a view of the heart of historic Downtown Plano and the 15th St area. Now you may be wondering what pizza and brunch have to do each other, besides the cold pizza that you eat straight out of the box during your shame survey on Sunday morning. No, that's not what we are talking about here. We are talking about frittatas, breakfast pizzas with ingredients like smoked salmon, Italian donuts, and signature cocktails such as the Italian Stallion. But what you really need to know is those three magical words that make everything better and make the world seem OK for a few more hours on a hot and hazy Sunday: "one dollar mimosas."
Downtown Dallas
Brunching in the heart of Downtown Dallas is not something that was even possible 10 years ago. But thanks to the steady revitalization of the Downtown area and the fact that people actually want to live and play there, that's changed. Iron Cactus and its two tiered rooftop patios offer brunch goers a perfect people-watching perch as well as a great place to fill up before catching a Sunday matinee show at the nearby Majestic Theatre.
Knox-Henderson
What could be more perfect than watching the pretty people of Knox-Henderson fight to the death over much-coveted parking spaces while you enjoy your perch high atop Travis St (well, OK, like one story), sucking down frozen blueberry mojito after frozen blueberry mojito? The key word when it comes to the brunch food menu at Fernando's is "huevos." If you like eggs in every Tex-Mex style you can possibly imagine, you're in luck when you're brunching on the rooftop of Fernando's.
Uptown
You guys, let's put this into very simple, easy-to-understand terms for you. From the vantage point of Blackfriar's highest patio, you can soak up all the little bits of liquid mistakes and regrets and mixed liquors that are still sloshing around in your half-empty belly with a brunch burrito consisting of scrambled eggs, black beans, bacon, caramelized onions, and poblanos, topped with queso and avocado slices. Drink a Bloody Mary, a coffee, and lots of water and then take the McKinney Avenue Trolley, which runs directly in front of Blackfriar, back home and regroup.
Amanda Cobra enjoys finding the highest elevations from which one can eat Eggs Benedict safely and has dedicated her life to research in this field.