Wrap Your Hands Around the Best Sandwiches in Dallas
Your search for a superlative sandwich in Dallas—bánh mì at Sandwich Hag, TJ's buttery lobster roll, the Italian sub from Jimmy's Food Store—starts right here.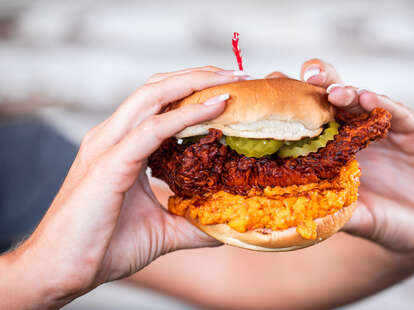 The Motherclucker at Palmer's Hot Chicken

| Photo by Kathy Tran, courtesy of Palmer's Hot Chicken
The Motherclucker at Palmer's Hot Chicken

| Photo by Kathy Tran, courtesy of Palmer's Hot Chicken
The best sandwich is, arguably, the one in your hands. But there's a wide gap between that homemade PB&J and the gourmet constructions from Dallas restaurants and markets. It's an exciting time to be a sandwich eater. Dozens deserve your attention, but to keep your to-eat list manageable, these are 10 of the best sandwiches in Dallas right now.
Knox
Georgie by Curtis Stone is a luxe dinner spot with prices to match, but its nextdoor butcher shop lets you try a variety of sandwiches and grab-and-go items in a more casual setting. Don't miss the Meatball Sandwich: jalapeño-cheddar bread hugs perfectly cooked meatballs, while marinara, basil pesto, and Parmesan cheese tie it all together.
East Dallas and Addison
Loro's cod sandwich might be the platonic ideal of a fried fish sandwich. The fish is warm, flaky, and surrounded by crisp batter that sports a mild kick of turmeric and curry, and it's all topped with yuzu-spiked 1000 island dressing, sweet cucumber pickles, and caraway slaw. It's crunchy, savory, and hard to put down.
Snider Plaza
Don't be afraid to get your hands dirty in this handsome dining room. Go ahead and order the Reuben, which pairs corned beef with marble rye and tops the affair with Swiss cheese, sauerkraut, and 1000 island dressing. The decadent meat is tempered by the tangy 'kraut and dressing, and the side of crispy, seasoned fries are no afterthought.
The Cedars
James Beard Best Chef Texas nominee Reyna Duong runs one of the most interesting operations in town, where she slings bánh mì sandwiches and Vietnamese coffees out of a tiny space in the Cedars district. The bánh mì include locally baked baguettes dressed with roasted garlic aioli spread, pickled carrots and daikon, jalapeños, cilantro, cucumbers, and your choice of filling: pork sausage, grilled pork, ginger chicken, tofu, or fried eggs. You can't go wrong, but pork is always a crowd-pleaser.
Various locations
The chopped cheese is a regional specialty and New York bodega favorite that puts freshly griddled ground beef and cheese on a roll. You can find the messy and satisfying facsimile at Hustle Town, a roving operation that pops up at breweries around town. Chef Desmon Coleman's version enlists a brisket-short rib-chuck beef blend, Zavala BBQ's fajita seasoning, and a potato roll. It's everything you want in a chopped cheese. (Other good examples can be found at Picadera, a Dominican pop-up with NYC bodega roots, and Shug's, the popular bagel joint on Mockingbird.)
Lakewood
Nashville-style hot chicken has fully invaded the city, and even before it took hold, fried chicken sandwiches were ubiquitous. We're not complaining. One of the best is Palmer's, a hot chicken joint that serves a decadent sandwich called the MotherClucker. Fried chicken is spiced to your preference, from "novice" to "napalm", and it sits on a bed of pimento cheese with a topper of pickles to cut through the fried and cheesy richness.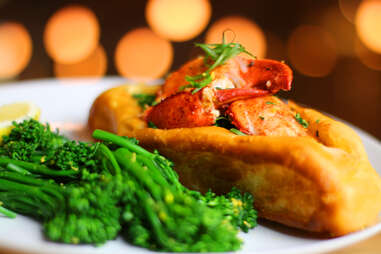 Preston Royal and Oak Lawn
This isn't your average Maine-style version wherein cold lobster is tossed with mayo and stuffed into bread. TJ's channels Connecticut and enlists a generous portion of warm, butter-sauteed tail and claw meat to make its lobster roll. The lobster is enlivened with garlic and thyme, then served on a warm, buttery brioche roll that demands two hands.
East Dallas
Jimmy's is stocked with fresh pasta and frozen pizzas, imported canned tomatoes and Italian wines. But you can't—or shouldn't, rather—leave this iconic Italian market without at least one sandwich in your hands. The Muffuletta, Meatball, and Roast Pork are all fine choices, but the Italian Sub stuffed with mortadella, capicola, soppressata, pepperoni, and provolone is the holy grail of Jimmy's sandwiches. Start there, then collect them all.
Downtown
This downtown cafe, market, and coffee shop is stocked with morning and midday essentials. That includes the French Dip, a sandwich that sees shaved beef, caramelized onions, and dijon mustard placed atop a fresh baguette, with a little dish of jus served on the side. In this case, that means rich and spicy pho broth that's meant for dipping but good enough to drink.
North Dallas
Named for owner Todd David, the Toddfather is a big, messy, heap of a sandwich that's loaded with a day's worth of protein. Some of the state's best brisket, pulled pork, and sausage are piled onto a bun and topped with homemade slaw and barbecue sauce. Clear your schedule before arrival because you'll need the full afternoon to recover.
Kevin Gray is a freelance writer and editor covering food, drinks, and travel. He's written for publications including the Dallas Morning News, Eater, Forbes, InsideHook and Travel + Leisure, and if he's slow replying to your email it's probably because he's off exploring a new country. Follow him on social media @kevinrgray.