Everyone loves a good Cuban sandwich... that doesn't include Mark and Brian! Ewwwww! Seriously though, loving sandwiches (Cuban or otherwise) is a pretty universal thing, even if good sandwiches aren't. That's why we ate every single sandwich in Dallas that has ever been made (or something) to pick out the five best you need to be eating right now.
Lobster Roll, 20 Feet
East Dallas
Yes, Dallas is nowhere near an ocean. But, no, that doesn't mean you shouldn't be eating lobster rolls, especially when they've been assembled by Marc Cassel, who's been jolly-rogering his way to one of Dallas's top under-the-sea-sandwiching destinations.
Shaved Ribeye Steak Sandwich, Uncle Uber's Sammich Shop
Deep Ellum
Black Angus beef, grilled red onions, blue cheese crumbles, and roasted garlic mayo mean no one's gonna want to tongue-kiss you after you eat this, but you're not gonna care. At all. (OK, maybe just a little.)
Tuna Salad Khanwich, DaLat
East Dallas
Sometimes, you just want a simple, classic... tuna salad-stuffed banh mi. Do not skimp on the Sriracha.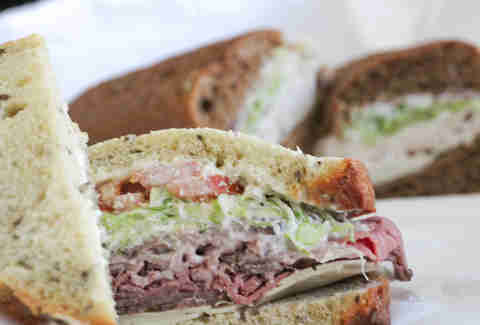 Roast Beef, Jersey Joe's Deli
Addison
Now that Gio's is gone (RIP), the crown for best roast beef sandwich in North Dallas goes to Jersey Joe's, which is largely hidden, despite being right off the Tollway. Roast beef on rye, slathered in horseradish, with just a little bit of lettuce? Perfection.
The Pitmaster, Pecan Lodge
Downtown
Because sometimes you can't pick what 'cue you want from Pecan Lodge, the Pitmaster sandwich's got a little bit of everything: brisket, pulled pork, sausage, cole slaw, and jalapenos.