Order From Dallas' Absolute Best Sandwich Shops Right Now
There's never been a better time for a picnic.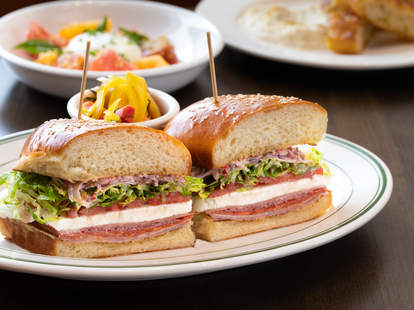 Never in history have to-go orders been such a vital component of restaurant industry survival, even as some establishments have begun opening their dining room doors (and patios) to patrons once again. Since its invention more than 250ish years ago, the ever-popular sandwich -- in all gazillion permutations -- has been awaiting its true moment of glory and that time is now. Portable, (typically) affordable, and one of the most resilient meals for surviving a car ride home, sandwiches are the perfect takeout option. Unfortunately, Covid-19 has affected even the sandwich sector in Dallas, meaning that at least for the time being we can't wrap our sanitized hands around a saucy meatball sub from Jimmy's Food Store or a decadent lobster roll from 20 Feet Seafood Joint, both more-than-worthy contenders for this list. But we must stay strong and celebrate a dozen other between-bread superstars that you simply must try next time you're tired of looking in your fridge for inspiration.
Courtesy of Goodfriend Package
East Dallas
How can a turkey sandwich be this good? We ask ourselves that every time we bite into the version from the sister restaurant (and across-the-street neighbor) to Goodfriend Beer Garden & Burger House. Piles of roasted turkey breast congregate atop toasty ciabatta with lettuce, tomato, onion, and pesto mayo, but it's the welcome kick of spice and tang from Sriracha cheddar that takes this bird above and beyond.
Call 972-807-2899 or order pickup from their website.
Oak Cliff
Creating a memorable cheesesteak 1,467.4 miles from Philadelphia shouldn't be that difficult. After all, we already have access to the best steak in the nation, so that should be a big advantage right there. But many Dallas restaurants fail to get even the simplest notion of a cheesesteak right by either going too fancy or simply mucking up the ratio of meat to cheese to toppings. Sometimes, it takes a small, no-frills mom-and-pop to do it right, and that's exactly what you'll find at this unassuming Oak Cliff storefront in a mini strip center. It all starts with finely chopped steak, grilled onions, and gooey cheese on a soft bakery roll, then it's up to you to customize from a nice list of toppings and five homemade sauces. Really, though, the version with the fewest bells and whistles is perfection all on its own.
Call 469-941-4389 for takeout or order delivery from Uber Eats and Grubhub.
SMU
Our two favorite dishes at this fast-casual Asian bistro are the duck fat fried rice and the Damn Damn HOT Noods Bowl -- until we learned that the famous knock-your-socks-off spice of the latter has been turned into a sandwich. The once off-menu fan favorite takes all the things you've come to expect from a banh mi (flaky French baguette, lettuce, cucumber, cilantro, pickled vegetables) and taken things up several notches on the Scoville scale with the addition of the spicy ground chicken mixture from the noodle bowl. Best of all, when ordering for takeout or delivery, they keep the saucy chicken on the side so you can assemble your sandwich at home and not end up with a soggy mess.
Call 972-913-4883 or order online for pickup from a dedicated walkup window or order delivery from Uber Eats or Grubhub.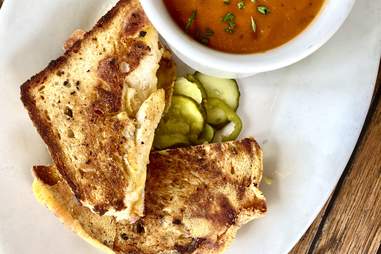 Courtesy of Meddlesome Moth
Design District
It would be the stuff of inbox nightmares for a food writer to not include a grilled cheese on a list of great sandwiches, so here's a deceptively simple version that'll make you want to curl up on the sofa with some cartoons on TV and your mom on the phone. This masterpiece starts with griddled jalapeño cheddar bread from Empire Bakery, which has been stuffed with the exact right amount of Tillamook cheddar and provolone for an ooey-gooey masterpiece perfect for dipping in the cup of soup du jour that comes alongside.
Call 214-628-7900 for curbside pickup or order delivery from Uber Eats and DoorDash.
Courtesy of Lochland's Food and Spirits
Lake Highlands
Long a deli staple, the Reuben can be a thing of pure beauty in the hands of a skilled chef and that's exactly the reason the version from this relatively new East Dallas eatery is so craveworthy. It all starts with corned beef brisket that's slow cooked in stout beer, aromatics, and root vegetables until it's fork tender and pretty in pink. Once sliced, it's assembled with Swiss cheese, sauerkraut and Russian dressing on thick marbled rye. Plus, you can get a salad on the side in place of fries if you want to feel "healthy," too.
Call 469-677-0174 or order online for curbside pickup or order delivery from Grubhub.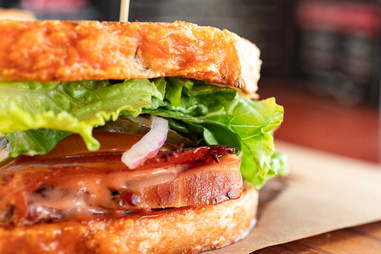 Rebecca Ramos Photography
Lake Highlands
Bacon might be the BFF of lettuce and tomato on most menus in the known universe, but the fine folks at One90 have taken the BLT out for a fancy night on the town with its signature DLT. Rather than strips of salted pork goodness, this handheld wonder features smoked duck breast with a marbling that resembles bacon in appearance, but elevates the vine ripened tomatoes and green leaf lettuce in ways that you might not expect, much like the cherry-jalapeño sauce that subs in for mayo.
Call 214-346-3287 or order online for takeout or order delivery from Grubhub, Caviar, and Uber Eats.
Robert Strickland
Deep Ellum
All the barbecue options at this beloved Deep Ellum BBQ joint have kept lines out the door ever since the place opened more than a decade ago. But why should ordering a sandwich force us to choose but one meat when there are so many premium options? The Pitmaster solves that dilemma post haste, but we hope you're isolating at home with someone else because you might need an extra hand to hoist up this towering mound of smoked brisket, pulled pork, and housemade sausage, crowned with tangy slaw, barbecue sauces, and fresh jalapeño slices. It's like an entire BBQ combination platter on a bun, and we're totally fine with that.
Call 214-748-8900 for takeout or order delivery from DoorDash, Grubhub and UberEats.
Park Cities
The words "five-dollar footlong" should be immediately banned from the vocabulary of any true sandwich lover. The Classic Italian Combo might seem like an oddball choice on an elevated menu of dreamworthy pastas and elegant Mediterranean meat and seafood dishes, but those in the know understand its place in polite society. Offered only at lunch and built to order, this first-class take on a traditional coldcut sandwich begins with artisan charcuterie and fresh mozzarella before completing the flavor orgy with hot pepper relish, oil, and vinegar on bread freshly baked in-house each day.
Call 214-361-0100 for takeout and curbside pickup or order delivery from Alto.
Courtesy of Sea Breeze
Plano
It might be inconceivable now, but there was a time in the not-too-distant past when lobster rolls were not very well known in these parts. Many thought food writers and dining critics were talking about sushi when the craze first hit. But like all regional food dishes that debut as trends in other parts of the country, only the strong survive. And you'd be hard-pressed to find a better lobster roll (both the mayo-spiked New England style or the clarified-butter-soaked Connecticut style) anywhere in the Metroplex. The key is the highest quality lobster, which is flown in after being hand-picked by a family-run business in Maine, and traditional rolls (also shipped in from the Northeast) for a truly authentic experience worth every penny of market price.
Call 972-473-2722 for curbside pickup or order delivery from Uber Eats.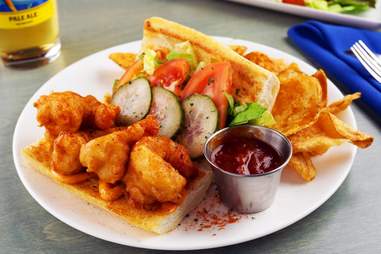 Courtesy of TJ's Seafood Market
Preston Royal, Oak Lawn
A trip to New Orleans without a po-boy isn't a trip to New Orleans. The same can be said for a visit to either location of this Dallas seafood institution. Their lobster roll might be the bigger draw, but in so many ways the fried shrimp po-boy checks off all the boxes when hunger strikes. Gambino French bread is brought in for this sandwich specifically, then filled to the edges with spicy battered jumbo shrimp (none of those small Sea Monkeys here), then accented with housemade rice wine vinegar pickles and remoulade. And yes, you can get a hurricane cocktail to complete the Big Easy experience without ever crossing the Louisiana border.
Call 214-691-2369 (Preston Royal) or 214-219-3474 (Oak Lawn) for takeout and curbside pickup or order delivery via DoorDash.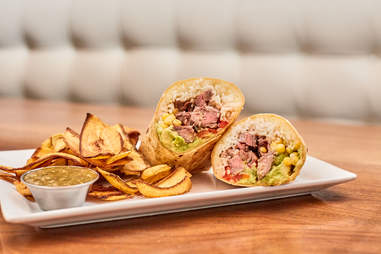 Kathleen Kennedy
University Park
Hey, everyone, let's go to a place known for great seafood and order up something beefy! Don't worry, it's not as crazy as it sounds. Though technically not a sandwich by all purist definitions, the handheld nature of a wrap makes it a forgivable technicality. Especially when something as important as highlighting hidden gems is at stake -- or steak, as the case may be. The grilled churrasco steak wrap brings together all the flavors of one of those mainstream big-as-your-head foil-wrapped burritos, only better. Grilled onions, peppers, avocado, organic corn, shredded jack cheese, tomatillo salsa, and cilantro rice mingle with tender grilled steak for a south-of-the-border vacation for your taste buds in every bite.
Call 214-891-1700 for curbside pickup or order delivery from Favor.Addison
When it comes to drive-thru chicken sandwiches, there's
a reason Popeye's got so much attention
. But the fast-food peeps don't have a corner on the market sandwiches by a long shot. There are some remarkable options for fried chicken on a bun in Dallas, but there's a certain understated joy in the simplicity of this one from the Addison location of Neighborhood Services. The chicken cutlet itself is thinner than most, but it packs a punch of flavor that makes up for its smaller size. When paired with iceberg, tomato, mayo, and horseradish pickles on a burnt honey mustard brioche bun, everything in the universe makes total sense.
Call 972-789-9639 for curbside pickup.
Sign up here for our daily Dallas email and be the first to get all the food/drink/fun DFW has to offer.
Steven Lindsey is a Thrillist contributor.