It's hard to describe exactly what soul food is, unless you're talking about the movie with Vanessa Williams. But if you're talking about the cuisine, it's composed of so many things. It's biscuits and gravy. It's collard greens and corn fritters. It's the South. It's a state of mind. It's the kind of delicious that makes time stand still. Here are the best spots to eat soul food in Dallas, besides your grandma's kitchen.
Recommended Video
Acquired Taste: Blood Rice Cakes With Timothy DeLaGhetto and Justina Valentine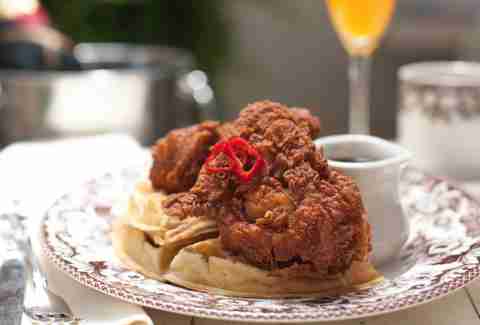 Henderson
If you're from the South (or at least have spent a fair amount of time living here) then you understand grits. On the off chance that you don't and have only heard about them in Joe Pesci lawyer-comedies, then get to Sissy's as soon as you can and order the gulf shrimp & grits. The tomato, piquillo pepper, tasso ham & onion with organic stone-ground cheddar grits provide a delectable bedding for the finger-lickin'-good gulf shrimp. If you're hungry for desert, order the Better Than Sex Chocolate Cake. The name speaks for itself. 
West End
There are restaurants that serve breakfast and then those that serve breakfast ALL DAMN DAY. This is the latter. When you're craving a big country breakfast, come to Ellen's with an empty belly and order it with two biscuits smothered with gravy, two eggs, two slices of bacon, two sausage links, and hash browns. The gravy is the real deal-sealer here. Insider tip: sprinkle or douse in hot sauce and keep glass of water or mimosa nearby.
Oak Cliff
Rudy's isn't fancy; it's not supposed to be. You go there for one purpose and one purpose only: to feed your fried chicken craving. And that it does. Keep it simple and order the five-piece meal with crispy fries and toast, topped with pickles and peppers. Wash it all down with a large iced tea. Then try and limit yourself to only going once a month. Good luck. 
South Dallas
No, Big Mama is not the name of the Tinder profile you accidentally swiped right on. Well maybe it is, but more importantly, it's ALSO some of the best fried chicken in town. Order the two-piece fried chicken with corn fritters, fries, pickles, and peppers and know happiness.
Multiple locations 
You know the diners on television where the coffee is always fresh and the biscuits are always coated to perfection? This is that diner and it serves up Southern comfort food so well you will feel like you're at your actual Mama's. They have several locations scattered across the metroplex, which leaves you no excuse for not bringing your actual Mama.  
Irving
Maybe you should stop focusing on eating healthy so much and reward yourself with a Creole Potato Bowl and Carolina Cornbread from Ophelia's. Your taste buds will thank you and so will Sir-Mix-A lot. And that isn't necessarily a bad thing. 
South Dallas
Sweet Georgia Brown isn't close; it's about 20 minutes South of Dallas. But it's worth the drive and possibly a few popped buttons on your pants. Come with an appetite, because the portions are large. Order the sliced beef and sausage with pinto beans, collard greens, and rice & broccoli casserole.
Oak Cliff
Three words: fried green tomatoes. Not the movie, the food. Try the fried green tomato sandwich with smoked pimento cheese, Applewood-smoked bacon, and iceberg lettuce on sourdough. Insider tip: brunch is off the charts here. Go then.
Sign up here for our daily Dallas email and be the first to get all the food/drink/fun DFW has to offer.