The Dishes That Define Dallas Southern Comfort Food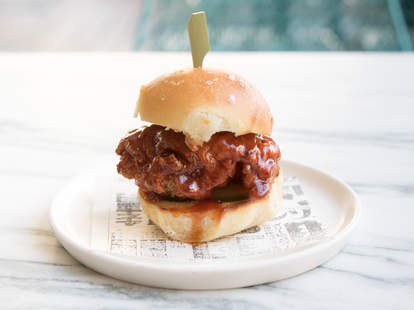 There's nothing easy about cooking the iconic dishes of Texas. They require sharp execution, and, most importantly, a true love of the dish. It's that passion and dedication that make eating out at our favorite places in Dallas an incomparable experience. That's why we wanted to celebrate those essential dishes that define Southern comfort food in the city, as well as the chefs and restaurants that are currently serving up some truly exceptional renditions of the classics.
One of the greats is, and has been, chicken-fried steak, and the best versions are made with unmistakable heart. A tenderloin steak is pounded, by hand, until it's pancake-thin. The tenderized steak passes through fine flour, and then drops in a bubbling bath of peanut oil. Creamy, white gravy -- simmering, born of a stock of roasted chicken bones -- is rich and peppery. The steak is pulled from the fryer, sheathed in a shattering, crunchy armor. That peppery gravy is ladled over the steak, just before reaching the customer, with a side of green beans. This is the scene at AllGood Cafe in Dallas, one of Dallas' best chicken-fried steaks.
The point: There is heart behind the trend of Dallas' Southern dishes.
When it comes to the state of Southern comfort food in Dallas right now, there's electricity in the air. Nashville hot chicken, typically fried chicken loaded with a blazing cayenne or sauced in a searing pepper sauce, was "trendy" for a while. Elevated versions, like the fantastic one at Filament, popped up. Fried chicken sandwiches are scattered around the city like sparklers: At Off-Site Kitchen, tender chicken is fried into a peppery cloud and surrounded by bacon, a punchy jalapeño relish, and -- wait for it -- a cold slice of American cheese. It's beyond addiction.
It isn't some supernatural phenomenon: It comes from soul, as all great Southern dishes require. Because, let's be honest, few cuisines stand out more like a sore thumb when it's obvious that there's no love. In other words, some of Dallas' knock-you-down-good, Southern-inspired dishes are born from inspired chefs. These are the best dishes defining comforting Southern food in Dallas right now.
Hot chicken bun
Uptown
This little sandwich is a diamond. "I don't know how it happened, honestly," explains Top Knot Exec Chef Angela Hernandez, who grew up in Alabama and Texas. "That dish is very special to me and my team." She's talking about her fried chicken sandwich, sauced in a cornichon pickle gastrique, between a soft Parker House roll. Skin-on chicken thigh, 2oz of dark meat (the only way to go, according to Chef Hernandez), soaks in buttermilk and is dredged through dry rice flour, then dredged again. It gets a deep fry in canola oil, and then sauced with the teeny pickle gastrique. What makes it: House-made Parker House rolls baked fresh every day. On first bite, you'll feel more blood go to your brain. It's a sandwich that sets a tone, like striking a bell: A great fried chicken sandwich doesn't have to be a massive, moon-sized, follow-the-rules, gravy-soaked thing. It can be an elegant gem and pack as much punch.
The chicken-fried steak
Deep Ellum
Chicken-fried steak, at its truest, is a food icon in Texas. Dallas solidified its legend with a proclamation: The Mayor decreed October 26th as "Dallas Chicken Fried Steak Day." AllGood Cafe's version is sublime. The tenderloin steak, hand-pounded until very thin, gets the peanut oil bath, which results in a deeply satisfying and shattering breading. The scratch gravy (made from a stock of roasted chicken bones) is decadent, peppered with heart. It tastes like home -- even if it's not your home. It's also a perfect reflection of food in Dallas: Care and subtleness and, most importantly, no irony. Like Dallas' best dishes (especially the ones on this list), there's no pretension here. It doesn't give a damn about three or four stars.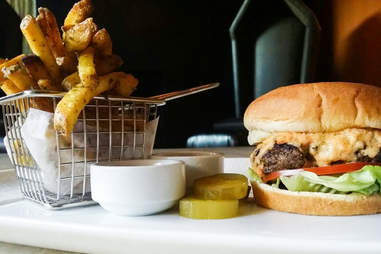 Photo Courtesy of Knife
Pimento cheeseburger
Mockingbird Station
One of the best cheeseburgers in the country is at Knife. 44 Farms beef -- a NASA-exact grind of 80% Angus beef and 20% fat -- lays on the fiery grill, seasoned with good salt and pepper, and flipped once. Pimento cheese, a delicious version of the staple (the "caviar of the South) is pickley and peppery with jalapeño and melts beautifully over the good beef. Lettuce and tomato rest underneath, accepting those meat juices, and then Chef Tesar's team gives it a squishy bun. It's a perfect burger, sent into the stratosphere with a slice of the South. With the 44 Farms grind, located in Cameron, Texas, you're looking at a sandwich that's defining Dallas Southern comfort food right now: smart, wildly tasty, local, and fresh. Maybe it's the good beef, or the melty pimento, but one can truly taste new and old Texas in this sandwich.
Chicken pot pie
Oak Lawn
A great pot pie is harder to find than you'd think. There's rabbit pot pie at Meddlesome Moth, a uniquely Dallas version, and an elevated-classic at Neighborhood Services. The best ones taste like rich, recently simmered chicken stock. You taste bones and celery and carrots. Street's Fine Chicken, the newest venture from the Liberty Burger family, has an instant classic that exemplifies Dallas cuisine. It's made with heart and is never, ever boring. Good, tender, and juicy chicken, is mixed in with a warming, creamy gravy, with fresh peas. A puff of crust is placed on top along with a skewer of rosemary. It's sensational.
Photo courtesy of Rapscallion
"Chicken and Dumplings"
Lowest Greenville
It started out as duck. "I've done plays on it over the years," Chef Nathan Tate says. It worked, but not as well as the wood-roasted chicken. It imparts an irreplaceable smoky flavor that soared with patrons. In-house cavatelli, a pasta shell made with ricotta, goes into a pan sauce of fantastic chicken stock, a little cream, garlic, shallot, lemon juice, and herbs. They build the dish in the pan to order. Hot sauce, a vibrant, homemade concoction of Fresno chiles ground with vinegar and salt that's been barrel-aged and fermented for a month, splashes over the dish. "I don't think I'd be doing a traditional Southern restaurant," Tate says. He's right: His dishes aren't anything close to stale tradition. This is Dallas' tradition: elevated Southern food with as much soul as it can bear.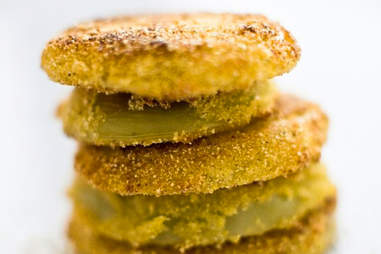 Photo Courtesy of Hattie's
Fried green tomatoes
Bishop Arts District
The best fried green tomatoes eat like a meal. Thick discs of green tomato, a paper-thin layer of good cornmeal, fried until crisp, and dipped in a sauce -- it's one of the great things that the South has given to us. Hattie's, a refined bistro beautifully influenced by the South's cuisine, does a stand-out version of the simple dish. Whispers of breaded cornmeal, just enough to break like the top of a crème brûlée and keep the focus on the good tomato, break under your fork and knife. Buttermilk ranch cools the fried heat, and the tomatoes are bursting-fresh. They taste like they've just been picked and water-washed. It's also food that's got the warmth of heart and soul.
Nick Rallo/Thrillist
Black-eyed peas and soft yeast rolls
Highland Park
One guarantee at Bubba's on Hillcrest -- which has been a drive-thru Dallas icon since 1980 (it also spawned Babe's) -- is you're getting fresh and hot chicken. If it's sitting for more than 30 minutes, it gets tossed. The cloud-soft yeast rolls are equally as precious: They're lovingly made using lots of Crisco and sugar, about 24 hours in advance. Couple it with some chicken strips, and you're headed towards a food coma. Scratch that: It's more like sleeping under a Texas night sky. That's where you'll be transported to, as well, with the tender, rich, and salty black-eyed peas. Tried and true.
Fried chicken
Design District
This is the truth: If you haven't been to Slow Bone yet, you haven't tried the some of the best fried chicken around. It's the perfect amalgam of a Southern icon and Dallas' expertise: smoke. Smoke imbues the water in the fried chicken's brine, along with salt and sugar, and it sits overnight. Chef Jeffery Hobbs drops 'em in a deep fryer after the chicken's dredged in potato flour, which jails the chicken in a gorgeous, golden-fried crust. Lash it with their house sauces, and you'll have a life-changer of an experience. This is chicken imbued with Dallas.
Sign up here for our daily Dallas email and be the first to get all the food/drink/fun DFW has to offer.
Nick Rallo is a writer in Dallas. His series on burgers and long-standing restaurants in the city appears regularly on the Dallas Observer, and he's constantly on the lookout for the best pot pie for his Southerner fiancé. Follow him @nickrallo.