Dallas-Fort Worth is so rife with taco options that taquerias open and close without notice, and are quickly replaced by new shops. In some neighborhoods, it's not unusual to find a taco spot adjacent to another taco spot. Some great taquerias are bound to get lost in mix, hiding in plain sight despite having an exterior painted canary yellow or with a video game mascot. Here are nine such under-the-radar taco joints.
Lake Highlands
Taquerias have always played fast and loose in with licensing (Taqueria Goku uses Dragon Ball Z's Goku Super Saiyan's form as its mascot). In Dallas, five-month-old Mario Bros. Tacos "borrows" Nintendo's iconic characters as its mascots. The owner's first name, you might have guessed, is Mario, although there is no brother. The other Mario is the son. Both gentlemen offer customers specialties of Monterrey, a northern Mexican capital. First and foremost there are tacos de trompo, the northern take on Mexico City's tacos al pastor. Both are cooked on the vertical spit that gives the tacos their names. But tacos de trompo get a paprika-based marinade, while al pastor gets the love from chiles and achiote. Regardless of their seasoning, the tacos at Mario Bros. are solid pockets of crispy, dark red pork that give you a jolt with the salsa verde. But, only if you have cash. Mario Bros. doesn't accept plastic.
Food truck
This new pan-Latin American gourmet food truck offers something rarely seen in DFW, mini frybread tacos that are closer in size to sopes than the hearty platters of fried dough bearing a mound of beef, chili beans, lettuce, cheese and tomatoes, commonly known as Navajo tacos. Listed on the menu as Mayan tacos -- again, sopes -- Azucar's diminutive take on frybread can be topped with any of the meats on hand that day. But chicken, sweet with spicy punches here and there, is the way to go. You can find them at either the Meadows Building on Greenville Ave or the Truck Yard.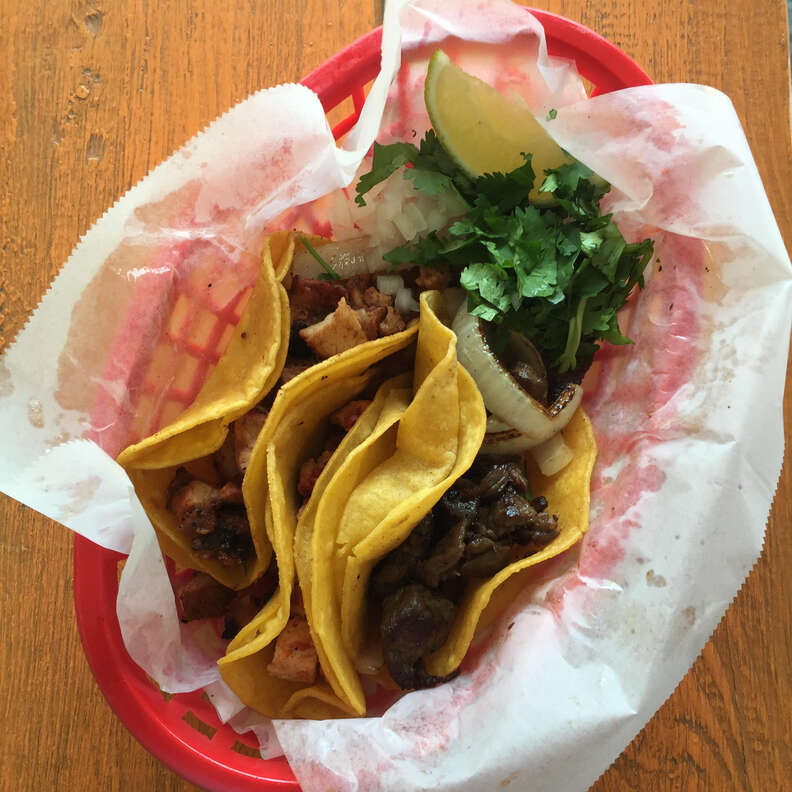 Oak Cliff
Essentially a hut on a lot shared with an auto mechanic across the street from Dallas' main post office, La Gaviota has changed hands at least three times since 2012. The new owner, a plumber by trade, re-opened the taqueria in late August. On its first day of business, La Gaviota was slinging promising tacos -- even the chicken was juicy. Swing by for the breakfast tacos, along with the postal service workers, all of whom pay with cash.
Oak Cliff
The red building near the on-ramp to I-35 South is home to one of Oak Cliff's newest taco joints, El Taxqueño Taqueria. Only about a couple of months old, El Taxqueño is owned by Maria and Armando Monroy. Armando is the Taxqueño, an immigrant from Taxco, Guerrero, Mexico, who has worked in some of Dallas' most storied kitchens, including Bob's Steak and Chop House. There's plenty of beef at El Taxqueño, but it comes in the form of picadillo punctuated with potatoes and onions and fajitas in handmade corn tortillas. No creamed spinach or fresh broccoli here. But cyclists do get a 10% discount when showing proof they rode to the restaurant. Which is better than steakhouse broccoli.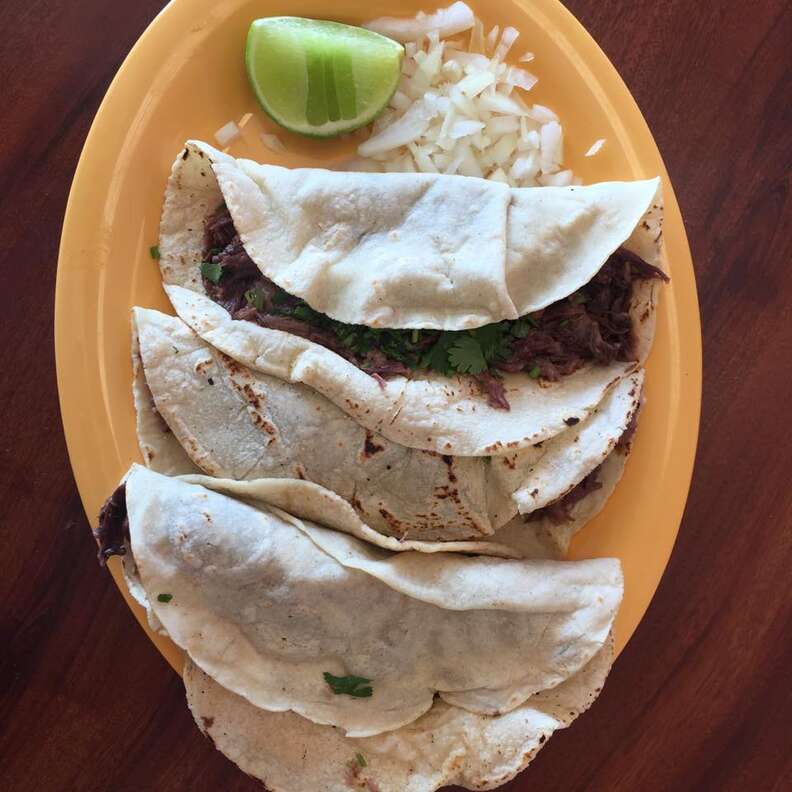 Oak Cliff
The only Oaxacan joint in town does things the hard way. That means hand-shelling the cacao beans to make the chocolate that goes into the mole that's only available on weekends. This place is a stunner from the chapulines (roasted grasshoppers) and tasajo (dried salt beef), to the mole (of course) and the tacos. Of the latter, the salty, charred costilla (rib) takes some work and the occasional removal of said rib from the handmade tortilla. Tasajo, chapulines and the other meats available that day are also taco options. Of course, this kind of attention to detail and craft isn't cheap. Be prepared to pay for the quality, and bring cash. Owner Honorio Garcia and staff do not accept cards.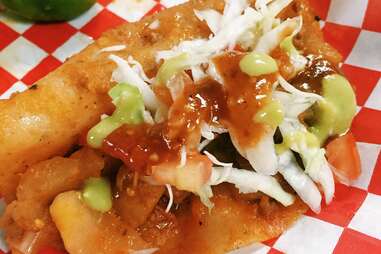 Oak Cliff
Taco Rico's location -- in the middle of Oak Cliff, worlds from the Anglo-friendly Bishop Arts District -- is likely the reason why this two-year-old Monterrey-style taqueria hasn't penetrated the taco-loving mainstream culture, because it's difficult to miss the anthropomorphic taco painted on the side of the building. It's a shame. The tacos here, especially the tacos al vapor (steamed tacos cradling zippy shredded beef and potatoes or familiar, comforting picadillo) are superb examples of a northern Mexican favorite.
East Dallas
With the words "TACO INTERNET" and "FREE Wi-Fi ZONE" emblazoned on the corner taqueria's façade, how can you not be intrigued by La Huasteca? Once past the threshold, you'll find a counter with a menu overhead and laminate booths, of the sort that are common in pizza places. A larger adjacent room is painted with village scenes. But you'll also get a lesson in both Spanish and Huastec languages. The latter is spoken by a small ethnic group in the Huastec region of Mexico, and gives the restaurant its name. Running along the front room's walls near the ceiling are signs with words in Spanish and the corresponding Huastec translation. You'll learn tortilla is Spanish for Hme. The Hme aren't handmade here, but they are serviceable and forgivable when filled with weekend-only barbacoa de borrego (lamb barbacoa with a touch of gaminess), a witty-captioned photo of which you can post to social media without using cellular data.
Denton
With taquerias like Guanajuato, Denton deserves a better reputation when it comes to Mexican food and tacos. This taqueria shares space with a convenience store. But, whereas the bodega hangs beer flags, the restaurant hangs creepy portraits where the figures have dark alien eyes. Try not to look at them when eating the tacos guanajuatenses, which feature thick cuts of highly seasoned grilled bistec, sautéed onions, and wide strips of grilled nopales on corn tortillas requiring two hands to pick up.
Fort Worth
Santos Aguilera's bantam eatery inside a house is as special as they come. There is no signage. There are no menus. There is a WWII Navy memorial, seating, an ornate wood bar, and Santos: the 88-year-old owner who offers enchiladas, chili, chicken, and a couple of out-of-this-world breakfast tacos. But Santos is slowing down and there is no indication his son will take over for him. In other words, go now.
Sign up here for our daily Dallas email and be the first to get all the food/drink/fun DFW has to offer.
José R. Ralat is the writer behind The Taco Trail, curator of the Taco Libre taco and music festival, and the food editor at Cowboys & Indians magazine.