This being Texas, you undoubtedly have some opinions on tacos. A favorite breakfast taco? Certainly. A preferred gas station taco spot? Quite possibly. That's all well and good -- there are some spots serving excellent examples of the basics -- but the taco universe is incredibly varied and ever-expanding. Here, in no particular order, are the eight most distinctive, essential, and important tacos in DFW, so you don't waste any of your precious taco time.
Los Torres Taqueria: Birria
Oak Cliff
The coastal Northwestern Mexican state Sinaloa has two known representative restaurants in Dallas. One specializes in seafood. The other, Los Torres, is a meat Alhambra, where incomparable stewed goat meat with sour needling is served in the handmade flour tortillas characteristic of the region.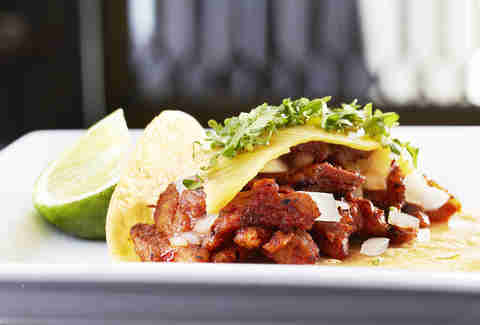 Urban Taco: Tacos al pastor
Uptown
Beyond sleek designs and a killer tequila program is a taqueria classic that cements Urban Taco's rightful place as a purveyor of essential tacos: tacos al pastor -- slices of chile- and sour orange-marinated pork roasted on a vertical spit called a trompo, served on a corn tortilla and garnished with pineapple slices. But there's more. Urban Taco's corn tortillas are made from nixtamal, the ancient, pre-Hispanic method of preparing corn and tortillas to imbue the food with nutrients. Your average hole-in-wall joint doesn't do that.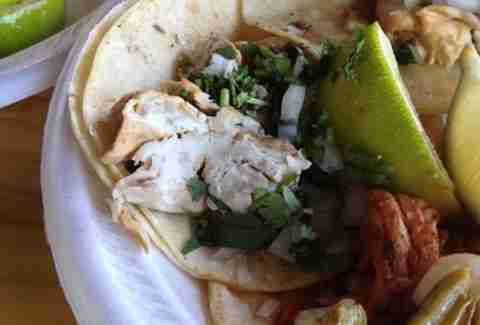 El Come Taco: Sesos (and chapulines)
East Dallas
It's been said that the sesos (veal brains) at this East Dallas newcomer look like cauliflower and taste like tofu. Requesting the filling is a rite of passage for taco newbs, especially the late-night sort where the added gray matter could be beneficial. If and when the grasshoppers make it back on the menu, you'll never be so happy to have insect legs jammed between your molars and canines.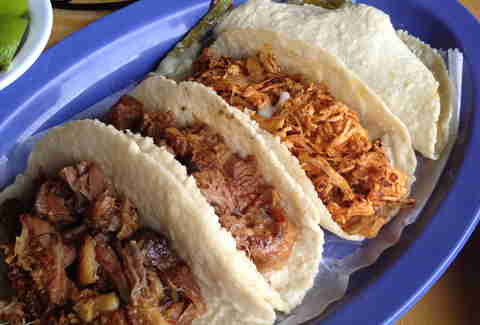 El Rincon de Villa: Carnitas
Lake Highlands
Carnitas, chunks of meat (the word translates to "little meats"), usually pork, are cooked in their own fat in bulky pots from which a soothsayer can predict the future. At this Upper Greenville Avenue restaurant, it's a sweet, sweet future in handmade tortillas.
La Nueva Fresh & Hot Tortilleria: Guisado verde
North Dallas
Light an entire box of kitchen matches. Shove it in your mouth. That's the heat emanated by the porcine gems in a salsa verde lattice presented in pillowy corn tortillas at La Nueva. And it's a lovely way to go.
Revolver Taco Lounge: Everything
Fort Worth
Turning Fort Worthians' concept of authentic Mexican food on its ear, mod Revolver Taco Lounge from Michoacán native and gun engraver Regino Rojas (and his family) trades in everything from smoking -- literally smoking -- ceviches and goat birria to limited taco specials, including saucy chilorio, applewood-grilled cobia, $50 4oz Wagyu beef, and standards like mellow carnitas, woodsy huitlacoche, and lobster folded in seconds-old handmade tortillas. Snag a seat at the bar framing the open kitchen and watch Rojas' mother, Juanita, and aunt, Teresa, make zinging-fresh Mexican fare.
Velvet Taco: Fried paneer
Henderson
Tacos pressed through the sieve of subcontinent foodways are a thing. Among the first and perhaps the best in DFW is found at this gourmet spot in the Knox-Henderson nightlife district. The just-familiar take on Indian cheese nuzzling tomato chutney, Thai basil, tikka sauce, and raita crema with a susurrant heat in a flour tortilla is a sterling example of fusion done honorably.
Fuel City: Picadillo
Downtown
At some point a 24-hour gas station/car wash, (with a drained swimming pool and a Longhorn herd) serving bad elotes and barbacoa tacos -- so greasy one might as well shotgun a bottle of canola oil -- to folks who've made bail and club kids, became a tourists-and-suited-office-types-slumming-it kind of spot heralded by national media outlets that should know better. And yet, it remains a landmark essential to understanding the evolution of the Dallas taco scene.
José R. Ralat is the editor at The Taco Trail, co-founder of the North Texas Taco Festival and TacoCon (Cerveza), and the food writer at Cowboys & Indians magazine.