You know how your burgers are always wandering into your neighbor's yard, and intermingling with his burgers, and by the time you get over there to retrieve them, you have no idea whose burgers are whose? Well, no more, fair reader, thanks to BurgerFi, a Dallas patty joint that's now branding the hell out of your buns. Meet the Breakfast All Day. It's gloriously loaded with 'Merican cheese, bacon slathered in maple, a fried egg, and hash browns, all hugged by buns that're branded with a hot iron just before they bring it out. Like the compost bin you don't use correctly, pretty much everything in here's recycled, from the wood and aluminum tables, to the chairs made outta recycled coke bottles. Oh, and they've got non-burger options too, including this Chicago dog, loaded down with things like sport peppers and something they're calling neon relish, probably because it'll periodically end up on the table.
Recommended Video
The Mexican-Style Grasshopper Tacos You Have to Try When You're in South Beach
Previous Venue
Next Venue
Venue Description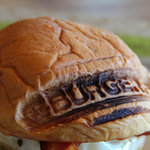 1. BurgerFi
365 Coneflower Dr, Garland, TX 75040
BurgerFi is an all-natural burger place with things like the Breakfast All Day burger, featuring bacon, maple syrup, hash browns, and a fried egg. They've decked the place out in recycled tables and chairs, and they brand each of their burger buns with a hot iron before serving them up.