A late-night sushi lounge with sous-vide steaks. Yep.
Presenting the best thing to happen to the 7-8p hour since TLC classic My Teen Is Pregnant and So Am I: Rare, a dinner spot over in The Shops at Park Lane that's a sushi resto, cocktail den, and sous-vide steakery, all wrapped into one.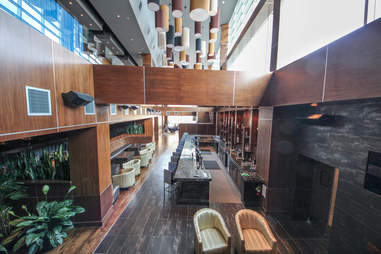 The interior's really pretty sweet: a sprawling, twin-level space that, all told, seats more than 350 and sports a pair of stone bars.
Meet bar number one. It's downstairs, and it's the smaller of the two at a totally embarrassing 40ft-long. Sit there with 15 of your closest friends and down a Ron Burgundy (Scotch, honey, lemon... lamp), or debate the Bond-ness of the Bond Martini (vodka, gin, Lillet Blanc).
Now meet much sexier bar number two, which's far more loungy, slightly bigger (hey, girl!), has sprouted twin 80in screens, and sports a DJ booth hole thing in the middle that'll host Dallas' best on weekends.
Rare
Oh, you're still wondering about how the sushi and sous-vide steak part works? The menu's penned by a Nobu vet who's doing a 16-deep array of rolls and sashimi, cook-your-own scallops, walu, or wagyu, and sous-freaking-vide steaks with fries, which'll feed at least four of your 19 Kids and Counting.