2014 was an exciting year for new bars and restaurants in Dallas. As the year comes to a close, we reflect on some of our favorites that closed and the things that we'll miss about them.
SALT
Downtown
We'll miss people-watching (aka checking out attractive people in bathing suits) and drinking while swimming, which is always a safe combination.

July Alley
Deep Ellum
We'll miss all of your Deep Ellum divey-ness, your pinball machines... oh, and our dog will miss the dog-friendly patio (he told us to mention that).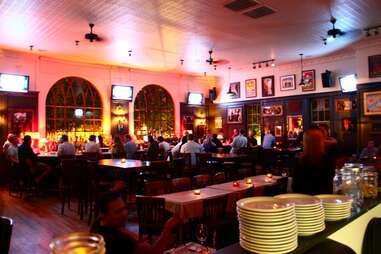 Mason Bar
Uptown
We'll miss the charm of this actual Masonic Lodge-turned bar. Of course, now, in true Dallas fashion, the location will be knocked down for a high-rise.

Driftwood
Bishop Arts
We'll miss being able to get killer seafood in Bishop Arts. Please come back in another location. Soon.

The Loon
Uptown
Oh Loon, how we will miss your strong drinks, distinct green awning, and old jukebox... but more importantly, we'll miss our friends' reaction when we tell them we're at The Loon:
Friend: "Where are you?"
You: "I'm at The Loon."
Friend: "Ah hell!"
Glass Boot Biergarten
Henderson
Auf wiedersehen, Glass Boot! We hardly got to know you, but we'll miss "big-as-your-face" beers and pretzels.

Prohibition
Downtown
We will really miss bartender Eddie Campbell.. wait, no we don't, because thankfully he has went on to open the instant-classic Parliament Bar in Uptown.

The Slip Inn
Henderson
Even before Henderson was a place to go, we had the Slip Inn. We'll especially miss the early '90s hip-hop that blared from the dance floor every weekend. Play some Biggie in its honor.
Hacienda on Henderson
Henderson
We'll miss being able to get Tex-Mex on Henderson, and yet another dog-friendly patio.

Acme F&B
Knox-Henderson
We'll miss your quirkiness and off-kilter decor. At least an equally quirky restaurant/bar, Henry's Majestic, has opened in your place.

The Meridian Room
Fairpark
We'll miss Half-Price Food Wednesdays, and of course, karaoke on Thursdays. We'll have to find another bar in which to sing some Sarah McLachlan in remembrance.
Sign up here for our daily Dallas email and be the first to get all the food/drink/fun DFW has to offer.