Tiffany Moon of 'Real Housewives' Shares Her Favorite Dallas Chinese Restaurants
Just in time for Lunar New Year.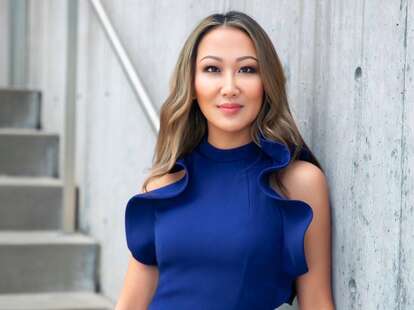 The countdown has begun, and Lunar New Year is just around the corner. Celebrated this year on Friday, February 12, the Chinese zodiac dictates that this is the Year of the Ox, which symbolizes hard work, honesty, and positivity. While many Asian restaurants offer special menus surrounding the multi-day celebration, we thought this was a great opportunity to explore the variety of traditional cuisine you can enjoy any time of year.
We turned to Tiffany Moon, M.D., a board-certified anesthesiologist who practices at UT Southwestern Medical Center in Dallas, for her go-to spots for her favorite Chinese dishes. As a first-generation Chinese American born in Beijing, she has a unique insight into the local Asian dining scene, which spans the entire North Texas region rather than a singular neighborhood or district. She's also a fashion icon when she's not in the operating room and a welcome addition to the newest season of The Real Housewives of Dallas where she's the first-ever Asian American to join the franchise. Along with her husband, five-year-old fraternal twins, a dog named Milo, and a rescue bunny named Mochi, she's constantly on the go. But never too far from a fantastic meal.
Here are 10 of Moon's most beloved Chinese restaurants and what she recommends at each.
Richardson
When it comes to dim sum, Kirin Court remains one of the most popular in town. Best of all, they offer the small-dish extravaganza all day, every day.
What Moon recommends: "The best dim sum in town. There are carts full of siu mai, shrimp dumplings, fun rolls, tripe, chicken feet, sticky rice, and egg custards. My kids love this place."
How to order: Call 214-575-8888 for pickup or to make a reservation for dining in.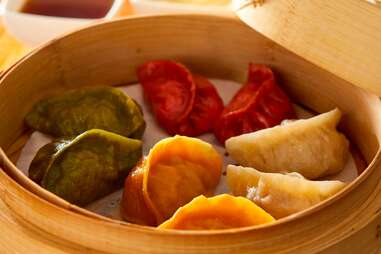 North Dallas
Founded by Buck Shu-Chang Kao in 1974 after immigrating from China to the United States in '72, Royal China has been a destination restaurant for those not lucky enough to live nearby to make dining there a regular event.
What Moon recommends: "The hot steaming xiao long bao (soup dumplings). Do NOT get them to go, they must be eaten there and there is a proper way to eat them... You slurp the soup first without burning your lips/tongue, and then eat the rest of the dumpling with some sauce."
How to order: Call 214-361-1771 or order online for takeout, curbside pickup, and contactless delivery. Reservations are available for groups of six or more.
Plano
Step into this elegant-but-casual spot and feel the drama of the red walls and table cloths, rivaled only by the food that arrives at the table. Featuring traditional Chinese cuisine and techniques with French and Italian influences, each dish thrills the senses.
What Moon recommends: "The crispy beef (it's their signature dish!). It's definitely not something you want to eat unless you're on cheat night."
How to order: Call 214-473-9267 or order online for carryout or delivery. Make reservations at OpenTable to dine in.
Preston Hollow
With four locations across the Dallas/Fort Worth metroplex, Howard Wang's has been a Chinese food staple since 2005. Moon prefers the Preston Hollow location, but you'll find virtually the same menu at each restaurant.
What Moon recommends: "Howard Wang's is a great neighborhood spot that serves up authentic Chinese. My favorite is the egg drop soup when I'm feeling stressed from work and just want something flavorful and warm in my belly."
How to order: Call your nearest location or order online for takeout, curbside pickup, or delivery.
Plano
This intimate restaurant features a nice patio for those interested in outdoor dining right now, as well as a full bar and specialties ranging from dim sum-style small plates to stir-fried dishes galore.
What Moon recommends: "Great for a quiet lunch. I love their hot and sour soup and the waitstaff are very sweet."
How to order: Call 972-403-0163 or order online for pickup or order delivery from Grubhub or UberEats.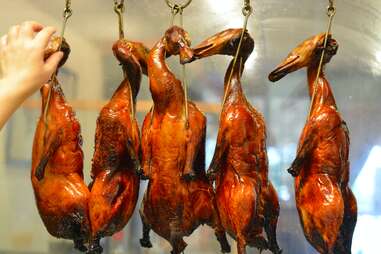 Plano
Spicy crab and lobster, Peking duck, and barbecue pork, chicken, and duck are the specialties at this spacious Hong Kong-style restaurant. They even have a special Chinese New Year Harmony Feast available as a special culinary experience.
What Moon recommends: "Another great spot for dim sum. The restaurant looks small when you walk in, but there's another huge room in the back and they also have carts [roaming the restaurant with dim sum options]."
How to order: Call 972-517-2332 or 972-517-2002 or order online for takeout, curbside pickup, or delivery.
Trinity Groves
A lively addition to the multi-restaurant West Dallas venue, Sum Dang Good Chinese features '80s music, craft cocktails, and hand-pulled noodles among its many enticements. The large patio features both covered and uncovered dining, too, for (almost) all-weather enjoyment.
What Moon recommends: "Love the Peking duck buns."
How to order: Call 469-638-8930 or order online for takeout and delivery.
Plano, Frisco
For authentic Northern Chinese cuisine, fans of dumplings in all their infinite, mouth-watering varieties have relied on Dumpling House in the northern suburbs to satisfy their cravings since the restaurant moved from Irving in 2015.
What Moon recommends: "Authentic Chinese dumplings with all different types of fillings and you can even buy frozen ones to go and cook them at home!"
How to order: Call your nearest location or order online for takeout and delivery.
Preston Center
One of the newer high-end Asian bistros, Jia Modern Chinese features a gorgeous two-story space with an upstairs patio, lunch specials, and a generous happy hour with $2 sushi and sake among its many bargain offerings. Frozen dumplings can also be purchased to make at home.
What Moon recommends: "They have the cutest lounge upstairs for a few pre or post- dinner cocktails and the mapo tofu and beef flat rice noodles are my favorites."
How to order: Call 214-888-0155 or order online for takeout and delivery, or visit OpenTable for reservations.
Asian Trade District
Located near the numerous shopping opportunities of the Asian Trade District, this unassuming strip center restaurant offers a variety of authentic delights at really affordable prices.
What Moon recommends: "Owned by a Korean/Chinese American, they have both Korean and Chinese specialties. My favorites are the Peking duck (you have to order in advance) and the Dungeness crab in garlic sauce (also has to be ordered in advance so they can make sure they have live Dungeness crab)."
How to order: Call 972-925-0328 for takeout or order delivery from Grubhub.