It's the perfect time to switch from heavy winter comfort foods to bright, crisp, and colorful salads consisting of peak seasonal ingredients. Where better to get your fill of freshness than your friendly neighborhood farmers market? All across Dallas-Fort Worth, you'll find locally harvested fruits and vegetables, carefully sourced meats, as well as a plethora of small-batch baked goods and prepared foods to transform any meal into a magnificent masterpiece. You'll also be able to snatch up handcrafted pieces while live bands strum in the background. Work your way through this list of 12 Dallas farmers markets as a way to explore different cities across North Texas, creating mini road trip of memories every weekend.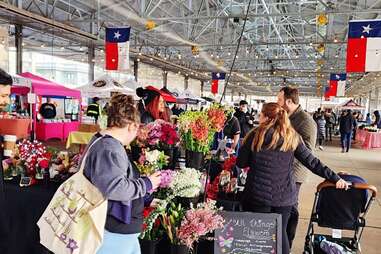 Sat, 9–5 pm; Sun, 10–5 pm, year-round
Downtown Dallas
The Shed at the Dallas Farmers Market welcomes vendors, farmers, and ranchers each weekend with a wide variety of produce, pasture-raised meats, eggs, and honey, as well as freshly baked breads and other already prepared items. In addition to the Saturday and Sunday offerings, visitors can go every day of the week to The Market, a 26,000-square-foot food hall harboring vendors and restaurants.
Mon–Sat, 9–3 pm, year-round
South Dallas
Bonton Farms offers a unique experience to visitors because they're able to actually walk around the working urban farm and say hello to resident goats and chickens. Some popular items, including some killer honey butter, may be purchased online as well. Make a full day of it by starting with breakfast at the on-site Market Cafe, then taking a hike in the Great Trinity Forest, before returning to shop at the small-but-mighty farmers market adjoining the coffee shop.
Sat, 8–noon (April–Dec); 9–noon (Jan–March)
McKinney
More than 75 vendors show up each Saturday year-round to this farmers market featuring freshly harvested fruits, veggies, and flowers; high-quality meats from area ranchers; homegrown artisanal and specialty foods; and handmade items from Texas makers.
White Rock Farmers Market: Sat, 8–noon (March–Dec); Lakewood Village Farmers Market: Sun, 9–1 pm (Feb–July)
Little Forest Hills; Lakewood
With two locations offering weekend markets on two sides of White Rock Lake, Good Local Markets brings together neighbors and visitors to the area for a truly local experience. All farmers and vendors must come from within a 150-mile radius of Dallas to be featured. In addition to fresh produce, meats, honey, and coffee, artisans featuring everything from furniture to clothing also appear.
Richardson & Watauga: Sat, 10–2 pm; Carrollton & Flower Mound: Sun, 10–2 pm; Lewisville: Sat, 9–1 pm
Richardson; Carrollton; Flower Mound; Watauga; Lewisville
Head in any direction from Dallas to one of five suburbs offering Four Seasons Markets each week with more than 35 vendors at each site (from a roster of more than 8,000).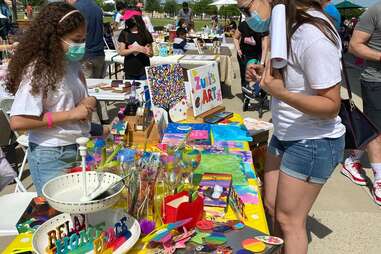 Sat, 8–4 pm; Sun, 10–4 pm, year-round
Frisco
With 92 stalls available, this farmers market brings together a variety of well-established vendors and new businesses hoping to gain a following with their high-quality products. In addition to fresh products for creating your own culinary masterpieces at home, you can indulge in everything from pupusas and tacos to gumbo and cookies made by local chefs and bakers.
Sat, 9–1 pm, year-round
Denton
Farmers, makers, and artists unite in this weekly downtown Denton gathering that includes farm-fresh ingredients, as well as live music, food trucks, and food vendors.
Sat, 8–noon. (April-Dec); 2nd and 4th Sat, 8–noon (Jan–March)
Coppell
In addition to the usual fruits and vegetables, this farmers market's vendors offer plenty of products to fill your pantry, too, from pasta and sauces to handcrafted cereals and pickled goodies. A rotating group of food trucks also make regular appearances.
Sat 8 am–1 pm (April–Dec)
Grand Prairie
Locally grown fresh produce and plants, plus handcrafted tamales, baked goods, salsas, dips, and relishes are among the food items available for purchase, as well as non-edible finds including soaps, candles, and jewelry.
Sat, 8 am–noon (April-Oct); 9 am–noon (Nov–March)
Clearfork
As one of the region's smaller farmers markets, this Fort Worth-area features a year-round lineup of about two dozen vendors. Free yoga is also an option for starting your visit off on the right foot (or left).
Hours: Saturday, 8 a.m.-noon (April-October); 9 a.m.-noon (November-March).
Sat, 8 am–noon, year-round; Wed, 8 am–noon (June-Aug)
White Settlement
Tarrant County's oldest and only producer-only farmers market assembles a well-vetted lineup of purveyors based 150 miles or less from the market's Fort Worth-adjacent location. Each season (starting April 22 for spring), Cowtown Market produces a festival with entertainment and even more vendors than usual.
Hours: Saturday, 8 a.m.-noon, year-round; Wednesday, 8 a.m.-noon (June-August).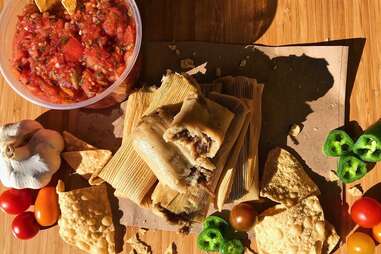 Mon–Sat, 8–8 pm; Sun, 9–6 pm, year-round
Grapevine
Area growers and artisans stock the shelves with a variety of fresh and prepared foods (including spices, gourmet pastas, Hatch green chile products, and homemade ice cream). The indoor setting makes it an ideal option for its twice-weekly, year-round marketplace