Dallas Has Its First Shake Shack. Here Is Everything You Need to Know (and Eat).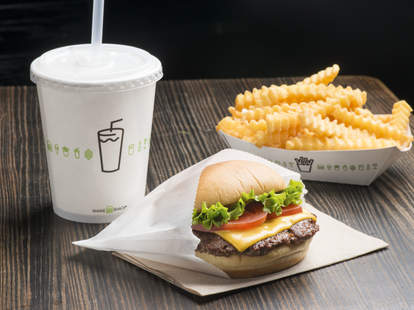 Evan Sung/Courtesy of Bread and Butter PR
Take a minute and realize that everything's going to be OK now that Dallas officially has a Shake Shack. You might even say that Dallas is the new center of the fast food universe: we have Shake Shack, In-N-Out, Five Guys, and -- don't you ever forget -- Whataburger. Also, Del Taco is somewhere in there, but that's not important right now. What is important: it's a glorious time to be an ambulatory burger eater in the city.
The Shack's now open in Uptown, nestled tightly into the Hotel Crescent Court. Why all the hype? It's because some people will blow a blood vessel to tell you that their burgers are the greatest burgers in the world. Their much-debated menu items -- the ShackBurger and the Chick'n Shack -- truly are addictive. Luckily, there are a few Dallas-exclusive menu items, one of which involves Pecan Lodge jalapeño sausage. Another features chunks of Emporium pie, which is never a bad thing.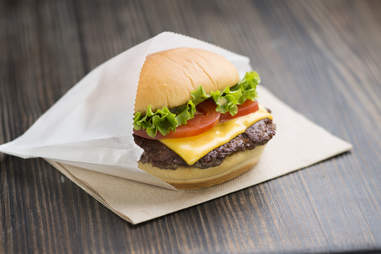 Evan Sung/Courtesy of Bread and Butter PR
The burgers
The standard, can't miss is the ShackBurger, a cheeseburger topped with a curtain of lettuce, tomato, and their addictive ShackSauce (a mayo-mustard-ketchup mix). The SmokeShack is always a trusty alternate, featuring applewood smoked bacon and chopped cherry peppers, but what you need is the Link Burger, a Dallas-only cheeseburger topped with jalapeño-cheese sausage from Pecan Lodge, two pickle slices, and the Shack sauce. The burgers are 100% Angus beef, seared on the griddle, and served on a cloud-soft Martin's potato roll.
Secret menu alert: You can have peanut butter added to your cheeseburger for some reason.
Evan Sung/Courtesy of Bread and Butter PR
The fries
One of the items to jump on right now in Dallas is the sticky, wonderful white cheddar sauce and squares of crispy bacon-topped crinkle-cut fries (for now; they are on limited time). They are "moan-embarrassingly-loud" good. The regular order of crinkle-cut fries, made from Yukon potatoes, are served piping hot. Their standard cheese fries come drizzled with an American cheese sauce that can't be ignored.
Secret menu alert: Add the chopped cherry peppers to the fries for an acidic zap.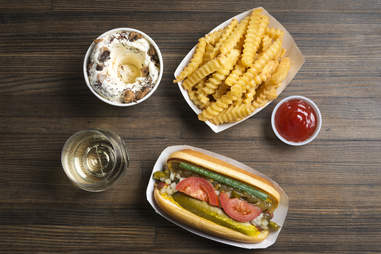 Evan Sung/Courtesy of Bread and Butter PR
The hot dogs
You may have heard: Shake Shack began as a quiet little hot dog car in New York City. Made of Vienna Beef, the Shack-cago Dog is an ancient god of Mount Olympus: Relish, onion, a column of cucumber and dill pickle, the necessary sport pepper and celery salt, and mustard adorn this split and griddled dog.
Secret menu alert: You could skip the toppings and have the dog drizzled with queso.
Nick Rallo/Thrillist
The fried chicken sandwich
Forget other fried chicken chains exist for the time being, you want the Chick'n Shack at Shake Shack. It's buttermilk brined chicken, then fried to order. The mayo is spiked with herbs and the same buttermilk for a creamy, cooling sauce to compliment hot chicken. Two pickle slices, adding zippy acid, shredded lettuce, rest underneath for a powerful, crunchy little sandwich.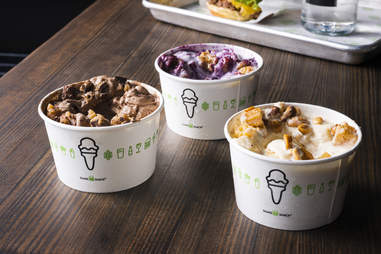 Evan Sung/Courtesy of Bread and Butter PR
The desserts
Yeah, you can mix your own concrete, the Shack's frozen custard desserts, or you can get three signature Dallas-specific custards that'll knock you out: the Dallas Pie Oh My with vanilla custard and Emporium Pies' own season pie chunks, the Pearl & Pecan, which is vanilla custard, salted caramel sauce, pecans and chocolate toffee, and lastly -- brace yourself -- the Shack Attack with chocolate custard, fudge sauce, chocolate truffle cookie dough, and a crumbled Dude, Sweet Chocolate "crack bar." It's perfectly fine if your pupils just dilated to saucer size.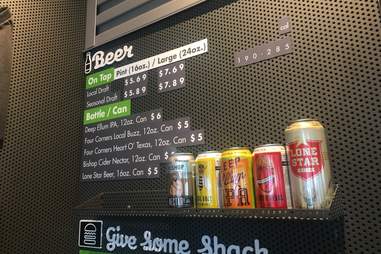 Nick Rallo/Thrillist
The booze
A lean and mean local beer showing is on hand at Dallas' Shake Shack: Community's seasonal (currently their Witbier), Deep Ellum's Neato Bandito, the craft brewery's interpretation of a Mexican-style lager. There's also Abita root beer on draught, which is forever-delicious when sipped glacier cold while devouring a cheeseburger. Of course, you could ditch the craft brews and go with a tried and true can of Lone Star.
Nick Rallo/Thrillist
The interior
The city of Dallas is literally built into the walls and floors at this Shake Shack. There's 1930s shiplap -- which makes it an immediate contender for HGTV -- in the form of reclaimed gym flooring from Dallas-area schools, as well as reclaimed pine, just for you, from actual rivers in the South.
Sign up here for our daily Dallas email and be the first to get all the food/drink/fun DFW has to offer.
Nick Rallo is a writer in Dallas. His reviews on burgers appear weekly in the Dallas Observer, and he'll always love Whataburger deep down. Follow him @nickrallo