Big D's 5 most incredible melty sandwiches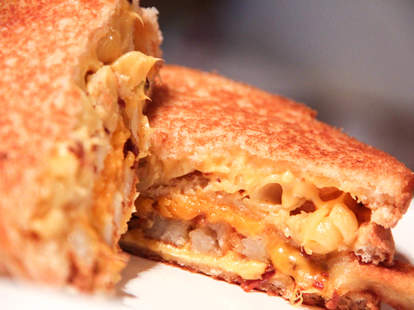 There are now exactly five days left in totally-real-and-not-at-all-made-up National Grilled Cheese Month. Assuming you're still only eating Confetti Cupcake Pop-Tarts for breakfast and XXL Backyard BBQ Hungry Mans for dinner, that gives you a quintet of opportunities to celebrate this holiday-to-end-all-holidays. Helping you make the most of them: Thrillist's picks for the Top 5 Grilled Cheeses in Dallas
Ten Bells Tavern's 3 Cheese Grilled Cheese232 West 7th St; Bishop Arts District; 214.943.2677Because, like amigos, three cheeses are better than one: this brioche bun w/ Jarlsberg, mozz & white cheddar.Scope their full menu right here
Norma's Cafe's Grilled Cheese1123 W Davis St; Oak Cliff; 214.946.4711This Dallas staple grilled cheese is good, simple, and classic. And, it comes with a pickle, so there's that.See the whole menu at their site here
Ruthie's Rolling Cafe's The Boss Grilled CheeseAll grilled cheese, all the time, on a truck, with a huge customizable list -- Ruthie's is pretty stout, but The Boss is even stouter: BBQ & cheddar on sourdough.Get bossy in the full story...
Cafe Brazil's Grilled Cheese6420 N Central Expressway; Central Expressway; 214.691.7791Any ciabatta roll stuffed with Asiago, cheddar, Monterrey Jack, and feta is a winner, especially in the wee hours of the morning.They've got plenty of other locations, too. See them all on their website here.
Lucky's Cafe's Sleaziest, Cheesiest Grilled Cheese in Town3531 Oak Lawn Ave; Oak Lawn; 214.522.3500Onions, tomatoes, green chillies, bacon, cheddar, Swiss? Yes, yes, yes, yes, yes, and yes.The cheese doesn't stop there... Read up on their Fried Cheese on the full menu, here.