Find yourself a list of the best BBQ spots in and around Dallas and you're likely to notice some usual suspects popping up again and again -- your Pecan Lodge, your Lockhart Smokehouse, your Longoria's -- and rightly so, they all make some damn delicious smoked meat. But this is Texas, and there is LOTS of face-meltingly good 'que to go around, even among spots that don't always receive as much in the way of media accolades. Here are nine spots you won't find on the most recent Best BBQ lists from Texas Monthly, the Dallas Observer, or Dallas Magazine, but where you will find some highly satisfying BBQ.
Hard Eight BBQ
Multiple Locations
Although Hard Eight is pretty well known among the minivan-rocking suburbanite set, it's not quite as popular with those south of 635, but a trip North is most certainly worth considering. The elite three (brisket, ribs, and sausage) are all well-executed, with the spice-laden ribs being a particular standout. The beans (the best of their sides lineup) are complimentary, and the apple cider vinegar sauce makes for a fantastic sidekick to the meat -- it's complementary, one might say.
D.W.P. Grill MD
Deep Ellum
DWP's pitmaster, Doug (you will want to be friends with this man), serves up brisket that can stack up against any of Dallas's best. It's called Sugar Cookie Brisket -- because of the sweet, buttery deliciousness created by the mixture of sugar and fat on the bark. There are no sugar cookies (or snickerdoodles, for that matter) in the recipe. Moist, lean, chopped, burnt ends -- no matter how you have Doug serve it to you, you're going to be pleased.
Christopher's Smokehouse Barbeque
Far South Dallas
You might be asking "what sets Christopher's Smokehouse apart"? Or, if your name is Christopher, you might be asking "do I secretly own a BBQ joint and not know it"? To answer the first question, the brisket is hug-a-stranger moist and the St. Louis style short ribs totally make up for the incessant obnoxiousness of Cardinals fans. The catch? It's a loooong way South, but it's worth the trek.
Fat Cow BBQ
Far North Dallas
Ready to head North into suburbia again? This time shoot straight up 35 into Lewisville and stop off at Fat Cow BBQ. Here's the critical info -- the pulled pork is like magical meat candy, the mac 'n cheese is a spectacularly creamy complement, and the fat jalapeños stuffed with pulled pork and cream cheese before being wrapped in bacon... exist.

Hobbi's Barbeque
Las Colinas
Hobbi's has crazy-big portions (unlike Hobbit BBQ, which is a whole different thing), and an amazing lunch special that gives you a meat, a drink, and two sides for $5.99. Also, they have Kool-Aid on tap. It's a tasty and well-priced little hole-in-the-wall where, unlike at Jonestown, drinking the Kool-Aid is totally safe!
Double S Texas BBQ
Northeast Dallas
Crazy-tender, meaty ribs? Check. Pulled pork that rivals any in DFW? Check. Banana pudding that makes you want to "slap your pappy" (as one does after eating good pudding)? Check. Pair all that up with a trio of sauces (so should it be "Triple S"?) that includes traditional, spicy, and "I think my tongue just melted", and your mouth is about to have itself a party.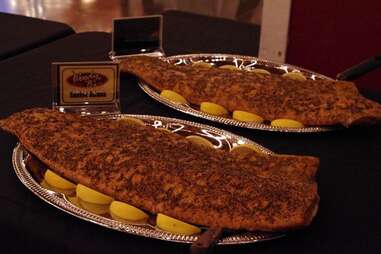 Woody B's Mesquite BBQ
Far North Dallas
Woody's nails its brisket, ribs, and even its ridiculously good smoked salmon, all of which match up beautifully with their intoxicatingly good homemade sauce and a side of their smoked chicken mac 'n cheese. Full disclosure: owner Woody Berry completes the hard part of the equation by making delicious BBQ, but there isn't really a dine-in space to speak of. Don't worry, though, you'll want to take it home and be alone, anyway.
H & J Barbeque
South Dallas
Though the façade of H & J might make you feel like you're walking into a Texas Chainsaw film, the only slicing and dicing going on there is the cutting of hot, mouth-watering brisket and ribs. Pair 'em with a baked potato that should have its own ZIP code and you are good to go.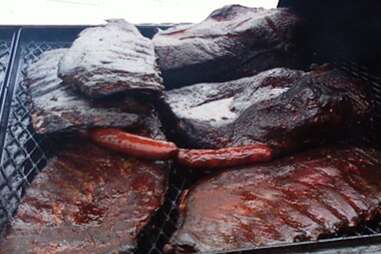 Smokie's Bar-B-Q
North Dallas
Have you ever wanted BBQ really bad, but found yourself glued to your couch, trapped by the trifecta of TV, Internet, and sweatpants? Fear not, Smokie's will gladly deliver some of the best brisket you've probably yet to try, paired with one of their dueling sauces (the hot is particularly nice if you like things spicy). Also, might as well throw in a sweet potato pie. You're in sweat pants, after all.