The definitive list of "Things That Lasted Way Too Long" is a pretty short one: the Hundred Years' War (ugh), Felicity's short hairdo (ugggggggh), and a ramen-less Dallas food scene (eh). Responsible for putting an end to the most hard-to-fathom: Deep Ellum's Tanoshii Ramen, a trail-blazing Dallas ramen joint from the husband/wife duo behind Wicked Po'Boys.
The Japanese-y interior features a traditional-style mural painted over the exposed brick wall, reclaimed wood supporting an L-shaped bar, and enough natural light to stock a fraternity basement party.
Of course, you're here for the ramen, so get to it with this tonkotsu, a pork belly-laden broth with awesomeness like kikurage 'shrooms, bok choy, menma, nitamago, and roasted sesame.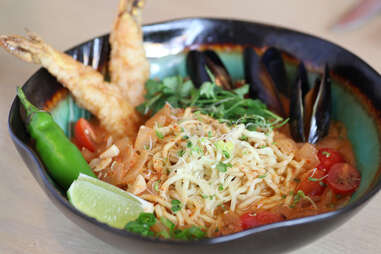 Make your food decisions based on Spice Girls lyrics? Figured. Spice up your life (!) with their curry ramen: here, coconut curry meets tempura, prawns, menma, and mussels.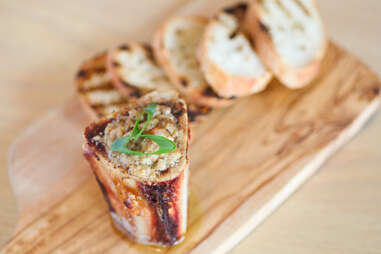 Or, skip ramen all together and get this gorgeous roasted bone marrow with toast and yuzu jelly. Or or or, get this AND ramen and COMBINE THEM.
They're also doing steamed buns (hun!) filled with pork belly or chicken, and topped with cuke and spicy mayo.
Their pan-fried pork- and shrimp-filled dumplings're called Hakata Gyoza -- dip 'em in that sauce if you want them to gyoza down even better (see what we did there????).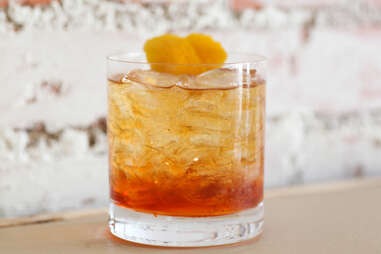 Rinse everything down with local taps from DEBC, nearly 20 different sakes (Nigori, Junmai...), and a trio of whiskey-tails headed by the orange & lemon oil-aided, Yamazaki 12yr-fueled Big in Japan, which is precisely what you'll be if you eat too much ramen here/teleport to Japan.