Rad biker bars, a place to get <em>Ghostbusters</em> stuff, and 30in pies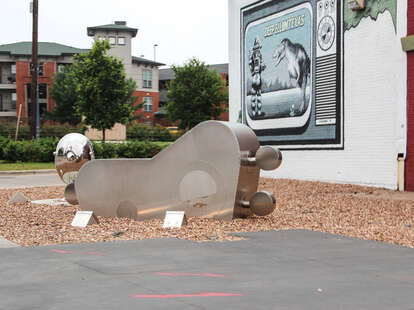 Let's face it: you don't have time to spend all day going to every bar and restaurant and epic store that sells Ghostbusters t-shirts in Deep Ellum, and then put it all into a handy guide with pictures and hilarious quips and addresses that you can reference every time you're in the 'hood. Luckily, though, we totally do
When You Really, Really Need a Caffeine Buzz:Mokah Coffee Bar2803 Taylor St; 214.651.0077If not for the concerts, or the exhibits, or the Fair Trade beans, or the exotic loose-leaf teas, hit this 15th century monastery-style java-slinger for... the four-mornings-a-week yoga!
For the Watching of Bikes, While Drinking Cheap Beer:Reno's Chop Shop210 N Crowdus St; 214.744.1200You know that bar in Pee-wee's Big Adventure filled with all those biker dudes, some of whom are wearing eye patches? Well, consider Reno's its less eye-patchy cousin. Also: karaoke over the PA
Because the Sounds of Vinyl Are So Lame:Eight Track Museum2630 E Commerce St; 469.867.4074ETM's where you go when you really, really need to hear that Animals/Pink Floyd two-sider or the John & Yoko Wedding Album, because, you know, that worked out so well for everyone
Where to Get Balls Back:Mid2Mod2928 Main St; 214.782.9005Honestly, buying a pre-made beer pong table is something college kids would do. Not you. No, you'd buy a pre-made beer pong table... handcrafted with nice-looking wood
What Do You Get when You Cross a Hipster and 1955 George McFly?:B4 Dallas2707 Main St; 214.212.2961PEZ dispensers. Ghostbusters t-shirts. LEGOs. The place that used to be Millennium, that's now B4, totally gets what it was like to be a kid in the early '80s that didn't have enough money to buy all that cool stuff that early '80s kids bought, so now they're saving the day by selling it to you
Because Anyone Who Says "for Serious" Needs to Be Put in Their Place:Serious Pizza2807 Elm St; 214.761.9999Sure, getting hand-tossed goodness after 1a only involves a quick trip up Harry Hines, but for a much tastier way to lose your self-respect, go for the full 30-incher, hand-tossed 'til late at Serious Pizza, founded by a couple of Florida State refugees who'll likely proudly admit they're the biggest tossers in all of Deep Ellum
Once You've Finally Convinced Your Doc That an "All Protein" Diet Is Good for You:Mama Faye's BBQ2933 Commerce St, Suite 100; 214.486.9846They've been making the same great 'cue for over 70yrs, and it's not fancy, unless you count the whipped cream cake; this is about as classic a BBQ place as you can get, and it's the one place where no one will judge you for asking for a Mama Faye sandwich.