Drink craft beers served by girls in tight skirts while you're... at Work?
You know how the saying goes: "All work and no play makes Jack a dull boy... unless of course you're talking about Work, the Deep Ellum bar & grill with a loose 9-to-5 theme and waitresses dressed like sexy secretaries, in which case, Jack would actually sorta be the man."
WBG turns the old Sambuca spot at Elm & Good Latimer into what the owner describes as a "five-star dive bar", wherein four stars go to the craft beer and BBQ, and one to the intentionally "rough-around-the-edges" interior (AHHH! CONCRETE FLOORS!! NOOO, NOT BRICK WALLS!!!).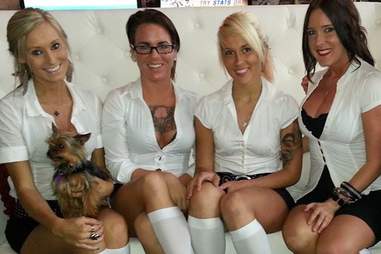 These are the aforementioned sexy secretaries. Only one of them is a dog.
Their patio is surrounded by eight different garage doors, meaning it's a good place to park it.
The owners aren't fans of "crappy neighborhood bar food", but instead these "not crappy" Buffalo fried oysters, duck quesadillas, and 'shroom frites.
Mains count everything from bacon-wrapped prawns to this serrano-laden, cilantro-lime aioli-slathered Amarillo burger...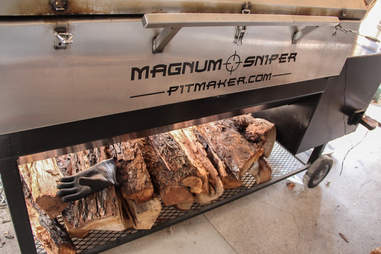 ... to BBQ done in this super-insulated, air-tight, extra-juicy-meat-making smoker designed by a high-end outfit in Houston.
'Cue includes whole chickens, pulled pork, and -- of course -- brisket that's been smoked for 12-15hrs and glazed with a marinade that's so brown sugar-laden it forms a sugar cookie-like crust when it cooks.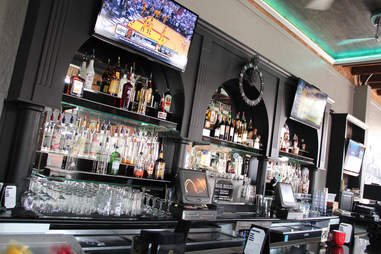 And since all those meat cookies'll no doubt make you thirsty, hit up the bar for local taps like DEBC and Peticolas -- two thirst-quenchers that'll really hit the spot when it's Shining out.