This is the most beautiful Thai food in Dallas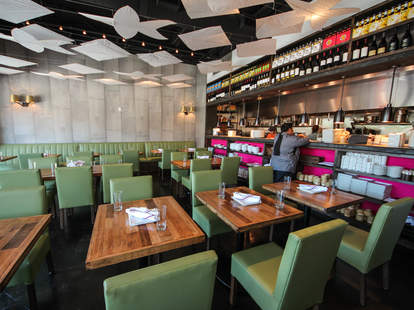 Thrillist has already proved that Thailand is the definitive place to go for really valuable beer koozies, and David Carradine's proved that it's the spot for "accidental" autoasphyxiation, but the Design District's Pakpao, from the crew that did Oak and Belly & Trumpet, is all about proving that Thailand's only the second best place to go for sweet, authentic Southeast Asian eats. Plus, it's, like, really far.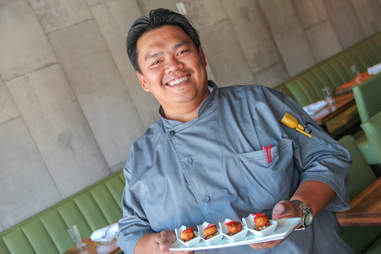 This is Chef Eddy Thretipthuangsin. He learned to cook in Thailand from his mom/grandma, then came stateside to study at Le Cordon Bleu and cook at a resort in Florida. He smiles like that 'cause he now lives here instead of Florida.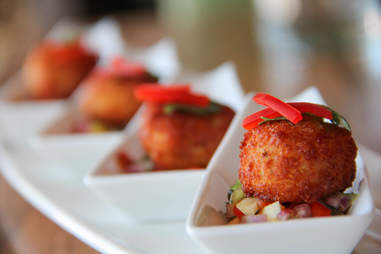 Eddy's background has led to dishes with a French style of presentation as artistic as a Zinedine Zidane spin move, but with authentic Thai flavors as powerful as a... um, Zinedine Zidane headbutt. One example: These traditional fish cakes sleeping on a bed of mango, red onion, cilantro & palm sugar.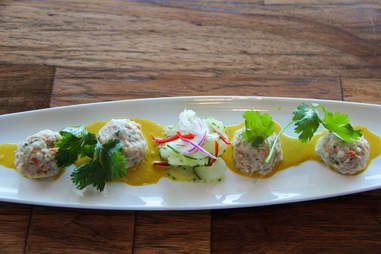 One of his grandma's recipes is called louk chin kai; they're coriander-, kaffer lime leaf-, and yellow curry- equipped chicken meatballs that ensure there's no chance of your day turning cloudy.
Here's Eddy reflecting on how much better it is in Dallas than Florida. Or supervising the construction of creative dishes like...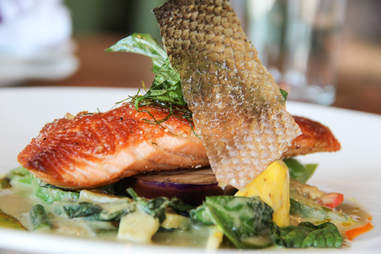 ... this salmon curry that, in addition to, well, salmon, obviously, comes w/ bamboo, Thai apple eggplant, chili, green curry, and Thai holy basil, which presumably doesn't grow in the wild, since apparently there's no church there.
Of course there's booze, with classics like this Old Fashioned they're calling the Phuket Fashioned, and Asian beers ranging from Singha to Tiger, which, in the event they don't have their own sweet koozies, you should just say something that sounds a lot like the first part of that cocktail's name, and pound 'em straight from the bottle.