Not just what you used to call whatever was in Cecil B. DeMille's fridge, CBD Provisions is Downtown Dallas's best new "Central Business District" restaurant -- a Joule-adjacent modern brasserie from the same dudes who brought you Hibiscus and Victor Tango's.
Recommended Video
This Pizza Dip Lets You Throw a New Kind of Pizza Party
The place was designed by some hotshot from NYC (with help from one of the Hibiscus/Victor Tango's dudes), and marries (awwww) this u-shaped marble bar up front with a wide-open 180-seat dining area in back.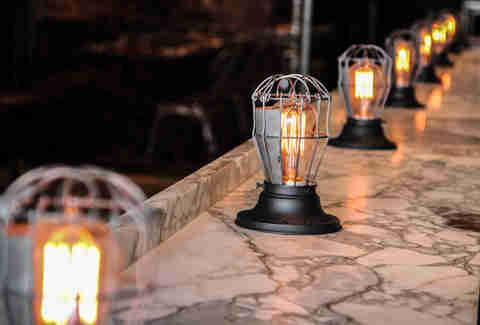 Also: there's an ancillary standing-room bar full of light bulbs, presumably so you can see your drink. Thanks, hotshot from NYC!
The menu's pretty eclectic/porky, with apps ranging from chile-lime pork rinds, to pate-laden charcuterie, to these absinthe-whipped, lardo-and-bacon crumble-topped Gulf oysters that're virtually guaranteed to turn your Exxon.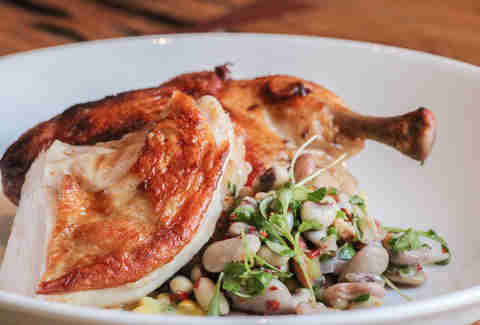 Main-age counts a grass fed burger and this roasted chicken with non-suffering shell bean succotash, plus they're doing family-style numbers like TX Wagyu rib steak over confit potatoes and sherried onions, and pig head carnitas with roasted salsa, radishes, and very obstinate tortillas.
Random fact to share with your date while drinking the chili-infused, mezcal-centric Good Word: that fancy napkin under your drink was specially printed in Germany. Prost!
Other booze docket recs: the Red Pegasus (Saler's Apertif, vermouth, bitters...) or just stick to local brew (Martin House, DEBC, Revolver...) pulled from wooden taps so covetable they'll make you want to break one of The 10 Commandments.
Previous Venue
Next Venue
Venue Description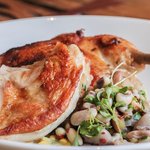 1. CBD Provisions
1530 Main St, Dallas, TX 75201
This handsome Downtown modern Texas brasserie, adjacent to The Joule Hotel, is dressed completely in wood, exposed brick, marble, and vintage lighting, with an attractive menu to match. Treat yourself to the family-style Wagyu Rib Steak or the Pig Head Carnitas, and pair it with something from their unique cocktail menu.