Dallas is a city blessed with many fine neighborhoods for drinking and dining, and it's always a good time to explore the offerings in different parts of town. But what if you couldn't do that? What if you were confined to a single neighborhood for all of your bar and restaurant options. WHAT WOULD YOU DO?
We pondered that exact question and ranked 12 prominent Dallas neighborhoods, according to their food and drink scenes (we did some combining and border-stretching based on what felt natural... also, suburbs need not apply). Come back and fervently defend your neighborhood's honor in the comments.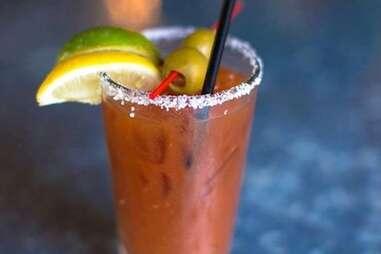 12. Upper Greenville
Upper Greenville is often forgotten in the madness that is the Dallas food scene, but there's plenty there that merits your attention. Delicious burgers await you at Grub Burger Bar, Ashwood Bar & Kitchen, and Twisted Root. Then there's the wonderful Asian spots: BB Bop Seoul Kitchen, Tampopo Japanese Cafe, and the ever-popular Royal Thai. You can unwind with some great cocktails and small plates at The People's Last Stand, where you might get boozy enough to spend your entire paycheck at Mockingbird Station. The supremacy of the build-your-own-Bloody Mary bar at Ozona is challenged only by their chicken fried steak.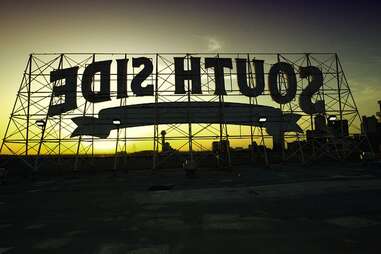 10. South Dallas
South Dallas is pleasantly unpretentious -- no frills, just amazing food. Get your fill of brisket and ribs at Baby Back Shak, Off The Bone, and Sweet Georgia Brown BBQ. Belly up to the bar at Lee Harvey's without worrying about placing an overly complex cocktail order. Full Circle Tavern has your slightly upscale version of bar favorites like cheese curds, beer cheese soup, great sandwiches & burgers, and killer cocktails. You can mix it up from the norm at Elaine's Kitchen with some Caribbean favorites and BYOB action.
9. Lakewood
Further east than what was once "East Dallas", Lakewood is one of the newer areas where fledgling restaurants go to spread their wings and... waitforit... fry! Standouts like Cane Rosso, Latin Deli, and Mot Hai Ba are all at the top of their game. Lakewood Landing and Cock & Bull cover your adult beverage needs. Lakewood Growler and Lakewood Brewing are doing amazing things for beer. Goodfriend has made it's presence known there for it's burgers, but what can get lost in all that meaty goodness is the fact that they have incredible bartenders and a phenomenal, ever-changing tap list. If this list is made again a year from now, expect this area to climb.
8. Trinity Groves
Like a mother hen taking care of her chicks, Trinity Groves has been incubating restaurants ever since it opened up. You have Luck filling your gullet with pastrami (oh, that pastrami) and filling your growlers with great beer. There's Casa Rubia if you're wanting some Spanish action. Kate Weiser is there for your sweet tooth, or teeth (no judgments here). Need some upscale comfort food? Hofmann Hots and Kitchen LTO are all over it. Don't forget that Four Corners Brewery is right at the border of Trinity Groves as well. This seems like a good time to mention that the whole damn thing is highly walkable.

7. Downtown
Downtown is having a renaissance of sorts and we're reaping all the benefits. Spearheaded by the restaurant group that brought favorites like Dallas Chop House, Chop House Burger, Dallas Fish Market, and Wild Salsa, many others have jumped aboard this train and now one of Dallas' coolest restaurants, CBD Provisions, calls Downtown home. Ellen's Southern Kitchen holds it down for, you guessed it, Southern goodness (including a damn fine brunch). Two awesome cocktail bars, Green Door Public House and The Woolworth, are also at your boozy service.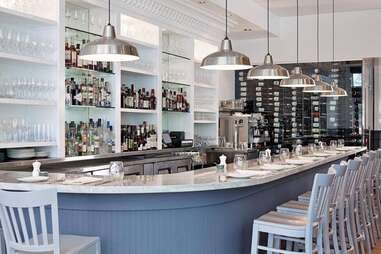 6. Knox-Henderson
More just a stretch of road that happens to be home to some of the finest eateries in the city, Knox-Henderson is one place you wouldn't mind getting lost or stuck. Area newcomer Gemma is seriously turning heads. The Porch is rightfully a longtime favorite, and another newbie, Houndstooth Coffee, is making waves in the local caffeine scene. Sissy's fries some mean chicken, and the Old Monk's taps have been pouring beer for quite some time now. Barcadia will give you an entirely legal flashback. Victor Tango's mixes cocktails that are basically works of art, and Vickery Park is all over the brunch scene, ensuring you can spend all your time here.
5. Uptown
Things tend to come and go quickly here, but there are some incredible spots that hopefully don't go anywhere. The Social House is a back porch party on steroids. New spots like Lyfe Kitchen and The Sir are gaining traction in a competitive market. The Thai at Crushcraft and the pizza at Firecrust can hold their own with anyone. Common Table is one of the best beer-staurants in all of Dallas. You can stuff your face with chicken and waffles (and other deliciousness) at Bread Winner's, or take a week or so off of your life (it will be worth it though) at Boxwood Tap and Grill when you eat The Southerner.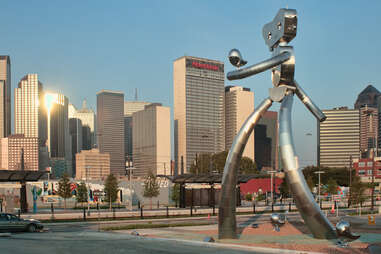 4. Deep Ellum
You have arguably one of the best burgers in all of Dallas at Uncle Uber's and some Chinese street food that will have you wondering if you are really in Dallas at Monkey King Noodle. Feeling more Italian? There's the OG Cane Rosso. You can get the city's biggest and craziest Bloody Mary at Anvil Pub -- oh, and speaking of drinks, some the best cocktails and bartenders (they don't like to be called mixologists) are to be found at Black Swan Saloon. You also might have heard about a little BBQ joint called Pecan Lodge.
3. Design District
It's not always quantity as much as it is quality. The Design District is a tiny area east of the Trinity River, but they say good things come in small packages. If you're feeling fancy, head to Oak in all of its tasty glory, while PakPao is next door with, dare we say, the best Thai food in Dallas. You might have also heard about that FT33 place that is blowing minds. You can head to Meddlesome Moth and choose from 40 beers on tap while eating bacon lollipops. Feed your caffeine addiction at Ascension, or if you're a bit hungrier, grab a Murph at Off-Site Kitchen or a meat plate at Slow Bone.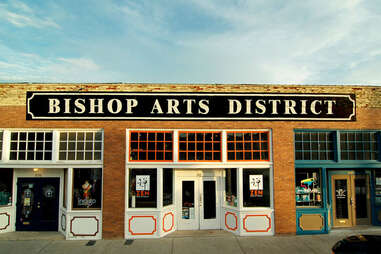 2. Bishop Arts
The ever-expanding Bishop Arts offers just about everything your taste buds could want. Stock & Barrel steadily delivers fantastic fancified American fare, while Hattie's is deep on Southern charm. For Italian, get to Lucia – that is, call and get a reservation so you can actually eat there within the next two months. French, yep, they have that too at Boulevardier. They are also home to the best BBQ in DFW, according to the pit masters at Lockhart Smokehouse. Your Mexican food craving is covered at Veracruz Café, while your burger need is taken care of at Hunky's. We could do this all day; the point is, Bishop Arts is a rapidly expanding culinary powerhouse these days, and you should spend lots of time eating there.

1. Lower Greenville
It's not always about how long you've been in the game. Sometimes you just hit the ground running, and that's the story in Lower Greenville. HG Sply Co. and its incredible rooftop view are relatively new. Ditto the Blind Butcher and its pork belly poutine. You have one of the coolest places humans ever conceived of for outdoor drinking in Truck Yard. The Bottle Shop (WBC) has your beer and free pizza needs covered. Vagabond? Fantastic. The Grape? Enough said. Jimmy's Food Store is a legitimate Dallas icon. Steel City Pops will make you upset you didn't spend more time eating fancy popsicles before. Lower Greenville keeps raising its game, and until someplace raises it higher, it's the best place to fill your face-hole in all of Dallas.
Sign up here for our daily Dallas email and be the first to get all the food/drink/fun DFW has to offer.