FACT: A new restaurant opens in DFW every 14 seconds. ALSO FACT: You don't have enough time and digestive capacity to eat at ALL of them. Luckily, we sorted through them to bring you the 11 you should make a point to grace with your presence, only to then ungracefully feed your face.
Recommended Video
Proof That Iceland's Ring Road Is the World's Most Beautiful Road Trip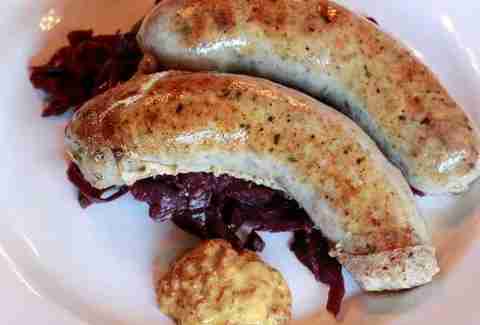 Blind Butcher (click here for info and address)
Lower Greenville
If you're a vegan, you probably want to stop reading this… okay, meat-eaters, let's continue. The Blind Butcher hasn't been open long, but it has made a HUGE splash on the restaurant scene in Dallas thanks to insanely good house-made sausage, house-cured meats, pork belly poutine (just get it), bacon Brussels sprouts, duck fat fries… yes, there is no shortage of tasty animal bits here. An abundance of local craft beer provides many a perfect pairing.
LUCK (click here for info and address)
Trinity Groves
Luck actually has nothing to do with the undeniable greatness of this place. It all has to do with food and beer. First off, you need to try their pastrami sandwich, kind of like how you need to breathe. Second: bierocks -- meat and cheese baked into a flaky crust that you'll dip in jus and beer cheese fondue. Yeah, you should probably eat that too. There's plenty of local beer on hand, even finding its way into desserts -- like in their porter-toffee sauced brownie and beer ice cream.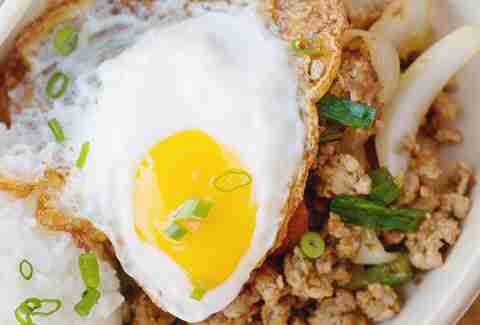 Crushcraft Thai Street Eats (click here for info and address)
Uptown
At Crushcraft Thai, simplicity is key -- simple ordering and simply delicious Thai street food. You order at the counter from a menu of eight dishes and a few sides, plus a can't-miss section called "Our Crew's Current Cravings", which lists a rotating dish that the staff concocts. The serious flavor and the rare treat of having a fantastic meal in Uptown for less than $10 make Crushcraft a must-visit.
AF+B (click here for info and address)
Arlington Heights
AF+B is one of the many reasons it's great to have both the D and the FW portions of our Metroplex. Mixing in a delicious balance of land, sea, and air, they have everything from a giant spicy beef rib and venison sausage, to a damn fine blackened gulf snapper, to a flavorful smoked duck breast. The only drawback about AF+B is that it's a touch on the pricier side, so you probably won't be able to eat here for every meal -- like you're going to want to.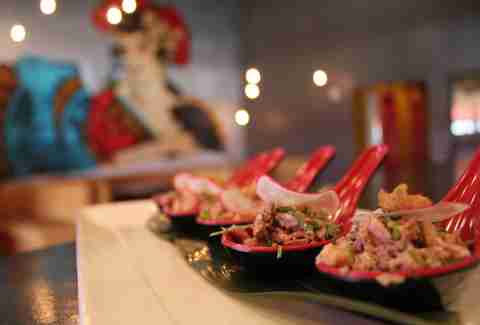 Chino Chinatown (click here for info and address)
Trinity Groves
A mashup of Asian and Latin American cuisines, each and every dish is exploding flavor from fresh herbs and lots of garlic. Start off with some duck fat yucca fries with Sriracha ketchup, or their elote with bone marrow Sriracha aioli and Cotija. Steamed buns are filled with cochinita pibil and spicy peanuts. Barbacoa goes swimming in bowls of ramen. Bring a big crew to help you attack the menu, because you're going to want to sample a large swath of it.

Gemma (click here for info and address)
Lower Greenville
The atmosphere is cozy and welcoming. The staff is welcoming. It would have been inappropriate to try and find out whether or not they are cozy. But the food is undoubtedly the most important attribute: Braised Veal Cheeks with black pepper spaetzle, Baked Oysters with guanciale, jalapeños, & Gruyere, and Ricotta Cavatelli with wild boar ragu fill a menu that feels both inventive and familiar. Pro tip: nab yourself a reservation, as this little gem (!) fills up fast.
My Family's Pizza (click here for info and address)
Lakewood
A Dallas staple since 1956, they JUST opened up their second location in the booming Lakewood area of Dallas (they didn't want to rush into anything). Good news: the pizza is still an exercise in crispy-crusted amazingness. Bonus: you can either enjoy your pie there or take it next door to The Pour House to enjoy it with some beverages that might be more up your alley. Pour House is also serving up a small selection of MFP's slices.
El Come Taco (click here for info and address)
East Dallas
In a land of 1,000 tacos, it's hard to stand out, but El Come Taco has managed to do just that. They serve up classic, deliciously juicy street tacos that you'll feel compelled to consume in bunches. Try the cecina (big chunks of sirloin), and definitely don't miss the al pastor (you'll notice the tasty pork cone rotating behind the counter) with some pineapple. If tacos aren't your thing (what's wrong with you?) they have some tortas that will have you saying, "¡Mas, mas!"
Barter (click here for info and address)
Uptown
The goal of creating Barter was to honor Dallas's culinary history, and they've absolutely done justice to those traditions. It's one of those places you can go to for a date, a group hangout, or by yourself, and feel equally at home. Menu standouts include Chili Crab Fajitas with Cotija & crispy basil, and lamb chops with potato cake, Brussels sprouts salad, and Scotch bonnet vinaigrette. Beverage-wise, try a pre-bottled dry pear Negroni. One important note: the name may be Barter, but the accepted form of payment is still American dollars.
Grub Burger Bar (click here for info and address)
Upper Greenville
They have Nutella shakes -- if you haven't left yet to get one and are still reading this, thank you! Besides said crazy delicious shake, Grub does a mean burger as well. They bake the buns onsite and offer an inventive burger lineup like the Lockhart Legend with Dr. Pepper BBQ sauce, cheddar, applewood bacon, onion rings, and dill pickles. You will probably want to start with the Luau Fries or the Crawfish Pistolettes, then grab a burger (and maybe one of those shakes), and take a three-day nap.
Pier247 (click here for info and address)
Bishop Arts
Pier 247 is upping Dallas's seafood game to a whole new level. Dishes like their Combo Basket of fried catfish, fried shrimp, and fried oysters -- served with hush puppies -- will satisfy your dual cravings for seafood and fried things. If you also have a sandwich craving, there's the Chicken Fried Oyster BLT with spicy tomato jam. If you aren't feeling fried, there's Grilled Salmon topped with creamy creole shrimp and mango pico de gallo.