You know how whenever you're at a restaurant, you have to annoyingly eat and drink things? Well, no longer, thanks to Meso Maya, which's now dipping, soaking, dunking, and cooking your food straight in a whole lotta tequila. But since tequila-infused stuff doesn't photograph all that well, we asked chef Nico Sanchez to help illustrate things better by pouring a bunch of tequila on everything (and then letting us eat/drink/lick all of the dishes).
Recommended Video
Tequila Mint Hot Chocolate, for When Schnapps Just Won't Cut It
The Queso Flameado:
Queso with pork belly, Mazatlan shrimp, tomatillos, corn, and tostadas? Polite clap. Queso with pork belly, Mazatlan shrimp, tomatillos, corn, tostadas, and silver tequila? Slow clap turning into weepy standing ovation.
Herradura Salmon:
Charred Brussels sprouts, guero chiles, chayote puree, and crushed piquin chiles accompany this salmon, which's been cooked in a vat of reposado. And to really bring out the aromas and flavors and... other stuff, we added just a liiiiiittle extra on top.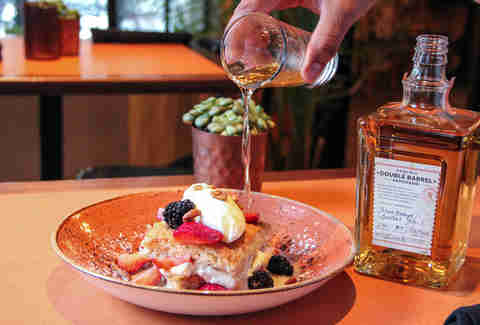 Tres Leches:
Here, he's taking a sponge cake, soaking it in milk and anejo, topping it with teq-infused whipped cream and berries, and then topping it some more with Texas pecans that -- like us after this photo shoot -- were perfectly toasted.
Previous Venue
Next Venue
Venue Description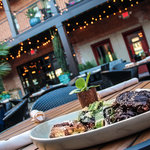 1. Meso Maya Downtown
1611 McKinney Ave, Dallas, TX 75202
Meso Maya, located in a renovated tortilla factory (seriously), is not for sating Tex-Mex cravings. With adobos, moles, and salsas from scratch, and in-house nixtamalized masa for the freshest of tortillas, Meso Maya touts its authentic Mexican roots for lunch and dinner, every day. The menu offers a wide variety of traditional dishes, from queso fundido and tacos to posole and budin azteca. And with upwards of 40 tequila and mezcal selections to choose from, you can expect a proper margarita, whether it be a classic or a house specialty like the avocado margarita, their star sipper.