Trucks are only a couple of years old here, but as that kid from Rookie of the Year proved, you don't need to be old to be good at something. You just have to break your arm perfectly. From stuffed peppers to fried numbers that'll make your heart skip a beat (or four...teen), here are the city's eight best rolling eateries.
Coolhaus DFW
Where to Find It: You can generally find it at KWP, or here.
Dish to Get: It's all about the ice cream sandwiches, obviously, but if you need us to tell you the move -- peanut butter Captain Crunch. You probably grew up with very healthy teeth.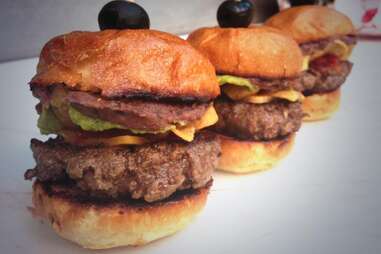 Easy Slider
Where to Find It: They tend to get around quite a bit, so you'd best check out their schedule first.
Dish to Get: The Sweet & Lowdown. It's got strawberry jam on it, so it's totally healthy…ish… until you get to the bacon and goat cheese slathered all over an Angus patty. Amen.
Gandolfo's
Where to Find It: One of their two trucks is generally stationed alongside the others at KWP; the other's schedule can be found here.
Dish to Get: The Knuckle Sandwich is kinda the perfect date sandwich: it's so massively loaded with pastrami, cheddar, mozz, Parm, lettuce, tomato, 'shrooms, olives, mayo, and butter that two people can be easily satisfied.
Nammi
Where to Find It: Frequently, they're at Klyde Warren Park. There's no trend here. Not at all…
Dish to Get: What are you, kidding me? It's the beef banh mi. Sure, the tacos are good, but the banh mi off of Nammi rivals some of the best Viet-sandwiches in Dallas.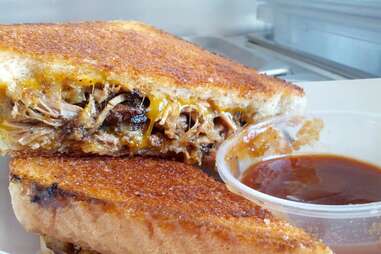 OinknMoo BBQ
Where to Find It: They tend to go to the Gexa quite a bit, but check their schedule here.
Dish to Get: Everything's smoked on the truck, so it's all pretty effing good, but you'd be a fool not to go for a smoke bomb: pulled pork- and cheese-stuffed, bacon-wrapped, smoked jalapenos. Yeah.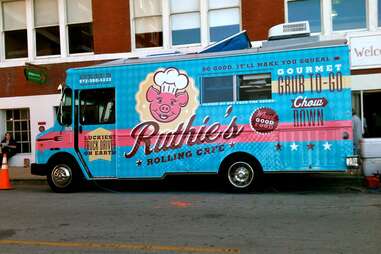 Ruthie's
Where to Find It: Ruthie's is another of the KWP brigade, but they also hit up SMU a lot. Here's their full schedule.
Dish to Get: The Boss. BBQ and cheddar is a classic. Pro Tip: Add some onions for extra brilliance.
The Bomb
Where to Find It: They're literally all over the place.
Dish to Get: They're known for their fried pies, of course, but the key to happiness here is two-fold -- grab the fried bologna sammy, because... fried bologna sammie, and get some fried guac (?!!?!?!) to go with it.