On the local culinary scale, Fort Worth often gets the short shrift in attention compared to its big-sister city to the east. But there are many incredible eats to be had in Cowtown, from burgers to vegetarian fare. Here's your guide to finding the 12 best restaurants in Fort Worth.
<em>2836 Bledsoe St</em><br />
So popular it spawned a spin-off in Dallas, this quirky-cool F-Dub original has a menu packed with creative, borderline-insane burgers. Think whiskey cheddar, bacon, and blueberry compote stacked on a burger; or a patty topped with grilled peaches, caramelized onions, arugula, bacon, and jalapeño jam. Then think about marrying them with the massive cheese fries surprise or a thick milkshake (that can be made boozy).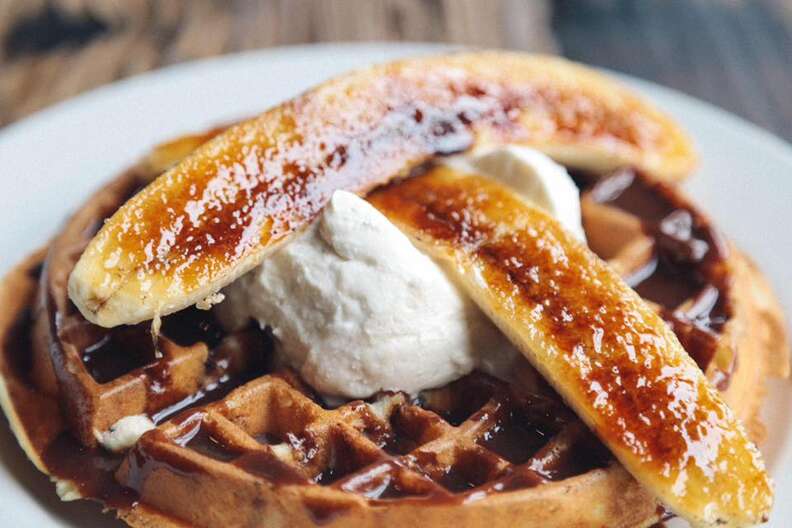 <em>801 W. Magnolia Ave</em><br />
This hip, folksy coffee house not only brews up a mean cup of craft java, but dishes up fine, top-of-the-morning eats every day, all made in-house. People with all kinds of diets and cravings can find something to cheer here, from oatmeal, granola, and yogurt with fruit, to rich serrano grits, biscuits with IPA beer gravy, and chicken &amp; waffles.
<em>301 Stockyards Blvd</em><br />
Based in Llano since the '50s, this barbecue stalwart's Stockyards location is its newest. The classic mesquite-fired 'cue is the same, which is to say it's all about the meat. Chicken, ribs, pork chops and loin, prime rib, sausage, and even sirloin are available by the pound, ready to pair with sides like beans, cole slaw, and the popular grilled corn. Super hungry? Come in on a Friday or Saturday after 5pm and sink your teeth into the limited-edition smoked ribeye.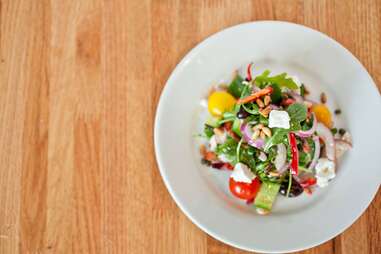 <em>1600 S. University Dr, #601</em><br />
You might not expect a hearty and varied brunch from a fine seafood eatery, but the menu at PT makes kicking off your Saturday and Sunday a delicious prospect. Of course, seafood represents, in the crab cake Benedict, but there's steak and eggs and chilaquiles for traditionalists, too. And you can't forget the sweet delights of the highly popular lemon ricotta pancakes, adorned with fresh blueberries, either. Brunch cocktails go for a song, at a tempting $4, so make sure to load that tummy first.
<em>1229 7th Ave</em><br />
Anyplace with a sandwich called the Elvis Heart Attack (bacon, peanut butter, and bananas) must have an absolutely magical touch with sandwiches. This bar-restaurant also specializes in a rotating slate of grilled cheese varieties, a poblano- and feta-stuffed beast called the Bearded L.U.S.T. Burger, and the veggie-based Tree Hugger. And if you're not ordering the house-made bacon mac and cheese on the side, you're doing it all wrong.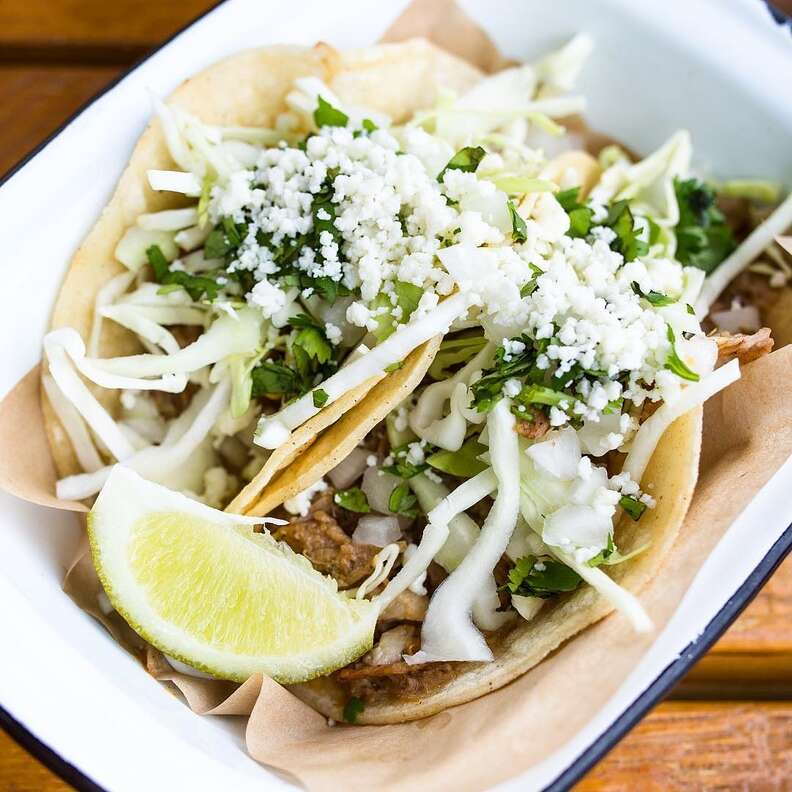 <em>Multiple locations</em><br />
Who doesn't love a terrific late-night taco to soak up all of the night's (possibly alcoholic) indiscretions? This food truck is operating till midnight (3017 Morton St) and 2am (700 Carroll St) and prides itself on "damn fine tacos," and to that end, it keeps things simple, with an eye toward using local and sustainable fillings. Carnitas, brisket, sautéed veggies, and pulled chicken are the options, with breakfast-y options on offer in the morning.
<em>2822 W. 7th St</em><br />
Buzzy enough to have earned a visit from Bizarre Foods guru Andrew Zimmern, this Arts District-adjacent restaurant puts the "family" in "family-owned." You'll see members of the Rojas family busy with food prep, from hand-crafting fresh tortillas to whipping up ceviches of all stripes -- even the embroidery on the cloth napkins is hand-made by family. The modern lounge décor belies the truly traditional Mexican tacos, soups, and mains that are as fresh as it gets.&nbsp;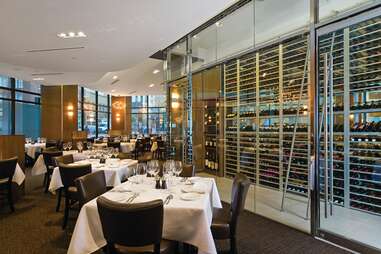 <em>777 Main St</em><br />
This fine-dining destination's smart modern-American menu was one of the first in recent years to turn Dallas foodie eyes to the west. Chef Blaine Staniford's way with everything from crudo and fried oysters to pasta and Wagyu beef has won him raves, and the price point makes this one restaurant you'll want mom and dad to foot the bill for. Just don't forget to hype up the incredible wine list, right before ordering a glass to go with your Colorado rack of lamb.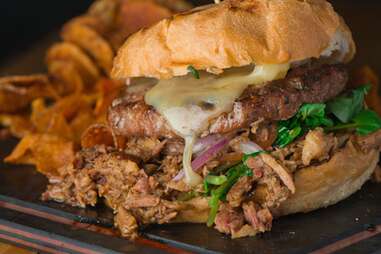 <em>3201 Riverfront Dr</em><br />
This patio-centric spot along the Trinity River is celebrity culinary native son Tim Love's edible ode to smoked meat. But there's more than just a barbecue-centric menu here, as plates like smoked hummus, bulgogi, paella, and ramen reflect the chef's love of global cuisines. That said, don't miss classics like brisket, pulled pork, and ribs, or the 16-hours-smoked beef shin served in a table-sized portion meant to share.&nbsp;
<em>3508 Hemphill St</em><br />
This super-casual (read: hole-in-the-wall) mom-and-pop serves up reliable, huge portions of Southern food favorites for a steal. Just don't get all fancy, and order what the locals love: big, ol' servings of chicken-fried steak and fried catfish, each delivered with your choice of two sides and a biscuit or a roll, for less than $7. Hefty chicken-fried chicken and chicken-fried steak sandwiches come with a mess of fries for around $6. Fair trade for the lack of frills, we think.
<em>3200 Darnell St</em><br />
This breathtaking resto on the water is more than just a pretty face: there are some serious culinary chops in the kitchen, and not just serious "for a museum." Exec Chef Denise Shavandy presides over a program that's keen on sourcing from local and artisan producers, which translates into a fresh, seasonal rotation of seafood, steaks, pork, and poultry almost worth skipping the museum exhibits for. (Note that dinner is only served here on Friday nights.)
<em>2837 Crockett St</em><br />
Thanks to flat-screens everywhere, 48 beers on tap, a hotspot location in the West 7th complex, and happy hour specials aplenty, this bar draws sports fans like moths to the flame. Take a gander at the calendar so you don't miss out on drink discounts and food specials, which reign supreme every day of the week. Case in point: the Free Bacon Bash, during which baskets of free bacon are on offer every Tuesday from 5pm to close. Free!
Sign up here for our daily Dallas email and be the first to get all the food/drink/fun DFW has to offer.
Farah Fleurima is a Dallas-based word wrangler who loves her gin and tonics as crisp as her bacon. As a professional food stalker and beer/cocktail/straight-liquor tippler, she loves to write not just about her culinary conquests, but also her frequent travels. You can check her out on Twitter at @thedallasdiva.