Wanna see these girls eat a really huge burger in Fort Worth?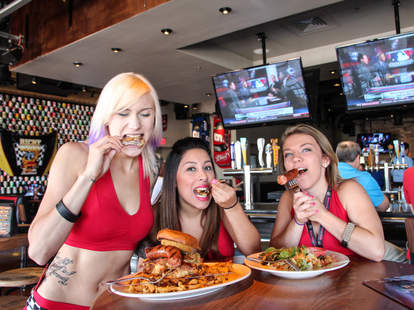 From the same people who brought you Bombshells, Ricky Bobby Sports Saloon's a Cabaret North-adjacent slice of Talladega heaven that's part restaurant, part beer garden, part live music venue, and part big, hairy, American winning machine.
Aaron Miller
There's technically no licensing arrangement with the Talladega Nights people, but that hasn't stopped 'em from putting a Ricky Bobby-themed NASCAR out front.
Aaron Miller
Inside, they've got more than 30 giant flat screens, plus personal screens at each booth. Oh yeah: ask for a booth.
Aaron Miller
They've also got a quartet of garage doors leading out back to a beer garden complete with its own bar, a stage for live bands at night, and twin tailpipe waterfalls, even though they've been advised repeatedly to "please stick to the tailpipe rivers and the lakes that they're used to".
Aaron Miller
Did we not mention that the waitresses look like this? 'Cuz they do, and they get really excited when you order a burger they call The Intimidator Challenge. Like, jumping up and down excited.
Aaron Miller
That's because it's got a half-pound patty, two slices of pepper jack, a half pound of BBQ-drenched pulled pork, two chicken tenders, three strips of bacon, a smoked sausage (more on that in a second), an onion ring, and a chicken wing on top, PLUS a solid pound of chili cheese fries to lay next to it, and get this: it comes with a mandatory salad. If you eat the whole thing in ten minutes or less, you get your picture on the wall (and a Ricky Bobby hat!!!).
Aaron Miller
This girl realllly wanted a hat.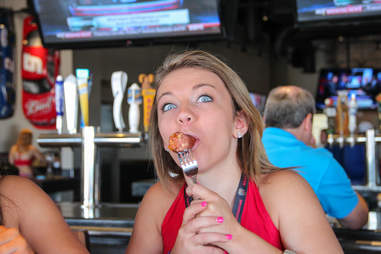 Aaron Miller
Whereas this girl went straight for the sausage, because "if you ain't first, you're last".