How to dominate one of DFW's most impressive new menus
Given that it's manned by a Dream Team that includes the Kenichi dudes, a Nick & Sam's chef, and the designer behind Meso Maya Downtown and Cook Hall, two things are clear about Frisco's Three Squares: 1) it would probably score 136pts on Cuba, and 2) it's somewhere you're going to wanna be eating very soon. Here to make sure you don't Christian Laettner your order, a guide to dominating this place like an ordering boss.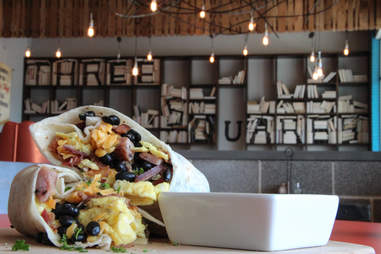 1. Order the Todo's Burrito
"But Thrillist, it's not breakfast time," you say. "But reader, STFU," we reply. "Scrambled eggs, bacon, smoky cheddar, black beans, salsa, and ham. Trust us."
2. Order the Chicken Philly
Not unlike John Kruk when he passes out mid-eating a late-night burrito, this Philly is covered in jalapenos and caramelized onions.
3. Order the Blueberry Margarita for your date
Riiiiiiiight. Your date.
4. Ask for the Potato Chip-Crusted Mahi-Mahi
It's served over either sweet corn orzo (pictured), the cheddar-jalapeno grits, or both, if you continue dominating this menu like so.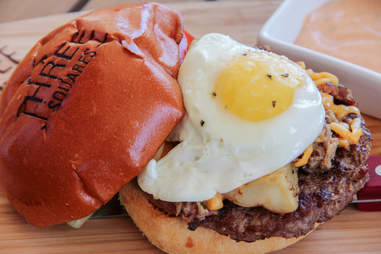 5. Ask to be moved to the patio, request the eponymous Three Squares Burger be waiting
The buns are branded. We repeat, the buns are branded.
6. Order this for your dog, who has now joined you and your date on the patio
It's a chocolate cake with a chocolate side martini. Oh wait, dogs can't eat chocolate? Well, we can't let this go to waste, can we??