Even under normal circumstances, going to the grocery story is anything from mundane to a royal pain. But these days, when keeping the pantry stocked is truly a necessity, just entering the store has become a challenge -- not to mention the risks involved. If you patronize the local businesses below, however, you'll be able to avoid the store via delivery and curbside pick-up, stock up on groceries and household items, and support your community. Stay safe out there.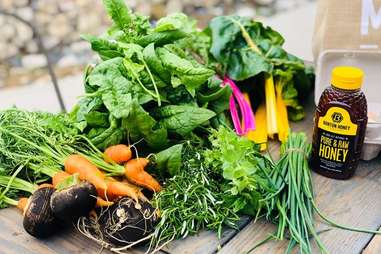 When it comes to shopping and eating local, it truly doesn't get any closer to home than Bonton Farms. This organic farm in South Dallas not only grows its produce on 40 acres within Dallas city limits, it employs dozens of people from this historically underserved community. Their seasonal produce and dairy items are available for curbside pick-up when you order ahead. See everything currently available here.
It seems like locally sourced foods have never been more easily accessible than they are right now. The Dallas Farmers Market has taken all the great stuff you would normally find at the Farmers Market each weekend to an online store for easy curbside pickup. Orders for curbside pickup need to be placed by Wednesday for pick up on Sunday from 1-5pm.
Behind all the restaurants and grocery stores are the wholesale food distributors who also had to adjust their businesses during this time. FreshPoint Dallas is selling fresh fruit and fresh vegetable boxes for $20 each directly to the community at pop-ups throughout the Metroplex. Check their Facebook page to see where they will be throughout the week. If there isn't a pop-up happening near you, they have also opened their warehouse in Farmers Branch (where, ironically, there are no farmers anymore) to the public to shop their fresh produce.
Central Market prepared for this pandemic. They began limiting the amounts of certain products customers were able to buy long before other grocery stores. Now, when household items like sanitizing wipes and toilet paper are non-existent elsewhere, these essentials are readily available for pick-up and delivery online. Whether you are cooking a gourmet meal or just need some TP delivered, Central Market is on top of it when we all need it most.
Wagyu beef may not be a pantry staple (cheers to you if it is), but Local Yocal is ready to deliver it straight to your door. The folks at Local Yocal also sell plenty of fine, more affordable cuts of grass-fed beef, as well as chicken and pork. If you live in the northern suburbs, curbside pick-up is your best bet. Otherwise, delivery is $10 to McKinney and $25 beyond that with a minimum order of $100.
This Oak Cliff coffee favorite is now offering pantry staples with Cliffmade Pantry. With a neighborhood-centric approach true to their brand, Oak Cliff Coffee Roasters is using its network of local artisans to deliver fresh bread, eggs, jams, chocolate, and of course all your coffee essentials to zip codes south of the Trinity River. Order before midnight and receive your delivery before noon the next day (Saturday orders are delivered Monday). If you aren't lucky enough to live in Oak Cliff or West Dallas, orders are available for pick-up as well.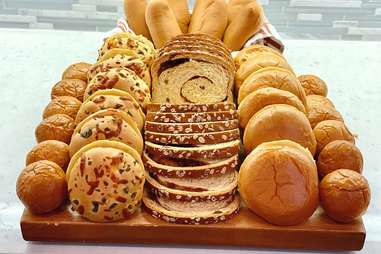 The grocery store is convenient, sure, but sometimes you want to go to the people who focus on one thing and do it really, really well. When it comes to bread, Signature Baking Company is your go-to bread delivery option as we shelter in place. The "bread all day BUNndle" is just that -- a variety of breads perfect for all three meals of the day. They deliver Tuesdays and Fridays and also offer bread subscriptions for those of us who shamelessly consume bread on the reg.
This elevated urban market has helped downtown Dallas step up its grocery store game in a big way over the last year. Now the few but proud Dallas urbanites can call to order all their favorites and essentials from Royal Blue Grocery for delivery or pick-up. All three Dallas locations offer delivery with a minimum $20 and $10 delivery fee. Just phone the staff on site and they will help you put your order together based on your needs.
This Dallas rideshare start-up knew they needed to pivot quickly if their business was going to survive the pandemic. Within a matter of days, they launched The Market from Alto, which delivers a selection of essentials and gourmet meals from local partners. Known for their dedication to rider safety and car cleanliness, their fleet is now delivering veggies, fresh baked goods, meats, and even branded hand sanitizer across DFW.
Foxtrot promises delivery in under an hour if you live within their service area, which covers most of Dallas between Downtown and I-635. They have a great wine and craft beer selection, as well as cheese and other snacks to pair with your beverage of choice. First time orders are $10 off which covers the flat $5 delivery fee and a chocolate bar!
Sign up here for our daily Dallas email and be the first to get all the food/drink/fun DFW has to offer.
Hayden Bernstein is a Thrillist contributor.