Dallas chef Uno Immanivong has been feeding hungry locals since her first restaurant, Chino Chinatown, touched down in December 2013. After several years of success at Trinity Groves, she sold the business (which has since closed) and launched the even more popular Red Stix Asian Street Food. The fast-casual concept is slated for an exciting upgrade when a new location in Farmers Branch opens in the coming weeks with an expanded menu—both in the kitchen and behind the bar.
If you haven't tasted her cooking, then you might have caught her competing on Anthony Bourdain's team on ABC's The Taste, or more recently as a regular guest on local morning shows sharing recipes and know-how on Asian ingredients and culinary traditions. Whether she's serving you a bowl of her mind-blowing Damn Damn Hot Noods or peering at you from the other side of a TV screen, Immanivong's vivacious personality and light-up-a-room laugh warm the soul just as efficiently her fiery ramen, duck fat fried rice, and gigantic bánh mì sandwiches.
Immanivong's journey to star chefdom wasn't necessarily one her parents wished for their daughter, but food was always an important part of her family life, and something she simply couldn't ignore forever. Before she was born, her parents had fled their native Laos in search of a better life, and Immanivong made her earthly debut in a Nong Khai, Thailand refugee camp. The facility was operated by the United Nations Organization—the acronym for which, UNO, inspired her name.
When the family reached America, they settled in Houston before eventually making their way to the Dallas area. After her parents divorced, she assisted her mom as she juggled several jobs and side hustles, including a catering business. As a child, Immanivong often helped her mother by gathering vegetables from their overgrown backyard garden and prepping ingredients so she could focus on crafting traditional Laotian and other Asian dishes for her clients. Immanivong eventually grew up and went into finance, excelling in the banking industry for 16 years before her love for cooking finally caught up with her. She subsequently decided to ditch the corporate world for the kitchen, once and for all.
Lunar New Year is celebrated by numerous Asian cultures and falls on February 1st this year, marking the beginning of a new calendar year based on the moon cycles. For Immanivong, and many others, the holiday is all about family traditions. "For me, whether it's Lunar New Year or later on in April for Lao New Year, it's all about celebrating and capturing the essence of our ancestors. But when I think about Lunar New Year, I think about the food," says Immanivong. To help you get the most out of the upcoming Year of the Tiger, we spoke to chef Uno Immanivong to get the low down on holiday traditions, what to eat for wealth and prosperity, and other delicious ways to mark the occasion this year.
"I actually read the Tiffany Moon story from last year and I agree with her about dim sum at Kirin Court. It's one of my favorites. Asian families would spend days making these little dishes of different things while different families probably bring different items, as well, so it emulates the abundance of Lunar New Year."
Richardson
"When my parents got divorced, we didn't really do the whole thing at someone's house for Lunar New Year anymore. Instead of 30 people crammed into 1500-square-feet, we'd celebrate at a place called Canton Chinese Restaurant. It's still there. We'd order the whole fish—my dad would eat the eyeballs. We'd get salt and pepper chicken, and the duck. It was a lavish dinner, the one time each year we could splurge and eat until we couldn't eat anymore."
Richardson
"Another place I love is Jeng Chi. They have these wonderful pineapple cakes—it's like a shortbread on the outside with jammy pineapple in the middle. They have different flavors, but I always get the pineapple. Sweets are another good luck food. You can also go right there to Good Fortune Supermarket where they have trays of preserved sweets, like kumquats that taste like candy and these dried coconut jellies that are coated with sugar. It's just wonderful."
Carrollton
"Dumplings are also very lucky. The more dumplings you eat on New Year's Eve or New Year's Day, the more fortunate you'll be in the coming year. It's always a competition. I love the dumplings at Mr. Dumpling at H Mart in Carrollton. A lady has a small stall there with the best dumplings and xiao long bao, the soup dumpling. Royal China and Fortune House have good dumplings, too, but I happen to think hers are really great."
Plano
"There is an amazing hot pot place that I go to in Plano called Happy Lamb Hot Pot. They have the best broth there, it's not spicy but makes your mouth tingly if that makes any sense. It's one of those places where people bring out little Sterno stoves for the table and you put a pot on it and dip different meats and vegetables and noodles in there."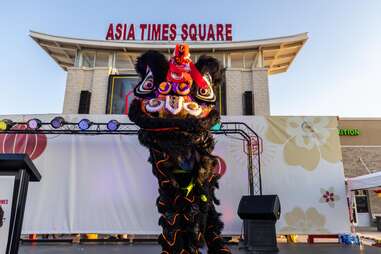 Arlignton
"I'll tell you, Asia Times Square in Arlington is a lot of fun—oh, and there's a Happy Lamb there, too. From January 28th to 30th, Asian Times Square will have live performances and vendor booths, but on February 5th and 6th, they'll have fireworks and the lion dance. A lot of Asians go there, but you'll see white people and others, too. You can feel every molecule of your body, just being happy, jumping with the other folks, and you just kind of become one, you know?"