Because, as with Wayne's Worlds, two restaurants are totally better than one (!), the crew behind Marquee decided to close up shop at their HP Village restaurant and open two totally different, totally awesome-r restaurants in the same space: upstairs will be the forthcoming Toko V, and downstairs, the just-now-serving Village Kitchen, a next-level bro-sserie chef'd by the dude who ran the kitchen at star-magnet Pyramid.
Recommended Video
Feast Your Eyes On Cuban-Style Sushi
Inside, they've gone for a casual affair (thanks, Ashley Madison!) set off by both vintage pics of Highland Park and Edison bulbs.
Start with crushed avo bruschetta. And shrimp corn dogs. And jalapeno & burrata flatbread. And then more shrimp corn dogs. And also, shrimp corn dogs.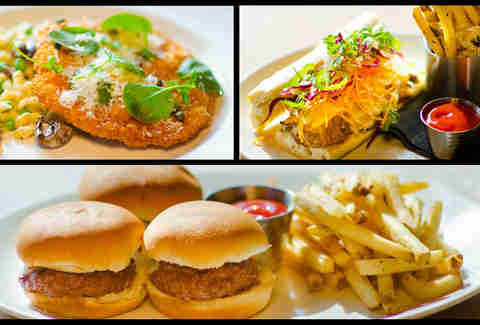 What do you MEAN they're out of shrimp corn dogs now? To the backups: pork schnitzel, a short rib-stuffed banh mi, short rib/chuck/brisket burgers, or that glorious roasted chicken up top.
Un-parch yourself with a trio of local taps, or grab 'tails like the Copper Cups (teq, Velvet Falernum, lime, house ginger beer) or a Cabeza Picante: roasted chile, lime, and pineapple tweaked with Cabeza tequila that -- like any good Britpop group -- is ginger-infused.