Lo, and man did weep when he saw that Cinco De Mayo falls on a Monday this year. Leave it to Dos Equis (and us) to get the party crackin' early. That's right, we're kicking off Dos De Mayo this year (that's Friday, May 2nd for the calendarly challenged), a whole day dedicated to Mexican eats, treats, and something else that rhymes with "eats". Meats? Yeah, that's good.
Blue Goose Cantina
14920 Midway Rd
Perhaps a little disappointingly, the Spanish word for brunch is "brunch". Not at all disappointing? Getting it at the Blue Goose Cantina, which we named one of the best brunches in Dallas, and where the Blue Goose Tamales will start your day correctly.
Tupinamba
12270 Inwood Rd
Tupinamba is the oldest family owned restaurant in Dallas (est. 1947), which means they must be doing something right. Hit them up for lunch and order the Gringos: a cheese enchilada, bean chalupa, and golden deep fried taco. Wait, did you bring a hankie for the meat sweats?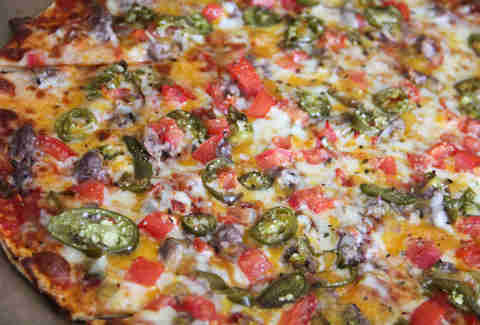 Tomato Pie
11661 Preston Rd
A salsa, hamburger, jalapeno, tomato, cheddar, and mozz loaded Mexican Pizza can be one, giant taco if you dream hard enough/fold it over!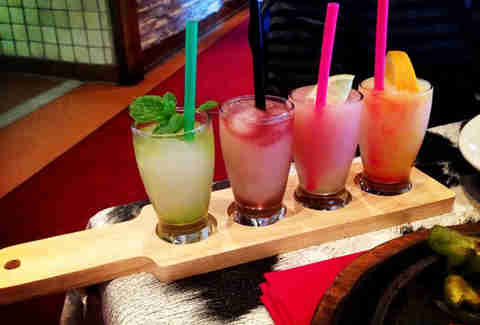 Mariano's Hacienda
6300 Skillman St
While you're winding down from your three stage mid-morning meal, drink in some history with a margarita so good that it deserves to be in a museum. Which is why they put it in one. Though the actual machine that heralded the frozen margarita's invention now has a cozy home in the Smithsonian, the river of Original Frozen Margaritas has yet to be stopped up.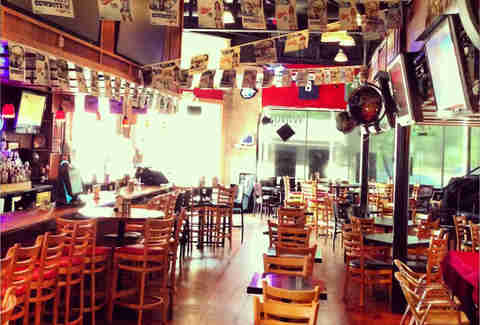 OT Tavern
3606 Greenville Ave
Intrepid celebrant that you are, Dos de Mayo doesn't really have any traditions yet. It's already a cross-cultural holiday, so throw another into the conversation with some hookah down at the O.T. Tavern. Then, pat yourself on the back for being so adventurous all night long with our Dos de Mayo party.
Katy Trail Ice House
3127 Routh St
How often do you have a Friday off? And more importantly, how often do you eat three lunches? Soak up the freedom of the holiday and begin to prepare yourself for dinner with a walk down the Katy Trail. Then celebrate with a beer or two.
Meso Maya
1611 McKinney Ave
Changing the garnish game forever, Meso Maya pours on the tequila when serving their Herradura Salmon, which has already been cooked with a Herradura reposado sauce. You're done, parsley. Go home, because you're DONE.
Bachman's Taco
3311 W Northwest Hwy
Feed your car and yourself at one of Dallas' many, many gas station taco places. Then be sad that your car will never will know the joy of trompo tacos, shaved from shawarma-style meatsicles.
LA Burger
1017 E Trinity Mills Rd, Carrollton, TX
Now that you're fueled up, get ready to get to know the tastiest melting pot since the creation of fondue. LA Burger's Korean-Mexican-American fused Asian Tacos represent the promise of multiculturalism and the fruit of a society that promotes and celebrates our differences, and, more importantly, are Asian Tacos.
Metalachi at the Gas Monkey Bar n' Grill
10261 Technology Drive E
If you already have a favorite heavy metal punk mariachi band, Metalachi will blow them out of the water, and if you don't have a favorite heavy metal punk mariachi band, what are you doing with your life?