Meet Bread Zeppelin, a now-Irving-located purveyor of a sort of salad burrito that's made with hollowed-out bread caves called "zeppelins", probably because they too should NOT be used for transatlantic flights.
Recommended Video
This Concha Ice Cream Sandwich Is as Big as Your Head
Like any memorable meal, they start with a toast.
Next, they slice it open, hollow it out (with tongs?), and prepare to fill it with loads of highly flammable hydrogen whatever you decide to fill it with.
Bread now hollowed, they'll ask you a) which proteins you want (all), and b) which veggies you want (none. Well, maaaybe some lettuce).
Then they'll chop it all using super ninja skills + curved salad-chopping blades until it's all perfectly bite-sized.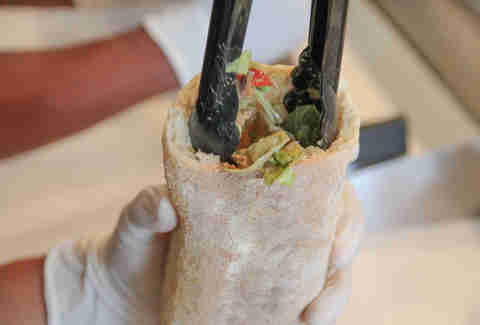 When they're done, out come those tongs again, this time to stuff it full of that "salad" with fried chicken and bacon.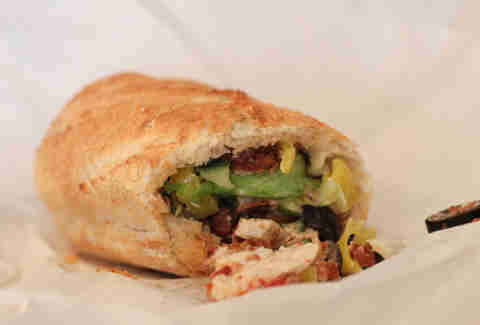 When all's said and done, it's somewhere between a stuffed piece of bread and a Subway-style hot pocket...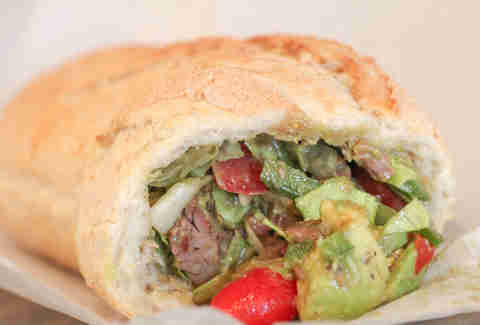 Don't like calling the ingredient shots? No sweat: they've got a bunch of signatures, including the Lone Star (steak, avo, fried onion, jalapeno) and the Tejano Caesar -- that's it pictured up top -- stuffed with chicken, jalapeno, and croutons made from all the leftover bread from the zeppelins. Order both, and there's a chance you might be the one who explodes.