In honor of football, drinking, America, and YOU, we proclaim the Monday after the Super Bowl shall henceforth be known as National Hangover Day. It's a day for hangovers to be celebrated, embraced, and combated in the most enjoyable of ways -- namely, eating delicious food, and possibly drinking more. The ultimate goal? Getting the entire country a day off work, a beautiful dream you can help make happen by signing this petition to our sports-loving President right here and tweeting it.
The immediate goal? Fixing that hangover with the healing power of Dallas's best biscuits and gravy.
Zenzero Bakery
Coppell, TX
This recently opened suburban gem whips up rich, flaky biscuits and tops them with a thick, rich, flavorful gravy that'll make you feel better just looking at it. You should totally eat it anyway, though. As a bonus cure, the top-flight baristas there do some seriously fine work with beans from Oak Cliff Roasters.
Kuby's Sausage House
University Park
You know Kuby's is a big-time sausage party (the good kind), but you may not have known they also serve up frisbee-sized orders of biscuits and piping hot, peppery gravy. Of course, you'd be crazy not to include a bonus order of their sausages on the side. Please don't be crazy.

Bubba's Cooks Country
University Park
Fresh, hot, homemade buttermilk biscuits are the star of the show at Bubba's. But, much like Glenn Close, the gravy will not be ignored. It's slightly darker than your average white cream gravy and it's so addictive it might kill you (also kinda like Glenn Close)!
The Mecca Restaurant
Lakewood
The Mecca is aptly named given the incredible drawing power of its breakfasts (though the presence of pork products could be problematic for some). Their classically hearty biscuits and gravy continue to pull people in despite last year's relocation, and if you brought company with you, you should also consider attacking one of their table-sized cinnamon rolls.
Jonathon's Oak Cliff
Oak Cliff
The curative powers of Jonathon's standout, fluffy biscuits paired with an extremely liberal (not like, politically) helping of smooth, peppery gravy are already quite robust. Pair them with a trip to their well-stocked Bloody Mary bar during weekend brunch and your hangover will be so thoroughly defeated you might actually feel sorry for it. 

Barbec's
Lakewood
A more direct union of booze and biscuits: the Beer Biscuits at Barbec's. They're huge. They're made with beer. They are covered in amazing gravy. And once more: they're made with beer! Important note: bring cash, your plastic's no good here and you don't need the additional headache of hitting an ATM.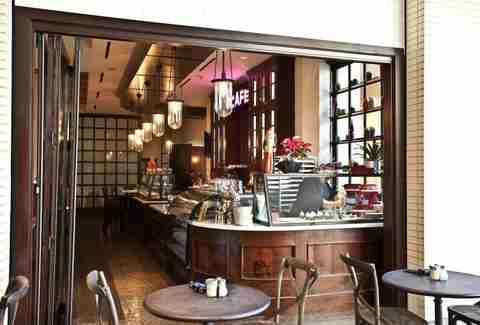 Bread Winners
Multiple Locations
Bread Winners isn't exactly a "hole in the wall" find, but that just means you're probably close to one! Enhance their already spectacular biscuits and gravy with an ample helping of their house-made Henry's Hot Sauce, because you have some booze to sweat out and exercising would just be crazy talk.
Vickery Park
Knox-Henderson and Plano
You're going to want Vickery's delicious dough pillows topped with a creamy sausage blanket (yes, we know you just want to stay in bed) for brunch, so plan accordingly. You will be rewarded with the comfort only fresh-baked biscuits with peppery, sausage-studded gravy can provide.

Norma's Cafe
North Dallas
Over the years, Norma's has cured about as many hangovers as any Dallasite institution, primarily with their fluffy, buttery biscuits covered in a thick-yet-creamy sausage gravy. They're… not healthy. But they're definitely medicinal.
We know there are more out there: Lucky's Cafe, John's Cafe, and Ham & Eggs just to name a few. Did we miss your favorite? Let us know in the comments.