Even more than cowboy boots, saying "y'all", and, dare we say, Tex-Mex, the great state of Texas is synonymous with the world's greatest BBQ. Dallas, being the best city in Texas, must therefore have the best BBQ in the world, via the transitive property of smoked meat (it's simple math). But, among all the great 'cue in Dallas, whose reigns supreme?
That's too big a question for any one person to answer, so we assembled a panel of the very BEST people: the seasoned pitmasters of the Dallas BBQ scene. Eight of them gave us their top five picks*, and we assigned points (5 for a first place, 4 for a second, and so on…) arriving at this definitive list of the finest damn BBQ in Dallas, and therefore the world.
*Obviously, in the interest of objectivity, voting for oneself was not permitted. See the full list of panelists below.
Love Field
This list of heavy hitters wouldn't be quite complete without a hat tip (rib tip?) to the original, old-school Sonny Bryan's -- you know, back before there were seven of these bad boys in Texas and now two in… Utah? Sonny B's was THE PLACE to get serious BBQ for years. A couple of the pitmasters expressed fond memories of eating at Sonny Bryan's when they were young lads in Dallas, so for that inspiration alone it deserves some recognition.
Euless
A lesser-known gem in the Mid-Cities, North Main's pitmaster, Hubert Green, has been doing things the old-fashioned way since opening in 1981 -- letting the hickory-smoked meat speak for itself. The St. Louis-style spare ribs are particular standouts (Texan pitmasters can handle anything!). Bonus: free soft serve after your meal!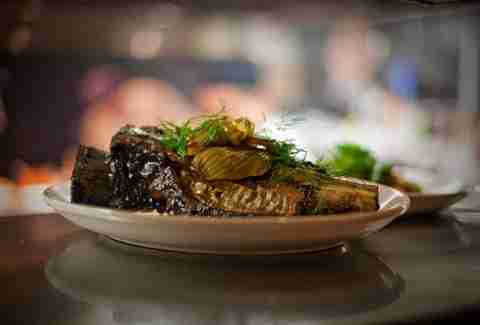 11. Smoke (4pts)
Oak Cliff
Despite the straightforward name, Smoke represents one of the more eclectic entries on the list, flashing a bit more of an upscale vibe than your classic Texas BBQ outpost, plus some non-traditional preparations (coffee-cured brisket anyone?!). The Big Rib is pretty self-explanatory, and just roll with the hominy casserole and fresh chimichurri that comes with it. You'll be glad you did.
Frisco
A relative newcomer on the BBQ scene, 3 Stacks has clearly made an impression quickly. Their standout smoked meat is enhanced (but not overshadowed) by a strong craft draft lineup. Pro tip: pitmaster Trace is nicknamed "The Rib Whisperer", so that should probably help you make up your mind when ordering.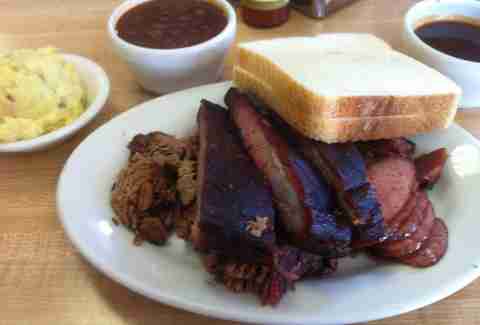 East Dallas
An absolute Dallas staple, Mac's has been serving up quality BBQ since the '50s. There's nothing over-the-top in terms of spice or sauce, just piled plates of well-cared-for smoked meat. Jack Perkins of Slow Bone notes, "I love that Mac still stands and cuts the meat himself. It's great to see a pitmaster make his BBQ from start to absolute finish."
Cedars
Nestled in the middle of South Dallas, this homey meatery reliably nails everything from brisket to baby backs (both smoked over pecan wood) to standout sausage. In the non-meat department, don't sleep on their just-enough-mayonnaise potato salad and their sweet, spicy baked beans.
Stemmons Corridor/ Harry Hines
Mike Anderson's has had its fire burning for the last 30+ years (your move, Kenny Loggins), displaying a contagious passion for his food, and the BBQ community in general, that has built him a loyal following. The brisket is his calling card (this is Texas after all), but if you're in the mood for poultry, the turkey and chicken thighs bring the smoke as well. The lengthy list of sides and desserts (cheesy poblano corn bake, pineapple cherry cobbler), make the decision-making process all the more challenging.
Hillcrest
Bursting onto the scene in a big way last year with a residence at the since-closed Work Bar & Grill, you can still score pitmaster Doug Pickering's transcendent brisket and the rest of his sought-after smoked meat arsenal via his highly in-demand classes or his catering operation. Word on the street is he's looking for another space to set up shop. When he does, make sure you're there.
South Dallas
This being Texas, we're obviously partial to Texas-style BBQ, so the fact that Clarence Cohen's no-frills Memphis-style joint performed this well among his peers should tell you something about his 'cue. And about Clarence, who happens to be as gregarious a meat master as you'll find. You should try the baby backs, if you haven't figured that out by now.
Garland
Meshack's is about as traditional as BBQ gets, and pitmaster Travis Mayes does it all to make sure that everything he serves up meets his standard. Jordy Jordan of Big D Barbecue said of Meshack's, "I love that it's one guy running the show… and the brisket being phenomenal doesn't hurt either." While the brisket is legit, Meshack's knows a thing or two about ribs as well.
Design District
It's almost unfair that Jack Perkins makes one of the best burgers in Dallas (see Maple and Motor) AND has some of the best BBQ in Dallas. He's creating a meat monopoly. What's next, Jack? Fried chicken? Steakhouse? Actually, if those ventures turned out half as good as the impossibly moist brisket, we're all for it.
Deep Ellum
Things are getting serious… Pecan Lodge narrowly missed taking the soon-to-be-unveiled top spot. Plenty of BBQ aficionados near and far have sung PL's praises, including Mike Anderson, who noted: "The beef ribs are the bomb!" You know you're doing it right when 1) one of the best pitmasters around happily sings your praises and 2) invokes the phrase "the bomb" in doing so. It's no shock that they just moved their way to larger, even more brisket-filled digs.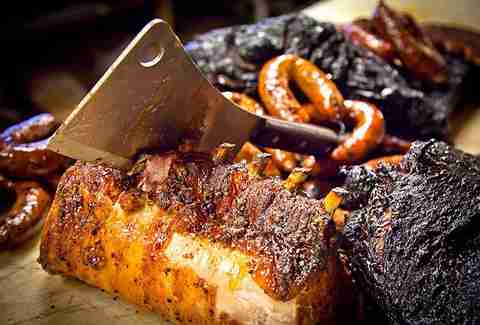 Bishop Arts District
Showing up somewhere on almost every list of favorites, Lockhart's Central Texas-style BBQ takes the top spot. Jack Perkins of Slow Bone said that, "Lockhart connects us to the tradition of Texas BBQ. Their motto is, 'No Sauce No Forks'. They stick to their guns, letting people enjoy the flavor of the meat, rub, and smoke." With techniques that go back generations (the place was started by the granddaughter of a dude who ran Kreuz Market for decades), you can taste the difference in their moist, peppery hunks of brisket (and it's beefier, leaner cousin shoulder clod) coming out of their Bewley smoker. Worth noting: their pitmaster declined to participate in the survey, saying he only eats his own 'cue. Apparently he's making the right decision.